Estimates have come down after disappointing third quarter results, sending ACAT to a Zacks Rank # 5 (Strong Sell).
About the Company
Headquartered in Thief River Falls, MN, Arctic Cat Inc. (NASDAQ:ACAT) is a designer, manufacturer and marketer of All-terrain vehicles (ATVs) & Side-by-Sides, Snowmobiles, and Parts, garments & accessories.
During FY 2013, ATV and Side-by-Sides contributed 45% of sales and Snowmobiles accounted for 39%.
Disappointing Third Quarter Results
On December 31, 2013, ACAT reported its Q3 2013 results -- that missed both on the top and bottom line. Net sales for the quarter increased 4% year-over-year to $225.8 million. While ATV sales increased 12% to $78.2 million, driven mainly by Side-by-Side sales, Snowmobile sales declined 4% to $118.1 million.
Gross profits declined for the quarter to $40.2 million from $50.8 million reported in the prior-year quarter. According to the management, sales of lower margin Yamaha snowmobiles and the weaker Canadian dollar and product mix contributed to the decline.
Operating net earnings for the quarter were $12.1 million, down from $17.9 million, or $0.89 per share, down from $1.30 per share in the same quarter last year. Operating income was much worse than the Zacks Consensus Estimate of $1.26 per share. This was the second consecutive quarter of earnings misses by the company.
Downbeat Guidance and Downwards Revisions
At the time of reporting third quarter results, management also revised their year-end guidance and they now expect fiscal 2014 revenue to be up by 10% to 12% in the $740 million to $750 million range and earnings to to be in the $2.90 to $3.00 per share range.
This was significantly below their previous guidance of revenue in the $754 million to $768 million range and earnings in the $3.27 to $3.37 per share range.
According to management, the snowmobiles built for Yamaha, the Canadian currency and product mix remain main issues for the company.
Zacks Consensus Estimates for the current year and next year have gone down to $2.92 and $3.38 per share from $3.28 and $3.71 per share respectively, 30 days ago.
The following "Price and Consensus" chart shows the negative earnings momentum.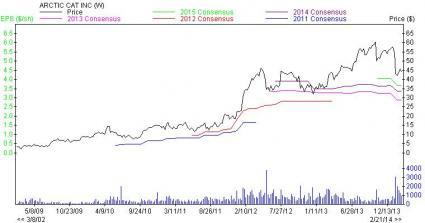 The Bottom Line
While the company is trying to launch innovative new products as well as expand into new market segments and international markets, near-term headwinds will impact the share price.
ACAT is currently Zacks Rank # 5 (Strong Sell) stock and as such, investors should avoid this stock until there are clear signs of improvement in its performance.
Better Play?
Investors seeking exposure to the industry could look at Sturm Ruger & Co (NYSE:RGR), a Zacks Rank #1 (Strong Buy) stock.

ARCTIC CAT INC (ACAT): Free Stock Analysis Report (email registration required)