Following the pattern of annual price increase at its resorts, Disney (NYSE:DIS) has raised its single-day admission price by more than 4% at Walt Disney World park in Florida. This is the second hike in less than a year for Disney. Prices for certain passes were increased by as much as 15% compared to May last year. Disney had last revised its theme parks entry pass prices in June 2013. Higher prices will further boost revenues for domestic theme parks, which contribute close to 20% to Disney's value, according to our estimates.
Our price estimate for Disney stands at $80, which is roughly in line with the current market price.
Another Price Rise In Less Than A Year
A day-pass to Walt Disney World will now cost $99 for adults, up from $95 in June 2013. Similarly, a four-day base ticket (one park per day) rises 5% from $279 to $294. [1] For more than a decade Disney has been increasing its prices for theme parks on an annual basis. Moreover, the attendance has been very strong for Disney, giving it a higher pricing power. Usually Disney hikes the prices around June when school year ends. However, this time the price rise has come in February. While the motivation behind increasing the prices during this time of the year is unclear, observers say it could be due to the success of its movie, Frozen, which has gained popularity since November. We note, too, that it is ahead of the winter and Easter school vacation visits made to the area on the Eastern seaboard.
Steady Growth In Theme Parks Business
Disney's U.S. theme parks in 2013 witnessed 6% growth in per capita guest spending as compared to the prior year. This can be primarily attributed to higher ticket prices. [2] Disney's domestic theme park attendance has also grown at an average annual rate of close to 2% for the last 5 years. In 2013, around 75 million people visited Disney's theme parks in the U.S. Since theme parks are destination for leisure activities, per capita guest spend and attendance is somewhat linked to the state of the economy and overall consumer spending. U.S. consumer spending has been on a rise since 2010. It increased to $10,833 billion in the fourth quarter of 2013 from $10,744 billion in the third quarter of 2013. [3]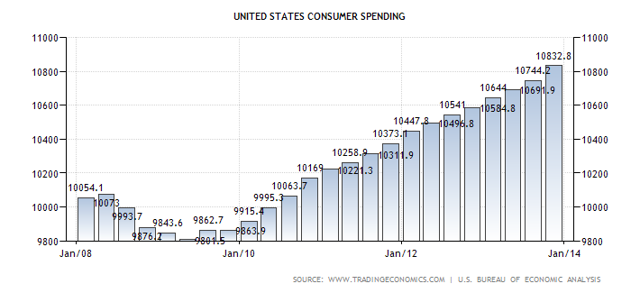 Click to enlarge
Disney will continue to benefit from higher guest spending and attendance at its theme parks. We estimate Disney's attendance and per capita guest spend to grow at an average annual rate of less than 4%, leading to $20 billion in domestic hotel and theme parks revenues by the end of our forecast period. For 2013, this amounted to a little over $11.5 billion. It must be noted that theme parks is an important business for Disney as it can promote its movies, sell consumer goods, promote TV programming as well as online and other games, in addition to offering a fun and leisure experience.
Notes:
With Harry Potter looming, Disney gets a head start on higher prices, Orlando Sentinel, Feb 25, 2014
Disney's SEC Filings
United States Consumer Spending, Trending Economics
Disclosure: