Kellogg Company (NYSE:K) is one of the world's leading cereal companies and the second largest producer of cookies, crackers and savory snacks. In 2012 Kellogg became the world's second-largest snack food company after PepsiCo by acquiring the Pringle potato chips brand from Procter & Gamble for $2.7 billion in a cash deal. Kellogg products are manufactured in 33 countries and marketed in over 180 countries. Kellogg is also the second largest cereal marketer in the world based on sales using television, internet and supermarkets to reach out consumers.
Kellogg has seen very slow growth and revenues of $14.79 billion increased by 4.2% compared to the previous year. Kellogg's declining demand for breakfast food and snacks was offset by its specialty channels segment and North America contributed a 1.9% increase in sales. The main revenue growth drivers were Latin America which contributed 5.5% and Asia Pacific which contributed 3%.
The operating profits significantly improved by 81.6% mainly driven by the inclusion of Pringles sales. The net income improved by 88% to $1.8 billion or $4.94 per share. The full-year reported earnings per share included a benefit from mark-to-market accounting of $1.72 per share, $0.42 per share of costs associated with Project K, and approximately $0.13 per share of integration costs related to the acquisition of Pringles. Excluding these items, comparable earnings were $3.77 per share reflecting an increase of 4.4 percent from 2012's comparable earnings per share. The net margin improved primarily as a result of decreased interest expenses. The company reduced its debt by approximately 3% which in turn reduced the interest expense. Overall profitability improved because Kellogg's selling, general and administrative expenses improved slightly as a result of favorable overhead leverage and synergies resulting from the Pringles acquisition.
Retail constant value sales of breakfast cereals are expected to increase slowly over the forecasted period by 3% to reach US$10.3 billion in 2017. The move away from cereal is an unconscious migration toward options such as eggs, toast, peanut butter and yogurt. The drop comes amid an ongoing sluggishness in the cereal market reflecting the challenges for the company.
The follow graphs show the revenue, net income and cash flows.

Source: earnings release
Kellogg's cash flow position is not impressive however the recent increase in cash flows from operations is quite satisfactory. The company's free cash flow will also grow as its operating cash flow over the past four years has grown by approximately 80%.
Kellogg has seen comparatively better growth in the Asia Pacific market compared to its other markets and to meet the growing demand Kellogg plans to build a new snack manufacturing facility in Malaysia that will help the company push up its sales growth and market share.
Changing Industry Trends
During the past few years a growing number of consumers have become more aware of the negative health effects of pre-packaged food and that has negatively impacted Kellogg's earnings. According to research firm IBISWorld the forecasted increase in household disposable incomes will help to drive demand for snacks and cereals and food industry products. Furthermore since consumer demand for healthier versions of existing products is increasing this will be an opportunity for Kellogg to introduce a greater variety of healthier product options.
The industry has seen increased commodity prices and Kellogg's sales growth remained low over the past few years. According to the forecasts, commodity prices are expected to decline in the next five years. I believe that these declining prices will help Kellogg save production costs, improve profit margins and grow its sales revenues.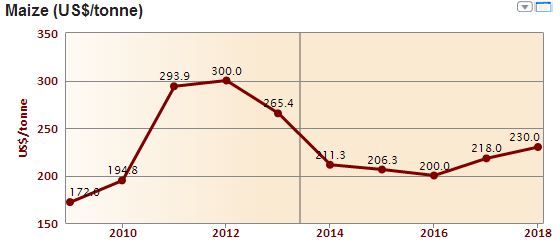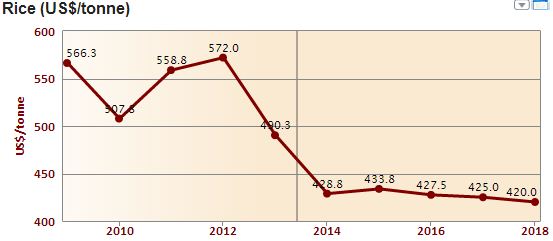 Eastern Europe, Latin America and the Asia Pacific region are growing snack food markets. The Asia Pacific market is the least developed and is expected to have the fastest growth, increasing about 6 percent annually through 2015 according to GIA. I expect that the demand for Kellogg's cereals and snacks products will grow significantly in the Asia Pacific and Latin American markets. Per capita disposable income is anticipated to increase resulting in mixed demand for cereal products. The breakfast cereal market is forecasted to grow at a CAGR of 3.1% during the five-year period of 2012-2017. This is expected to drive the market to a value of $35,868.9 million by the end of 2017. I expect that the growth for snacks and cereal products will remain slow in the U.S. market and Kellogg should focus on the emerging markets like China and India to capture market share for future growth.
The following graph shows the growth rate for snack products in the U.S.
Source: firstresearch
Project K an Initiative to Fuel Growth
Kellogg is in the phase of enacting structural changes to its business and Project K will aid in cost savings that will release enough cash flows to invest in its strategy and grow its business. It is expected that through Project K Kellogg will be able to strengthen its existing business in core markets, increase growth in emerging markets, and drive increased value-added innovation. Project K would cut about 7 percent of its work force by 2017 and also trim production capacity. To optimize the supply chain infrastructure Kellogg has decided to close the snack plant in North Carolina and also eliminate two lines at the Ohio snack plant in the U.S. The primary source of savings will be from consolidating facilities and eliminating excess capacity. From these initiatives the annual pre-tax savings are expected to reach $425 million to $475 million by the end of 2018.
Conclusion
The historical performance of Kellogg is not quite impressive due to challenging trends. However, to cope with these challenges Kellogg has enacted some important initiatives to boost its earnings and to improve profit margins by cutting costs and enhancing operational efficiency. The changing trends in the developed markets and growth prospects in the emerging markets for cereals and snacks products are opportunities that I believe will be the key growth drivers for Kellogg and I believe that an investor should buy the stock with the expectation that it will perform well in the future.
Disclosure: I have no positions in any stocks mentioned, and no plans to initiate any positions within the next 72 hours.
Business relationship disclosure: The article has been written by a Blackstone Equity Research research analyst. Blackstone Equity Research is not receiving compensation for it (other than from Seeking Alpha). Blackstone Equity Research has no business relationship with any company whose stock is mentioned in this article