As many of my regulars are aware, both Actavis plc (ACT) and Forest Laboratories (NYSE:FRX) were in our Top 5 list last week before their momentous announcement to merge operations became public. Their price action and increasing growth rates of business profitability the last 6-12 months were the reasons they scored so highly, but increasing trends of buying interest in the defensive areas like precious metals, pharmaceuticals and medical products during early 2014 are something that should grab the attention of thoughtful investors.
Considering 1) a general U.S. bull market in stocks now running on fumes without a 10% correction in several years, 2) the Federal Reserve questioning the long-term wisdom and sustainability of out-of-control QE money printing and zero cost money loans to the banking system for almost six years running, and 3) political problems in the world mushrooming from heavy-handed government intervention in formerly free markets, experienced investors the globe over are getting more worried about the potential for a major bear market in equity valuations/prices and an inevitable recession or worse appearing in overall economic activity during 2014-15. The knee jerk investment reaction to expanding economic fears is to buy defensive stocks and those that perform well during times of uncertainty in the world. Precious metals investments (well overdue for some buying anyway), pharmaceutical stocks and medical product equities have witnessed oversized inflows of capital as a result. Just as these defensive groups have outlined superior gains before and during nearly every other historically related period to today, our system has been identifying ever larger jumps in stock price and accumulation from important counter-trend industries for months.
Even after dropping Actavis and Forest from the Top 10 list this week, as the takeover price increase in both has pushed them above fair value, our system is still holding 5 out of 10 from defensive sectors. Pan American Silver (NASDAQ:PAAS), Stillwater Mining (NYSE:SWC) and Goldcorp (NYSE:GG) from the precious metals area, Teva Pharmaceutical (NYSE:TEVA) in the generic prescription drug industry, and St. Jude (NYSE:STJ) in medical products have been part of the best investment ideas list as scored by the Victory Formation innovation for many weeks already.
Top precious metals miners to own in 2014?
Pan American Silver has moved to the top of the computer-generated list this week, after dropping Forest Labs from the mix. Pan American has a diverse holding of mostly silver mines in North and South America. The company's stellar balance sheet with plenty of cash and few liabilities, still strong income and cash flows during a period of ultra-low metals pricing at the end of 2013, and leading stock price gains of mid to large size precious metals miners the past few months should be given serious consideration by long-term investors.
Pan American just released its 4th quarter earnings review to the public last week. The highlights include a nice increase in proven and probable reserves even with lower silver price assumptions. Few mining companies have reported such an increase with the industry undergoing a year-end catharsis in revaluations based on lower gold/silver quotes for future production. The company held $870 million in short-term asset classifications of cash, inventory and receivables vs. a low $580 million in total liabilities at the end of December. Pan American may have the most ultra-conservative balance sheet in the industry, the highest dividend payout and yield available from a production company over 3% currently on a $15 stock price, alongside a nicely growing production profile moving into 2018. Management successfully slashed operating costs to the bone in the second half of 2013, and projects ongoing expenses to remain low in 2014, highlighting the quality of its mine assets. If you subtract the extra $300 million in cash beyond total liabilities on the balance sheet from the current $2.3 billion stock market capitalization, and use trailing cash flows of $220 million (which is close to estimated 2014 cash flows at stagnant silver and metals pricing, and is nearly the same as the 4th quarter results times four), Pan American is trading at a below normal 10x annual cash flow. The long-term average multiple of price to "trailing" cash flow is closer to 17x for Pan American.
The end result is loads of upside for investors, with limited downside, if the price of silver remains steady or climbs going forward. Wall Street analysts and investors worldwide have recognized the early 2014 nugget of value Pan American represents with its direct silver price leverage (70% of sales come from silver production), higher than typical income-centered operations, and low cost of investment entry after a multi-year price decline from $40 a share in 2011. A number of brokerage house "upgrades" of Pan American have taken place already as silver prices begin to rise in 2014.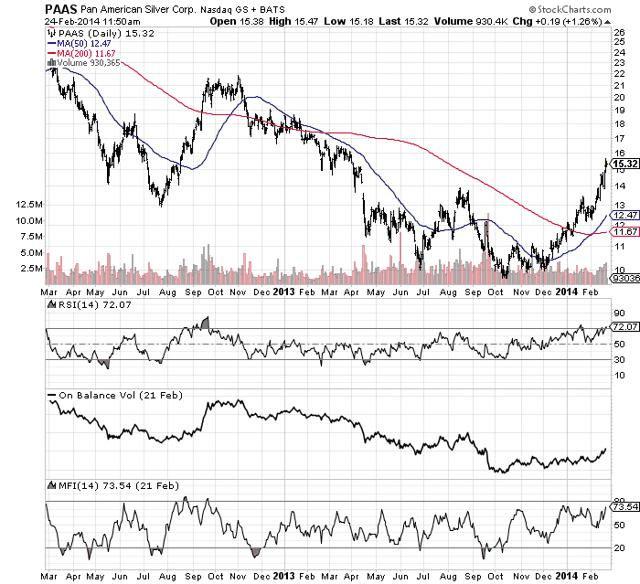 Charts courtesy of StockCharts.com
Stillwater Mining was a topic of conversation in January as a top mining play in another Seeking Alpha article I penned. The linked article has some expanded background on Stillwater. About the only factor that has changed is investors keep buying shares in the company. Basically, Stillwater is uniquely positioned as a standalone palladium mine asset available for public investment with 1) assets in the United States and Canada, 2) strong income and cash flows coming in the door at present palladium and platinum quotes, and 3) very long-term mine reserves and expanding PGM recycling operations. Stillwater is a terrific leveraged angle on the developing shortage of palladium supply in the world.
At $13 a share, Stillwater has a lower than normal price to cash flow number and is earning decent GAAP income. In terms of its balance sheet, I like the company's high level of cash with short-term assets, which is better than its total of liabilities at the end of September, the latest public filing of accounting numbers. If palladium prices start to rise again in 2014, Stillwater should prove to be a great investment.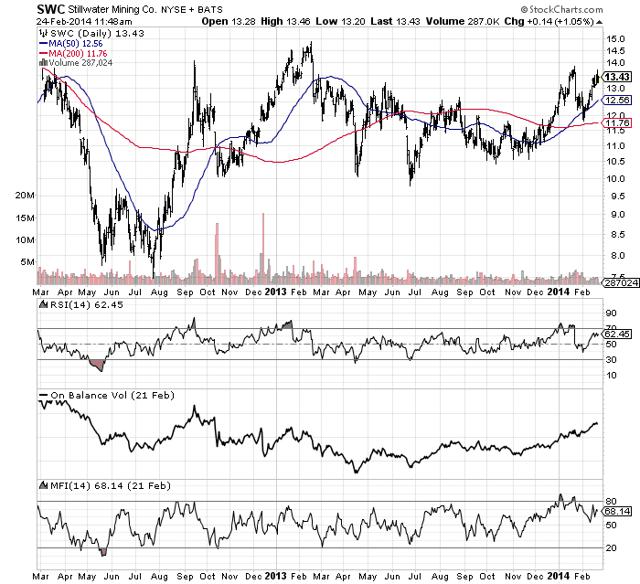 Goldcorp is perhaps the "safest" blue-chip mining stock to own in terms of theoretical downside. With 1) nearly all of its assets in safer nation-risk regions in North America, 2) very low cash and total operational costs to extract metals, 3) long-life reserves and steadily increasing production of gold and silver each year projected for a distance into the future, and 4) one of the most conservative balance sheets in the industry, investors in Goldcorp are getting plenty for their money. Goldcorp's high level of successful diversification and conservative management style is evident in the strongly performing stock price. The company's stock quote around $28 today has fallen just 15% in the last 52 weeks vs. the 30% drop in the gold industry stock averages like XAU and GDX. Goldcorp is also a steady dividend payer, with a better than 2% yield for new investors.
I am personally very upbeat on the prospects for silver, palladium and gold for a variety of reasons, mostly the result of out-of-control money printing of fiat currencies around the world, especially by the U.S. Federal Reserve bank. I am very worried the U.S. dollar will come under increasing pressure and attack by foreign investors as we are stuck printing ever greater sums of paper money each year to keep the U.S. economy afloat. Gold should be the biggest direct beneficiary of the metals as it has been the "ultimate" store of value or currency throughout human history.
However, silver may be a close second to gain interest by investors from its monetary hedge characteristics and lower "poor man's gold" price. Traditionally, silver has been able to roughly double the advance of gold in percentage terms during other rapid bull moves. The higher than 50-year normal gold to silver ratio currently of 60 has much room to decline in favor of silver prices. Reviewing past instances of real economic distress and declining confidence in the dollar's worth like the 1970s, gold has traded at less than 25 ounces of equivalent silver. A silver upmove from $20 an ounce in U.S. dollars during January 2014 to $50-$100 in 2015-16 seems to me like a real possibility, if gold is about to run above $2,000 US an ounce. Luckily for Goldcorp shareholders, the company quietly holds one of the largest proven silver reserves in the world, at 818 million ounces measured at the end of 2013, alongside at least 54 million ounces of readily minable gold in the ground.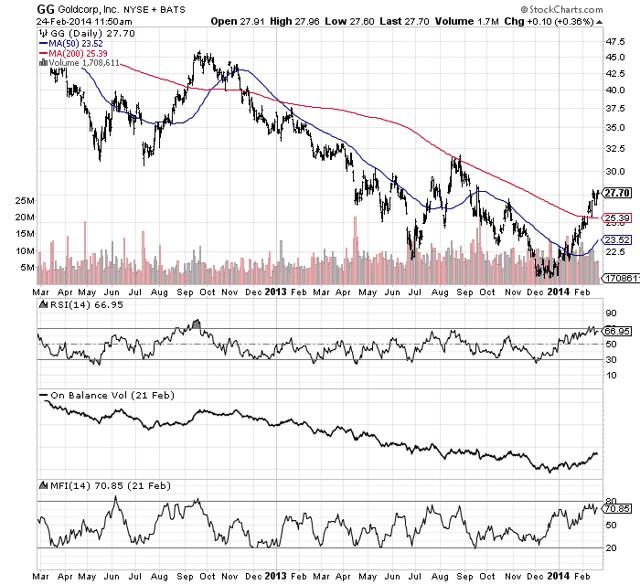 Of course, if metals pricing for silver, palladium and gold falls during 2014, holding precious metals miners will prove a losing proposition. I suggest investors do their own due diligence and consider precious metals only as part of a diversified investment portfolio. I do not recommend anyone put their entire savings into gold and silver for a variety of reasons. The Victory Formation is highlighting a number of industries and stocks with substantial upside potential today. Owning at least 20-30 stocks from numerous sectors and business strategy perspectives will help you sleep at night, and is much easier today to execute with discount brokers charging next to nothing for trading commissions.
Best scoring pharmaceutical
Teva is one of the world's largest generic prescription drug makers. Its stock price and business prospects had stagnated for a few years before major changes were announced in the second half of 2013. The management team has been shaken to its core with a new CEO installed, the board of directors is in the process of being reshuffled with new blood, and credible rumors exist the chairman is stepping down soon. In October the company announced it was undergoing a massive restructuring, including laying off 10% of its global workforce, about 5,000 individuals, by the end of 2014 to streamline decision making and sales, plus reduce overhead fixed costs.
Teva's future profitability is looking much brighter than it has in years, especially if the income stream from patent expiring blockbuster Copaxone can be revived (or somewhat prolonged) with a new formulation. George Soros made Teva one of his top investment holdings in the last quarter of 2013, as incredible value may now be present in the share price.
Trading near $48 today, Teva is priced at 11x Wall Street consensus estimates for earnings per share in 2014-15, with a 2.4% annual dividend yield for new investors. The biggest reason Teva has been under accumulation the last few months likely revolves around its potential for free cash flow generation post-restructuring. Free cash flow includes regular earnings, then adding back the non-cash charges from previously purchased assets in the form of depreciation and intangible amortization outside of capital spending needs, plus non-cash equity compensation expenses. I am estimating the current stock price is just 9x free cash flow for 2015 if the expanded Copaxone combination drug for the treatment of MS performs as planned. In comparison, the new Actavis/Forest merged company is projected by management in the takeover press release to deliver a multiple closer to 14x annual free cash flow in 2015 at present stock quotes.
The upside for Teva shareholders is the company has now become the subject of fervent takeover speculation after the Actavis/Forest announcement. The potential for a quick, oversized gain in Teva is offset by the downside risk of Copaxone's original formulation coming off patent soon. Wall Street estimates about 50% of current GAAP profitability is a result of this important drug. The "potential" for lawsuits down the road from unexpected injurious reactions caused by Teva manufactured drugs, product recalls and eventual controls on prescription pharmacy pricing by Obamacare are risks worth evaluating also.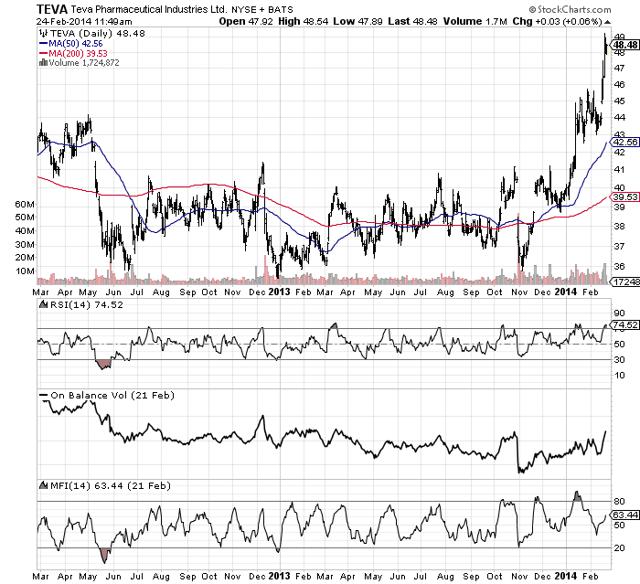 Medical products leader under accumulation
St. Jude was discussed in my Seeking Alpha article posted during November 2013, talking about the medical products area in more detail. St. Jude announced a dividend increase this week, and the stock is about 15% higher than my earlier November report. St. Jude is a leading developer, manufacturer and distributor of cardiovascular and implantable neuro-stimulation medical devices worldwide. The company competes with much larger Medtronic (NYSE:MDT) and Johnson & Johnson (NYSE:JNJ), but has done a great job developing its own patented technologies and customer base.
As a blanket statement, I would much rather own most any company involved in the medical products area than the average S&P 500 company, as the whole sector has witnessed aggressive share accumulation by investors for a year or more. As fear over Obamacare taxes and regulations on medical products eases, the inherent long-term value of these companies makes an extremely compelling argument for purchase at current stock levels, especially if the economy and markets take a breather for a year or two.
St. Jude specifically appears quite undervalued vs. its long-term trading history on a variety of basic financial metrics. While not the bargain basement price of a year ago, today's $68 stock quote is still trading at a below normal 15x projected free cash flow for calendar 2014, using Wall Street consensus numbers. A strong balance sheet, decent current stock valuations and projections of renewed growth in its business lines as baby-boomers continue to age are the backbone ideas of any investment in St. Jude. The stock price broke out of an eight-year basing pattern in 2013 with its move above $50 per share. The downside risks include "potential" lawsuits and recalls of any failed invention in the future and the serious competition for innovation in heart products by Medtronic and Johnson & Johnson.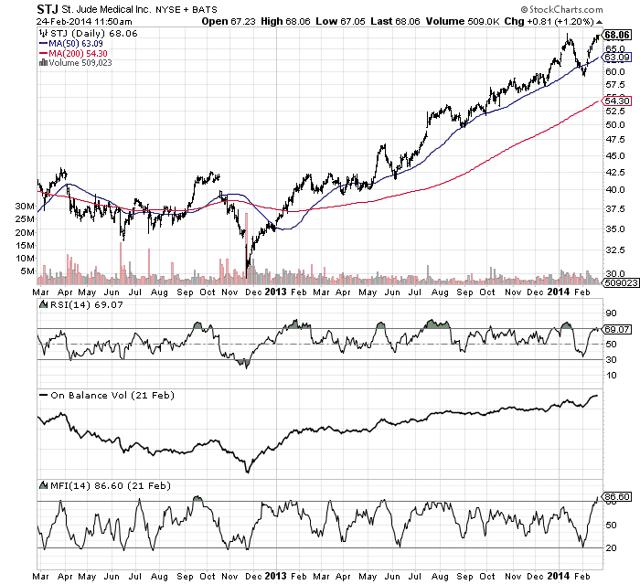 Conclusion
The push higher in defensive stocks and sectors in the second half of 2013 and early part of 2014 are a signal to everyone that experienced, well-endowed players and institutions are moving money into safer, asset conservation ideas. I would not be surprised by a down calendar year in the U.S. and global stock markets during 2014. As it stands in late-February, most every overseas stock market is lower in price already, and the U.S. market is essentially flat so far. Hedges in the precious metals, pharmaceutical and medical product sectors are paying dividends and profits to skittish investors. Please do your own research and decision making. Quiz your investment professional handling your money, and don't be shy about diversifying into defensive ideas like those mentioned here. Remember, defense wins championships!
Disclosure: I am long PAAS, GG, SWC. I wrote this article myself, and it expresses my own opinions. I am not receiving compensation for it (other than from Seeking Alpha). I have no business relationship with any company whose stock is mentioned in this article.
Additional disclosure: I am looking to enter new long positions in STJ and TEVA on price weakness.