NetApp, Inc. (NASDAQ:NTAP) engages in design, manufacture, and marketing of networked storage solutions. The company supplies enterprise storage, data management software, and hardware products and services.
Management reported third quarter results from operations that were roughly in-line with forecasts. But revenue guidance disappointed investors as the company is forecasting fiscal fourth quarter revenue to be flat to slightly down from the year-ago quarter. Investors, who may have gotten used to mid-to-high teens revenue growth, dumped shares following the report.
In my opinion, the recent results are likely due to temporary weakness in IT expenditure as electronic data storage is thought of as a growth industry. Also, NTAP continues to enhance its offerings with flash arrays and software, including FlexArray. While the longer-term picture is bullish, the recent growth rate and low return on equity offer evidence of overvaluation. Given the fundamentals, NTAP could be worth $27 per share. But there is a relatively good argument to be made for the optimistic valuation. The base case scenario is based on management continuing to reinvest revenue into a company with slowing-to-negative revenue growth.
Recent Developments
The FAS8000 enterprise storage systems, FlexArray virtualization software, and clustered Data ONTAP 8.2.1 are available. FlexArray enables the FAS8000 to virtualize and manage multi-vendor data storage platforms, paving the way for software-defined storage. The scale-out architecture enables customers to scale-on-demand.
NTAP's share price declined following sales guidance that disappointed investors.
There are expectations that federal government spending on storage technologies will be trimmed this year.
For the 12th consecutive years, NTAP was listed in FORTUNE magazine's top 100 companies to work for in America.
Business Summary
NetApp creates innovative storage and data management solutions that deliver outstanding cost efficiency and accelerate business breakthroughs. The company generates total revenue from sales of its branded products and sales of its products by other companies, such as IBM (NYSE:IBM) and Fujitsu. The majority of total revenue is derived from the Americas.
Qualitatively, digital data storage is a growth industry. Growth in the industry is being driven by the adoption of cloud storage solutions as well as data analytics. Additionally, media, including but not limited to audio and video, is being stored digitally. As the quality improves, the capacity utilization increases. Consequently, data storage could be a secular growth story. But the rate of sales growth may be roughly inline to slightly above global GDP growth.
During the fiscal third quarter, Branded revenue increased 1.8% relative to the year-ago quarter, while OEM revenue declined 22.6%. The combination led to a $20M decline in net revenues. Management expects OEM revenue to be relatively flat. As a percentage of total revenue, revenue from the Americas declined 200 basis points while revenue from EMEA increased 200 basis points and revenue from Asia Pacific increased 100 basis points. The higher growth regions of the world could contribute a larger portion of total revenue in future years, but this could come with reduced profitability margins.
NTAP has ample liquidity. Based on the first quarter's daily operating expenditures, NTAP has 656 days of liquidity. The net cash position was $4.07B. The debt-to-invested capital ratio was 0.20 and the financial leverage ratio was 2.3. NTAP has plenty of capital for strategic investments or distributions. Additionally, leverage is low enough that management can create additional contractual financial obligations.
Earnings quality analysis provides a mixed picture. One measure suggests excellent earnings quality while the other measure suggests awful earnings quality. But NTAP collected more cash from customers than it generated in revenue. Earnings quality is something that will have to be monitored in future reporting periods.
Profitability was excellent during the fiscal third quarter. The core operating margin was 28%. The return-on-equity was an annualized 10%, and the return-on-invested capital was an annualized 20%. The company paid 31% of net income in dividends. NTAP is able to generate returns above its cost of capital.
For the fiscal fourth quarter, NTAP is expecting total revenue in the $1.62B to $1.72B range with GAAP EPS of $0.57 to $0.62 and non-GAAP EPS of $0.77 to $0.82 per share. The forecast suggests flat-to-down revenue with GAAP EPS up 18.8% at the low end. EPS will be enhanced by a lower share count.
Risks
The share price is likely to remain volatile, and investors could lose a portion or all of their investment.
Investors should judge the suitability of an investment in NTAP in light of their own unique circumstances.
A decline in the global economic growth rate and/or a decline in the pace of economic growth in the United States could adversely impact the results of operations and the share price.
The technology industry is characterized by rapid technological change, which could materially adversely impact the results of operations.
Competition in product development and pricing could adversely impact performance.
Incorrect forecasts of customer demand could adversely impact the results of operations.
Higher interest rates may reduce demand for NTAP's offerings and negatively impact the results of operations and the share price.
This section does not discuss all risks related to an investment in NTAP.
Portfolio & Valuation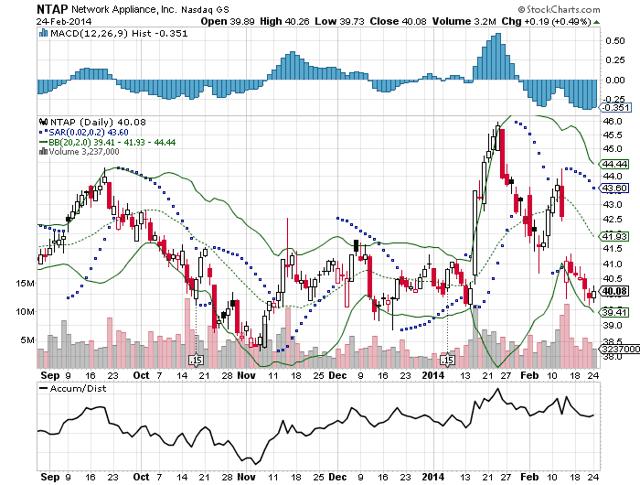 Click to enlarge
NTAP presents a relatively interesting investment opportunity from a technical perspective. The share price is in an intermediate-term decline as part of a primary bull market. In other words, this is a textbook "dip-to-buy." There are visible signs of both accumulation and the intermediate-term decline. Simply put, I view it as a low risk, high reward, high probability long-equity investment.
Since 2009, there were periods when the share price of NTAP was driven by company and industry factors. But more recently, NTAP has moved pretty much inline with the broader market. Based on the research, NTAP's share price is likely to continue to be at least partly influenced by company and industry factors. Additionally, based on the model, NTAP is likely to market perform or market underperform in the coming months.
The 3-months, 6-months, and 12-months price targets are $43.62, $44.29 and $45.62. NTAP is currently trading below its cycle trendline. The 12-months price target is 14% above the current share price.
Based on the fundamentals, NTAP appears to be overvalued. Under the base case scenario, NTAP is valued at $27 per share. The optimistic valuation is $46.15 per share. At $40 per share, the fundamentals of the business do not support the valuation using this model. You could make a case for the optimistic valuation using the long-term growth rate and the reinvestment of revenue into operations. But from the growth perspective, "What has NTAP done lately?"
Disclosure: I have no positions in any stocks mentioned, and no plans to initiate any positions within the next 72 hours. I wrote this article myself, and it expresses my own opinions. I am not receiving compensation for it (other than from Seeking Alpha). I have no business relationship with any company whose stock is mentioned in this article.