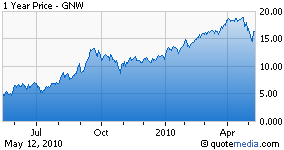 Genworth Financial Inc. (NYSE:GNW) reported first quarter 2010 earnings of 23 cents on April 29, missing the Zacks Consensus Estimate by 4 cents. Investors were clearly discouraged and the shares moved down following the earnings release. Wall Street had sufficient time to absorb the news, and analysts' responses have been mixed.
Earnings Report Review
Genworth's miss was due to lower-than-expected results from its life insurance business and International segment. Though the U.S. Mortgage Insurance segment continued to experience losses in the quarter, results significantly improved from prior quarters, driven by an increase in loss mitigation benefits.
Revenues increased 40% year over year to $2.42 billion. The company reported a drop in net investment losses to $42 million, down from $54 million in the prior quarter and $483 million in the year-ago quarter.
Earnings Estimate Revisions - Overview
Following the earnings release, estimates haven't moved significantly. The analysts had a mixed response on the earnings announcement and there is a lack of any defined trend. Below are the earnings estimate revision details to substantiate why investors would not want to buy the stock but hold it in their investment portfolio.
Agreement of Estimate Revisions
Analysts are not able agree on the outlook of Genworth, a fact that is quite evident from the estimate revision trends. While 5 analysts have raised their estimates for FY2010 in the last 30 days, 5 others downwardly revised estimates. However, for FY2011, we see that 8 analysts have made an upward revision to their estimates while 2 have lowered theirs. We believe that an expected recovery of the mortgage insurance market in 2011 is behind this upward bias.



Magnitude of Estimate Revisions
Estimates for FY2010 fell by a cent to $1.14 per share from $1.15 in the last 30 days. However, for FY2011, the estimate has moved up to $1.86 from $1.83. Clearly, there is a lack of positive catalysts in the short term. However, expected improvement in its operating performances in 2010 has led to a rise in 2011 estimates.



Genworth's U.S. Mortgage Insurance segment continued to experience losses in the quarter. Yet the results improved from the prior quarter, driven by an increase in loss mitigation benefits. The company's capital bolstering initiatives, introduction of high-margin products, distribution expansion, improved pricing and strict underwriting standards augur well going forward.
However, we expect unemployment rates to remain elevated in the near term, which will further weigh on its mortgage insurance business. Additionally, the improvements in its other business lines are expected to be slow, given the economy's sluggish recovery.
Considering the estimate revision trends and the magnitude of revising the estimates, we find that there is no clear directional pressure on the shares in the near term. This justifies the Zacks #3 Rank, which translates to a short-term Hold recommendation. Our long-term recommendation for the stock also remains at Neutral.