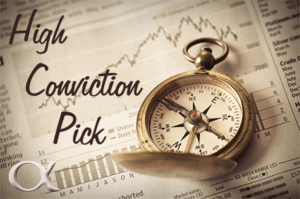 Dave Lawson is managing partner - and Bill Martindale managing partner and co-founder - of Conestoga Capital Advisors, a Radnor, Penn.-based investment advisory firm that seeks quality stocks among small-cap companies.
The firm tends to make conviction investments, holding only 40-50 stocks for an average of three to four years, with a goal of providing attractive risk-reward ratios relative to Russell 2000 and Russell 2000 Growth.
Seeking Alpha recently got the chance to ask about their current highest-conviction stock holding.
What is your highest-conviction stock position in your fund, whether long or short?
Our highest conviction stock is Micros Systems (NASDAQ:MCRS), which is a long position in our Mid Cap Growth Strategy as well as our Small Cap Growth Strategy.
Tell us a bit about the company behind the stock.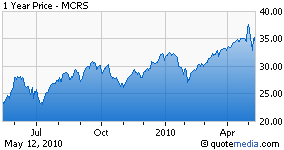 Micros Systems, headquartered in Columbia, Md., is a leading provider of enterprise information solutions to the global hospitality and retail industries. Their clients are restaurants, hotels/resorts, specialty retailers and leisure and entertainment providers (cruise lines, casinos, theme parks). The company's technology products and services include software, hardware, enterprise systems integration, consulting and maintenance support.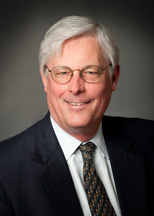 Dave Lawson

Slightly more than 50% of the company's revenues come from the restaurant industry, about 35% comes from the hotel/resort industry and the balance is derived from retail and other markets.

Just over 20% of revenues come from hardware sales, while nearly 80% of revenues come from software, service and maintenance licenses and contracts.

Micros offers a total solution approach to its clients. As an example, in the restaurant market segment the company provides everything from point-of-sale transaction systems to back-office systems that help track inventory, labor and other costs. In the hotel/resort market segment, the company offers everything from reservation systems to software that manages customer information and loyalty programs. The company's Enterprise Management products allow large restaurant and hotel chains to manage data from centralized locations.

Can you talk a bit about the sector? How much is Micros an "industry pick" as opposed to a pure bottom-up pick?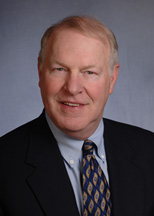 Bill Martindale

We are a bottom-up oriented, stock-picking type of manager that looks for industry leaders that have a strong, defensible position. The information services/point-of-sale industry, particularly the restaurant side of the market, is highly fragmented and very competitive, but we believe Micros has the broadest product and service offering and can therefore appeal to the large international chains as well as to the smaller independent restaurants. The same can be said about the hotel/resort industry – the company can sell into the very large international resort hotels, but it can also tap into the smaller boutique hotels.

The recent economic downturn made the restaurant and hotel industries focus more on cost control and productivity as opposed to growth in the number of new locations. This has been a positive for the information services industry in general because their products and services enhance the productivity of restaurant and hotel operations. It has given an even bigger advantage to the more established companies, like Micros, which has the financial strength to invest in product development and strategic acquisitions even in a downturn.

Can you describe Micros' competitive environment? How is it positioned vis-a-vis its competitors?

As I mentioned, the information services/point-of-sale industry is very competitive, but we believe Micros has a significant advantage due to its large installed base and its commitment to research and development, which has enabled it to have the broadest product and service offering.

As an example, in the hotel/resort market Micros does business with 15 of the 20 largest hotel chains in the world due to its ability to offer a wider suite of products that can serve bigger enterprises. The company's primary competition in the hotel/resort segment is the internal systems that some hotels have developed for themselves.

In the restaurant segment Micros is about three times as large as its biggest competitor and, due to the severity of the recent economy, many smaller competitors have been hard pressed to hold onto market share. Micros is coming out of the downturn in far better shape than most of its competitors and has generated significant excess cash flow in the process. The company has been very acquisitive in the past and has significant resources to continue to make strategic, tuck-in acquisitions of smaller companies.

The retail market segment is also highly fragmented with several large competitors and many small competitors. Micros has been acquiring smaller companies in the Retail segment to expand its product offering . Its ability to provide complete solutions for the retail market gives the company a significant advantage against the competition.

How does Micros' valuation compare to the competitors?

At its current price over $35 Micros trades at about 22 times our calendar 2010 earnings estimate and just over 19 times the calendar 2011 earnings estimate. While this valuation represents a small premium to the Russell 2000 Growth index, we think the company's excellent track record and strong market position warrants this premium. In addition, the company is a strong generator of excess cash flow and now has over $580 million in cash on its balance sheet, equal to $7.20 per share, and has almost no debt. When taking this large cash position into account, the stock's valuation is extremely attractive.

Micros' closest comparable competitor, Radiant Systems (RADS), currently trades at 17.5 times its 2010 earnings and 15.5 times its 2011 earnings. Micros trades at more than a 16% premium to Radiant Systems on a P/E basis. We aren't knocking Radiant Systems, but would note that it has more debt than cash on its balance sheet and does not have the high profit margins or dominant position in the industry that Micros has.

We also look at a stock's P/E to Earnings Growth (PEG) ratio in considering valuation. With a 2011 P/E of just over 19 and a long term growth projection of 18%, Micros only trades at a small premium above its growth rate, which we view as very attractive given its track record, market position and financial strength.

What is the current sentiment on MCRS? How does your view differ from the consensus?

According to Factset Research Systems, there are 10 sell-side analysts that cover Micros, and the average rating on the stock is a Buy. From that standpoint, our view isn't different from the consensus.

Our view may be somewhat different in regards to the earnings potential of Micros over the next two to three years, particularly in a better economic environment. Management has a goal of increasing the company's recurring revenue base and becoming less dependent on hardware revenue, which is having a positive effect on overall profit margins. In addition, during the recession, management was fairly aggressive in taking costs out of their operations, without sacrificing research and development, which helped the company expand operating margins through the downturn.

As a result of these trends, Micros' earnings in the third fiscal quarter (ended March 31) were well above Street consensus as operating margins improved by 170 basis points compared to last year. We think that improvement in profitability is likely to continue and Street estimates are going to trend higher.

We probably take a longer view on earnings potential than the Street typically does. If you look further out to calendar 2012 and assume Micros' management can achieve operating margins of 22%, which we think is very possible, the company has earnings power of more than $2.40 per share. If we do get a rebound in the economy and the restaurant and hotel markets are in better shape, earnings power would be even higher. We think that kind of earnings performance will lead to a high return for shareholders, even if the P/E multiple doesn't expand.

Speaking of management, how important is it to your approach and to this pick?

A strong management team is a critical component of our investment philosophy. Prior to investing in any company we spend a great deal of time in discussions with management. The primary goals of our conversations are to develop a thorough understanding of the business plan that management will employ to drive growth as well as to develop a high level of conviction that management can execute this plan.

In the case of Micros, the company has been led by Tom Giannopoulos since 1993. When we met with Tom and several of his executive officers we were very impressed with the growth opportunities in front of the company and how they were attacking those opportunities. We were also very encouraged that the management team clearly has the experience and resources to successfully carry out their business plan.

What catalysts do you see that could move Micros' stock?

There are several catalysts that we believe will drive the earnings and stock price of Micros. These include international expansion opportunities, as the company's larger domestic customers expand overseas and new internationally based customers are won. Micros also benefits from store and restaurant growth of their existing customer base, and while this has been slow with the weak economy, we expect the pace of new store openings to improve over the next several years.

Growth will also be driven by cross-sell opportunities from new product development and from niche products that are acquired. Additionally, the lifecycle for Micros' products historically has been approximately seven years. Given the economic conditions over the past few years, this cycle has been extended, but we believe that in the near future Micros' customers will start to upgrade at a faster rate in order to remain competitive.

Finally, with software and maintenance revenues growing faster than hardware revenues, Micros' profit margins have been expanding. This should continue for the foreseeable future and may drive higher than expected earnings growth.

What could go wrong with this pick?

There are several risks to consider in owning Micros Systems. First, the company's most important end markets, restaurants and hotels, tend to be cyclical and dependent on consumer and business spending. If the economy in the U.S. and overseas goes back into recession, then Micros' revenues will be flat at best and earnings growth will be hard to accomplish. Management has mitigated this risk somewhat with cost-cutting efforts in the recent downturn, but another recession would definitely hurt their ability to grow.

Another risk is the influence that hardware sales have on the company's profitability. Even though there is a trend towards a higher component of revenue coming from software and maintenance over the next few years, there can be periods when large orders for hardware will reduce the company's profit margins for a quarter or two.

Finally, Micros is an acquisitive company, and with a large cash position is very likely to make some acquisitions in the near future. Management has an excellent track record of acquiring and integrating smaller companies, but there is always the possibility that an acquisition can dilute earnings or otherwise not turn out the way management has planned.

We think these risks are very well known by the investment community and are risks we are willing to take, given what we feel is a potential return on investment of 15% to 20% per year over the next several years.

Thanks for sharing your thesis with us.

Disclosure: Conestoga Capital Advisors is long MCRS.

Read more High Conviction Picks »

If you are a fund manager and interested in doing an interview with us on your highest conviction stock holding, please email Rebecca Barnett.