General Electric's (NYSE:GE) CEO Jeff Immelt gave a very impressive presentation at the recent Bloomberg Link Energy 2020 summit in which he pronounced "the Age Of Natural Gas Is Upon Us." Immelt made a compelling case for making natural gas a baseline fuel of the future and said it is already being viewed as such. He said GE believes
The science of climate change is real.
But he also said making a positive environmental impact is very much an economic story. He related how GE dedicated itself 9 years ago to clean energy solutions by investing $15 billion in R&D centered on:
Carbon Reduction
Energy Efficiency
Technology & Innovation
The result was GE's "Ecomagination" technology and $160 billion in sales: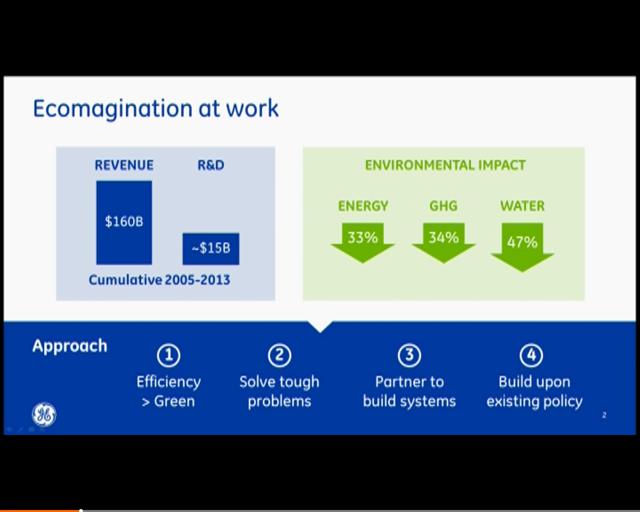 The company also decided early on to partner with other companies to solve the tough technological and environmental problems facing the world today.
The Age of Natural Gas Is Upon Us
The most compelling part of Immelt's presentation were the facts he presented with respect to the impact abundant, clean and cheap natural gas is having here in the US. Natural gas has had a dramatic and unpredicted impact on electric power generation. As an example, when GE bought its wind energy business 10 years ago, electricity was $0.25 kw-hr versus $0.05 kw-hr today.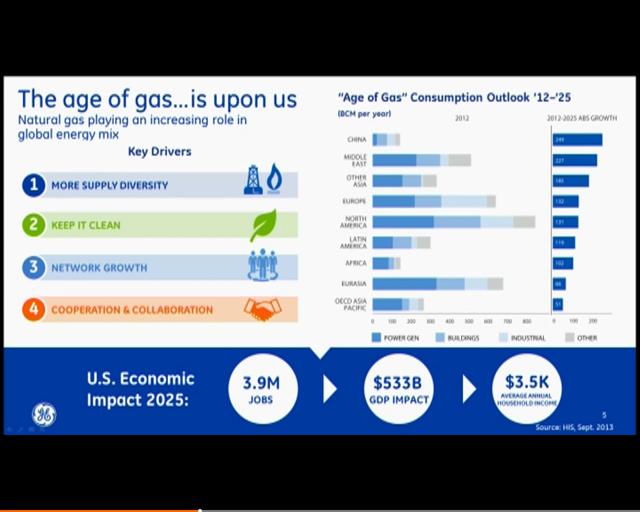 Over the past 10 years, leadership in environmental innovation has transitioned from Europe to the US and China. As a company with a ~$50 billion dollar energy business, GE can attest to the fact that this natural gas revolution is having a positive economic impact to its worldwide energy business. Immelt said GE now has a 50% market share of the heavy duty gas turbine business. And this is very much a global business: Immelt said GE will sell more natural gas turbines in Algeria over the next 3 years than it will in the US.
Bottom line: Natural gas has increased flexibility, availability, is cheaper and has a more diverse supply. Because of these advantages, nat gas is increasingly being used as a cleaner solution to worldwide economic and environmental issues. As a result, natural gas has moved from being viewed as a transition or "bridge fuel" to being viewed as a "baseline fuel" of the future.
The United States Is Very Well Positioned
And of course the United States is very well positioned for the age of natural gas. However, it may come as a surprise to some just how big the impact the natural gas revolution will be. Immelt quoted data from an independent source that showed just how much the US stands to benefit from the age of natural gas:
3.9 million new jobs
$533 billion impact to GDP
$3,500 impact to average annual household income
These are astounding figures and very positive for the future of the US going forward. As another example, Immelt said the cost of electricity to run a steel mill in Texas is today 1/2-1/3 the cost of a steel mill in Europe.
Where GE Is Focusing
The following slide shows where GE is focusing its activity: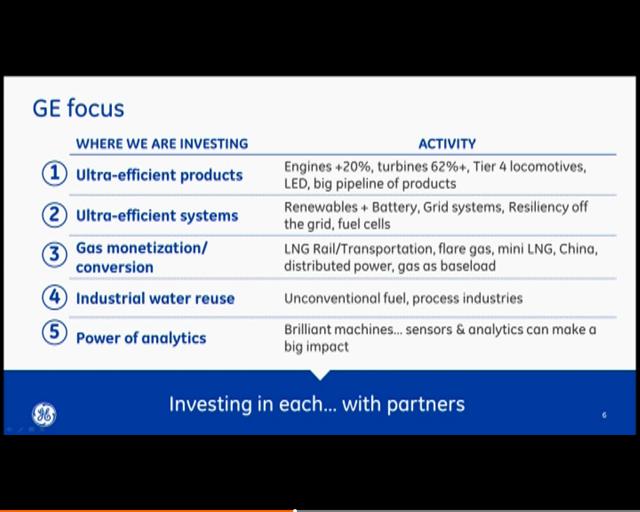 As examples, Immelt talked about how the demand for natural gas is frequently far from where it is produced. He cited Africa as an example where there have been huge natural gas discoveries made recently yet it can seldom be found across the majority of the continent. As a result, GE is focusing on things like LNG transportation, mini-LNG and distributed power systems.
Stopping Flare Gas
GE is also working with partner StatOil (NYSE:STO) to develop ways of capturing, recycling and using flare gas.
Natural Gas Transportation
Immelt said there are tremendous economic and environmental benefits of switching from diesel to natural gas. It is working with partners CSX Corp. (NYSE:CSX) and BNSF to develop tier-4 locomotives that run on natural gas.
"Brilliant" Wind Turbines
As another example, Immelt cited GE's "brilliant" wind turbines that not only come equipped with a local battery system that can store 15 minutes of power, but are also fitted with conditioned based sensors that can sense wind changes up to 50 miles away and adjust turbine blade angles for maximum efficiency.
Industrial Water Reuse
GE is also focusing on industrial water reuse. It is working with partner Suncor Energy (NYSE:SU) to reuse and eliminate fresh water use in the oil sands of Alberta.
Summary And Conclusion
GE, via its "Ecomagination" technology and innovation, is working with partners to solve the tough economic and environmental problems the world faces today. CEO Immelt made a very compelling case for why "the time is now" to build a cleaner infrastructure using natural gas, not as a "bridge fuel," but as the long-term "baseline fuel" of the future. And of course Immelt has perfectly positioned GE to thrive in "The Age Of Natural Gas."
From an investment point of view, GE is not a screaming bargain at current prices, but neither is it overpriced. Having backed off ~10% from its recent high of $28, the stock is reasonably priced here with a PE=18.5 and a juicy yield of 3.5%. GE is attractive and should be considered by income investors as a long-term buy-n-hold stock.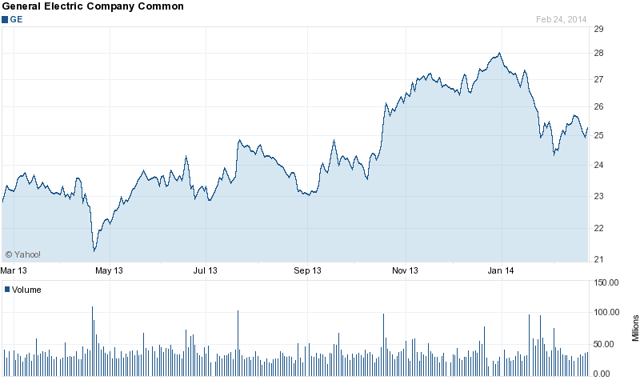 Disclosure: I am long STO. I wrote this article myself, and it expresses my own opinions. I am not receiving compensation for it (other than from Seeking Alpha). I have no business relationship with any company whose stock is mentioned in this article.
Additional disclosure: I am an engineer, not a CFA. The information and data presented in this article was obtained from company documents and/or sources believed to be reliable, but has not been independently verified. Therefore, the author cannot guarantee its accuracy. Please do your own research and contact a qualified investment advisor. I am not responsible for investment decisions you make. Thanks for reading and good luck!