By Chris McKhann
Option selling has abounded as the volatility has leaked out of the market, and we see another example in Ivanhoe Mines (IVN).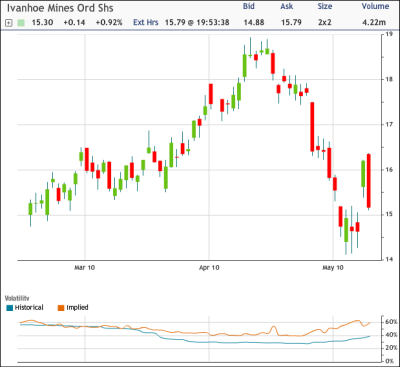 IVN closed yesterday at $15.30, up 0.92 percent on the session. The stock's volatility has risen as its price gapped higher on Monday, lost most of that gain Tuesday, and then yesterday rebounded off losses that had taken shares back to Friday's close.
At least one trader is trying to take advantage of the increased volatility and option premiums. optionMONSTER's systems show that 10,000 June 15 puts changed hands, with the largest block of 9,300 sold for $0.90. This was against open interest of 790 contracts and total average volume of 4,000 options per day.
With the shares so close to the strike price, this is really a statement that the trader is willing to buy IVN at that $15 level come the June expiration and that shares are very unlikely to fall below $14.10, which is the break-even point for the trade on the downside.
The implied volatility of those puts is 55 percent, slightly below the 59 percent average for IVN but well above the 30-day historical reading of 50 percent. This may be trying to take advantage of the increasing implied volatility going into its earnings announcement, which is scheduled for next week.
(Chart courtesy of tradeMONSTER)