The energy sector is facing some challenges. The British Petroleum (NYSE:BP) oil spill in the Gulf of Mexico has blackened a few eyes on both sides of the Atlantic, but the energy sector is still loaded with profit potential for the astute investor. We recently highlighted one name that can deliver tidy returns to investors regardless of oil's volatile price swings with Kinder Morgan (NYSE:KMP). Now, we think it might be a good idea to look for stocks with less involvement in offshore drilling.
One such stock is Newpark Resources (NYSE:NR), a Texas-based provider of drilling fluids, temporary worksites and access roads for oil and gas drillers. Yes, Newpark has some exposure to the offshore business, but the company is more of an onshore drilling play. They specialize in land-based construction as well as environmental and support services. That's an important distinction when the future of new U.S. offshore drilling activity is murky at best.
Some investors may take a pass on Newpark shares because of the sub-$10 share price. That could prove to be a mistake. Yes, many mutual fund managers don't invest in stocks priced under $10, but many don't outperform their benchmarks, either. There are plenty of hidden gems trading for less than $10, and Newpark Resources might just be one of them.
Earlier this month, the company reported first-quarter earnings of $7.8 million, or nine cents a share, compared with about break-even a year earlier. More importantly, the top-line growth was impressive. Revenue surged to $160.8 million from $126.9 million. According to Zacks Investment Research, it was the third straight quarter Newpark has beaten the Zacks estimate by more than 100% and the fourth consecutive time the company reported better-than-expected results.
Sell-side analysts have taken note of Newpark, too. Wunderlich Securities boosted its price target on Newpark to $12 from $8 earlier this month, citing strength in Newpark's core fluids and environmental services businesses. That's more than 50% above where the stock currently trades. Newpark shares have rallied about 70% in the past three months, sharply outperforming larger oil services names and the broader market.
Even with this exceptional momentum, it's hard to call Newpark an "expensive" stock. The shares trade for less than 16 times estimated 2011 earnings and less than two times book value. Those valuations compare favorably with larger, riskier oil services stocks. Given Newpark's very reasonable valuation, the shares could offer a sanctuary to wary energy sector investors. To go with an onshore oil services play when the political winds for energy are shifting inland, go with NR.
click to enlarge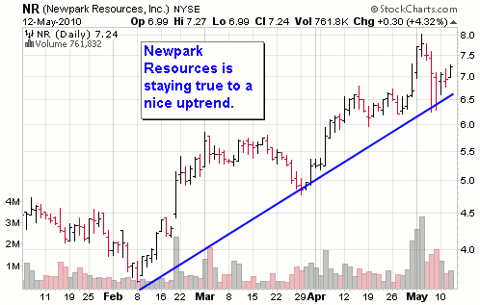 Disclosure covering writer, editor, publisher, and affiliates: No positions in any of the securities mentioned. No positions in any of the companies or ETF sponsors mentioned. No income, revenue, or other compensation (either directly or indirectly) received from, or on behalf of, any of the companies or ETF sponsors mentioned.