Last week we received the much anticipated earnings for Kodiak Oil (NYSE:KOG). I was content with earnings but when compared to what analysts were expecting, KOG came up a bit light. These earnings did not change my long-term thesis though. Actually, this gave KOG some volatility to trade. Many, like myself, were able to trade around core positions to lock in realized profits only to buy back those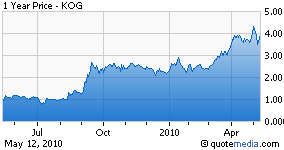 shares on dips. The market uncertainty combined with oil being pressured should continue this volatile trend into the near future. If you are a buy and hold type investor, this may frustrate you. For hybrid investors/traders like myself, this is just more opportunity to lock in gains which I will discuss later. Now, let us dig deep into KOG's quarterly report.

Financials
Kodiak posted a profit of $980,750, or 1 cent per share, compared with a loss of $1.6 million, or 2 cents per share, a year earlier. Total revenue surged to $5.6 million (including about a $120,000 unrealized loss from risk management activities), compared to about $800,000 a year earlier, but was a bit light compared to analyst's expectations. Analysts were estimating $7 million and 2 cents per share.
This was a quarter of numerous records for KOG. Here is a list of highlights from 1st Quarter 2010:
Record Quarterly Production of 84.4 MBOE (92% Oil), 155% Quarter-over-Quarter Increase
Record Quarterly Oil Production 77.2 MBbls, a 368% Increase
Record Oil & Gas Sales of $5.7 MM
Record Adjusted EBITDA of $3.3 MM
Record Net Income of $1.0 MM
The increase in revenues was obviously from the 368% increase in oil production volumes and significantly higher oil and natural gas prices received when compared to 2009. Oil and gas sales were $5.7 million for the first quarter 2010, a 635% increase and a Company record. Crude oil revenue accounted for just about 96% of the total first quarter 2010 oil and gas sales. The price received for oil jumped 137% and the price for gas rose 91%.
KOG's oil and gas production expense for the quarter was $1.2 million, compared to $150,000 during the same quarter in 2009. The increase in production expense is from the additional production expense related to 11 producing wells which were not producing in the same period last year.
Positives
Many of the positives are fairly obvious in KOG. The growing production rates in oil as well as the higher oil prices all continue to show the explosive growth potential KOG has. This is only the start for KOG as they continue to add producing wells and ramp up current production which will further increase volume therefore increasing revenues.
As of today, analysts are estimating about a 50% growth in revenues from 1st to 2nd quarter 2010 and about a 300% growth when comparing 2nd quarter 2010 to 2nd quarter 2009. When you add in the fact that KOG has no long-term debt and a forward P/E of about 11, we start to see that this company is still undervalued even after it increased the PPS about 77% so far year-to-date.
The long-term growth will also continue as KOG acquired 5,500 new net acres to explore and help increase future production therefore higher revenues. KOG is making the right moves and using the cash to reinvest in the businesses growth and long term prospects.
KOG is also gaining more experience as the month's progress. KOG will benefit from economies of scale and overall greater efficiency therefore helping the bottom line even more. With financing anticipated to be in place by the end of the quarter, this will free up KOG to reinvest more in the business.
Challenges
Unfortunately, KOG is experiencing some challenges as well. One important challenge is one which is currently out of their hands. KOG's two best producing wells in North Dakota had to be pinched back due to challenges associated with the weather. The trucks could not haul away the oil fast enough, due to the poor weather, so the wells had to be pinched back during the quarter. This reduced the oil volumes to manageable levels. Some locations had to be shut down for a few weeks which will negatively impact the oil volume and thus the bottom line.
On the conference call, we were informed that we will see more weather-related issues this quarter but this should pass as we inch closer to summer. This is definitely bad news as one well down can have a significantly negative impact on revenues for a company with such high expectations. If you view what the company has accomplished overall, KOG has done an amazing job. The records earned this quarter are true accomplishments for KOG. However, this is the stock market and not meeting analyst's expectations can be detrimental to the stock price, especially as we gain more institutional buying which more closely trades off this type of information.
The current market uncertainty and crude oil prices are another very important challenge that will affect the stock price and crude oil price. As crude oil prices stay pressured, KOG receives lower prices for their oil. Right now, we should be ramping up towards significantly higher prices leading to Memorial Day. However the market uncertainty, Greece issues, and the BP plc (NYSE:BP) issue are all having a negative impact on crude. One would think the BP situation would actually increase oil prices. However, the fear is that reserves will be released therefore flooding the markets with more oil. Some are expecting oil to trend towards $70 which would have a negative impact on KOG, among other oil plays. This is a situation which needs to be monitored closely as we should see high volatility in the PPS as crude oil prices fluctuate.
Summary
Overall, I am happy with the results of this quarter and the challenges do not concern me nor change my long-term thesis. KOG is still showing impressive growth and they are making all the right decisions to continue along this path. The weather related issues will be less of an impact as we inch towards summer and as KOG puts more new wells into production therefore limiting the impact when some go offline.
The PPS has shown great resiliency as we are nearing $4 again even though crude oil is still being highly pressured near $75. The best method I see for this stock is the one I am currently implementing in Sirius XM (NASDAQ:SIRI). I am trading around a core position to lock in realized profits when I can. The volatility is allowing me to buy back those shares on dips only to do it all over again and lock in realized gains when I can. This is a great method to increase profits rather than using a buy and hold strategy only.
As KOG increases oil production this year, these prices will be less of an impact as the increase in oil production from quarter-to-quarter will grow revenues even if crude prices stay pressured. However, I do not foresee oil prices staying pressured throughout the year. When KOG's oil production starts to level off with less growth, crude prices will have a more significant impact. That day is nowhere in sight at the moment so we will worry about that when the time comes. As always, do your own homework to see if you agree.

Disclosure: Long KOG and SIRI but positions may change at any time