Annaly Capital Management Inc. (NYSE:NLY) is one of the largest mortgage REITs in the US. It tends to be slower than many of the others. However, it also weathers the economic storms better than many of the others. In Q4 2013, it seemed to be doing more weathering. There were definite positive signs for NLY; but there was also the negative of further book value loss. On September 30, 2013 NLY's book value was $12.70 per common share. On December 31, 2013 NLY's book value was $12.13 per common share -- a loss of -$0.57 per common share (about -4.5%). In justification of this, the 10-year US Treasury Note yield rose from 2.61% on September 30, 2013 to 3.03% on December 31, 2013 (+42 bps). Naturally, this caused losses in NLY's Agency RMBS portfolio.
On the positive side, NLY had Core Earnings of $350.1 million (or $0.35 per common share -- a substantial beat of the expected $0.26 per share) for Q4 2013. These compared well to Core Earnings of $282.3 million ($0.28 per share) for Q3 2013 and $335.1 million ($0.32 per share) for Q4 2012. GAAP net income figures were also an improvement; but these are not a good metric for evaluating this stock (or mortgage REITs in general). NLY also ended Q4 with a strong capital position, with a capital ratio of 15.1%, a net capital ratio of 15.9%, and leverage of 5.0:1.
NLY's average portfolio CPR (constant prepayment rate) showed consistent improvement over 2013. It moved from 20% at the end of Q4 2012 to 13% at the end of Q3 2013 to 7% at the end of Q4 2013. The lower average CPR translates into slightly higher net interest rate spread and lower book value losses on Agency securities, which typically trade at a premium to par value. The net interest spread for the above three quarters were respectively 0.94% (Q4 2012), 1.07% (Q3 2013), and 1.43% (Q4 2013). This last was a nice improvement.
Unfortunately, the dividends declared ran in reverse of the above improvements, at $0.45 per common share for Q4 2012 to $0.35 for Q3 2013 to $0.30 for Q4 2013. On first inspection, this doesn't seem to agree with the net interest spread improvements. However, the size of the Agency portfolio has decreased from $127.0 billion to $83.0 billion to $73.4 billion respectively for the above quarters. The leverage also decreased from 6.5x to 5.4x to 5.0x in the above quarters respectively. After seeing this, it is easier to see why NLY reduced its dividends. It is also easier to see that continued lowering of the dividend may not be immediately on the cards.
NLY is also now more hedged, with interest rate swaps in the notional amount of $52.4 billion at the end of Q4 2013 and interest rate swaptions with a net notional amount of $4.2 billion. This amounted to 92% of NLY's repurchase agreements at the end of Q4 2013 versus 85% at the end of Q3 2013 and 46% at the end of Q4 2012. These provided some protection in Q4 2013; but not enough to prevent book value losses. Still, they make NLY's book value more stable; and they are still low enough that they should not cause losses themselves. For instance, the 10-year US Treasury Note yield has fallen from 3.03% on December 31, 2013 to 2.71% on February 25, 2014 (-32 bps). This will negatively impact hedge values; but it should positively impact Agency RMBS book values. Having a lower notional amount of hedges compared to Agency securities and/or repurchase agreements, should ensure NLY's book value will rise in Q1 2014 (at least if Q1 2014 closed with interest rates at their current level). Admittedly, this could lead to a slight decrease in the net interest rate spread in Q1 2014, but NLY should do well overall in Q1 2014.
The commercial arm of NLY is new; but it has had overall good statistics thus far. The weighted average yield on commercial real estate debt and preferred equity was 9.71% at the end of Q3 2013 and 9.17% at the end of Q4 2013. The weighted average net equity yield on investments in commercial real estate was 14.13% at the end of Q3 2013 and 12.69% at the end of Q4 2013. There is not enough data to make a useful assessment yet; but CreXus had been a successful company for years before NLY bought it. Plus, the above statistics seem to be at least reasonably good. This is good because NLY had grown the commercial arm of the company to 14% of its stockholders' equity by the end of Q4 2013.
All told, NLY looks well-positioned for 2013. It has 32 bps of 10-year US Treasury Note yield decrease in its pocket for Q1 2014 at this time. Its book value will probably go up in Q1 2014. On top of this, it is currently paying an approximately $1.20 per year dividend (about 11% annually). This dividend looks stable for the first time in a while. Core Earnings were $0.35 per common share. This covers a $0.30 per common share dividend well.
NLY went up after-hours on February 25, 2014 after this report. This reaction may continue, as it is trading below its book value of $12.13 per common share as of December 31, 2013. With the drop in the 10-year US Treasury Note yield by 32 bps since Q4 2013E at the time of this writing (February 25, 2014), NLY's book value is likely to go up in Q1. This may mean NLY is trading at an even bigger discount to book value. The results of the commercial arm may add to the book value appreciation too. NLY is a buy, or at least a strong hold on stability and a good dividend (and a possible stock price appreciation).
Yes, there does seem to be a turnover among officers occurring. Mike Farrell died. At last year's annual meeting, shareholders approved a move from an internally managed company to an externally managed company. Recently, some long-term NLY guys have decided to leave. However, I am not sure this is as important as some want to make it (a sinking ship theme). The move to an externally managed model could be all the explanation that is needed for this. We will have to wait to see how all of this impacts the company longer term.
The two-year chart of NLY provides some technical direction for this trade.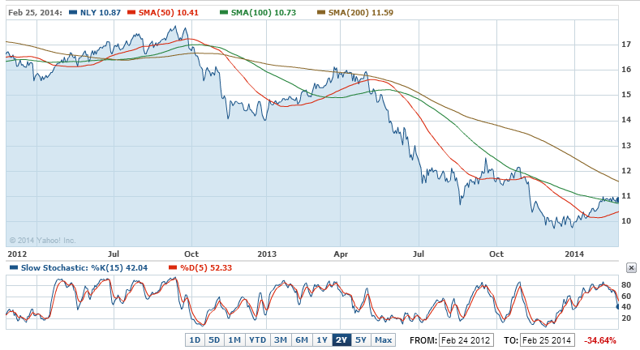 The slow stochastic sub-chart shows that NLY is neither overbought, nor oversold. The main chart shows that NLY has been in a downtrend since late 2012. However, this downtrend seems to have bottomed recently. NLY's fundamentals tend to back up a bottom. This may mean that NLY will go either sideways or up in the near future. With its approximately 11% dividend, that should make NLY a buy, or at least a strong hold. It has an average analysts' recommendation of 2.9 (a hold). It has a CAPS rating of three stars (a hold). In a troubled market environment, NLY, which is trading at a discount to book value, may be a good stock to own.
NOTE: Some of the above fundamental financial data is from Yahoo Finance.
Good Luck Trading.
Disclosure: I have no positions in any stocks mentioned, but may initiate a long position in NLY over the next 72 hours. I wrote this article myself, and it expresses my own opinions. I am not receiving compensation for it (other than from Seeking Alpha). I have no business relationship with any company whose stock is mentioned in this article.