Welcome to the future of food shopping-and more. Last week I visited a Stop & Shop (AHONY) near a friend's house in Massachusetts, and was greeted by a large rack of "gun-scanners," called "Scan It!"
User Benefits: These scanners are cordless and allow the customer to scan each item as he places it directly into a bag in his cart. Essentially, it eliminates checkout lines along with the need to unload and then reload your cart. Perhaps more notable however is:
That real-time location data can be combined with purchase history and cart contents to generate offers that are more customized than if they were solely based on proximity to other products. For instance, if a shopper who typically buys soy milk scans a box of breakfast cereal, he might be targeted with a discount on soy milk, rather than dairy milk, when he reaches the refrigerated section.

-Kate Kaye, Advertising Age
And indeed, as I strolled the aisles in search of salad and pasta as per my wife's orders, I was bombarded with coupons for marinara sauce and Ranch dressing on my Scan It! with a catchy cha-ching! sound. It turned the shopping experience into a sort of game that was surprisingly fun to play along with.
Amid the $6 billion annual online grocery-shopping industry (which is projected to grow 9.5% by 2017), this fun user-experience may partially be an incentive to step out of your house for your groceries. Whole Foods (NASDAQ:WFM) agrees--it has started putting bars and pubs into some of its stores to enhance the experience. I was not alone in using the scanner-about 28% of Royal Ahold (the parent company of Stop and Shop) store shoppers used Scan It! scanners last year. This number seems pretty solid for a growing technology that many people have not heard of. However, each rack of scanners costs around $10,000 per store-and that's a big investment. This led to the implementation of the mobile app of Scan It! for Android (NASDAQ:GOOG) and Apple (NASDAQ:AAPL). It serves the same functions as the scanner-gun, but allows the user to browse his account history and is overall more convenient--and oh yeah, it's also free!
Company Benefits: Eliminating the checkout process should also do away with bagging-boys and cashiers, reducing the staffing needs of the store. Additionally, because stores have limited space to carry extra inventory, grocers rely heavily on their distributors for frequent deliveries. Target marketing will help minimize extra inventory allowing for more square-feet of selling instead of storing products, and cut back on the amount of deliveries needed. Less overhead instantly equals more profit. In a recent survey by Consumer Reports, 27% of food shoppers cited their top grievance as being "not enough open checkouts." With this issue resolved, Ahold should get a bigger chunk of the annual $850 billion industry.
Perhaps the only main concern with this program is theft. But in truth, it is only a different form of self-checkout which has been around for over a decade. The Scan It! has a random audit system which requires an employee to scan a few items in random shoppers' carts in order to keep them honest. A possible solution could be to copy The Home Depot (NYSE:HD) and have a guard by the exit check over each person's receipt. Another could be to have some sort of scanner placed by the exit that would beep when an unscanned item went through the door. The problem is still ongoing but a realistic and cost-effective solution should be in place soon.
Stock Talk: In the immediate long-term (1-2 years) Ahold should benefit tremendously from both its limiting overhead and increased number of customers that will switch from competitors. Obviously, when something works everyone will copy it, but I predict that the revolution will only truly catch on after two years due to the pilots and investment needed, as well as the time to get the technology exactly right. At that two year mark, nearly all brick and mortar food-stores should benefit financially from it.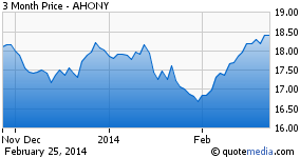 As seen in the above chart, Ahold (stock ticker AHONY) peaked in late November, early-December--not coincidentally the same that the Stop and Shop apps hit smartphone marketplaces.
Within this 1-2 year time frame, growing online food delivery services will most likely continue to grow, but simply because they are "new and out-there." When the fizzle dies down, the grocery shopping deliveries will die with it:
Despite the convenience, wider access to broadband Internet, the proliferation of mobile devices and customization of consumer preferences, most of the growth in online grocery sales will be limited to certain densely populated metropolitan areas, where income levels are more conducive to higher-priced online purchases.

-Mickey Chadha, Moody's Investor
One of the most prominent of these services is AmazonFresh (NASDAQ:AMZN). Even if online grocery shopping DOES happen to catch on, large food-chains like Safeway (NYSE:SWY) and Stop and Shop will simply transition into that business model. In fact, these two food-stores already have their foot in the door for online delivery-just in case.
It won't take long for Ahold to realize savings. If each of the 772 American supermarkets were able to get rid of just four employees (cashiers/bag boys) with an assumed minimum wage of $7.25/hr working 8 hours a day and 50 weeks/year, over $44 million will be saved a year. Operating income is a large expense that this will help cut: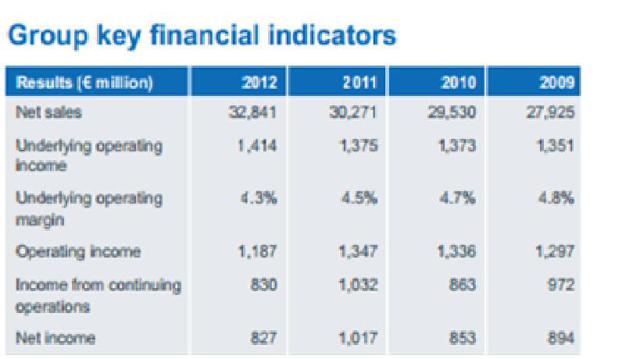 Overall, the grocery store industry as a whole should greatly improve. And since food will always be around and these large companies have a global monopoly on the industry, it should be a relatively low risk investment. As per this article Ahold would be my highest recommended investment, however, investing in an industry basket containing Safeway, Whole Foods and Kroger (NYSE:KR) at the very least could also lead to profits.
Disclosure: I have no positions in any stocks mentioned, and no plans to initiate any positions within the next 72 hours. I wrote this article myself, and it expresses my own opinions. I am not receiving compensation for it (other than from Seeking Alpha). I have no business relationship with any company whose stock is mentioned in this article.