Nearly all oil majors have rebounded nicely since the beginning of February although fourth quarter earnings presentations of large-cap oil and gas companies have been largely disappointing. Flat oil prices, higher exploration costs and lower downstream volumes have taken a toll on the share prices of many oil- and gas companies in 2013.
Shares of oil majors ultimately sold off at the end of January; once again offering long-term oriented investors attractive entry points and high initial dividend yields. While BP (NYSE:BP) is my favorite contrarian investment in the sector, ConocoPhillips (NYSE:COP) is a great long-term bet on increasing North American oil- and gas production for investors who can look past quarterly results. In fact, I think ConocoPhillips is probably the best US oil- and gas company in the sector now due to its focused presence in high-impact drilling theaters Eagle Ford and Bakken and its rigorous divestment program that led to disposal proceeds of more than $10 billion in 2013.
Twelve month trailing share performance
ConocoPhillips returned about 15% over the last year. However, the independent oil- and gas company gave away most of its share gains over the last twelve month in the fourth quarter of 2013 and January 2014. ConocoPhillips still trades about 11% below its 52-week High of $74.59. Since 52-week Highs are rarely good entry points for long-term investors, the pullback in share price makes an investment in this leading, independent oil- and gas company even more attractive.
(Source: Yahoo Finance)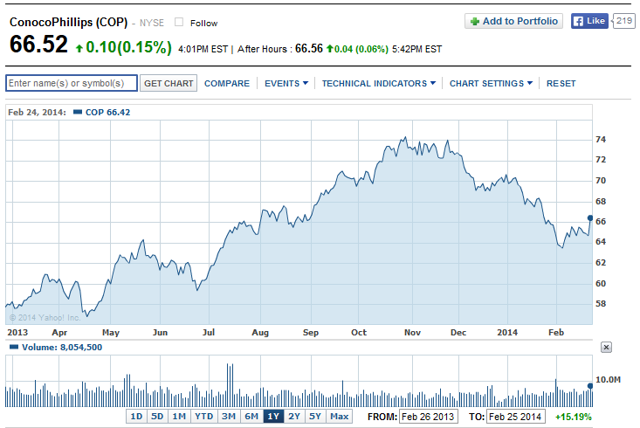 Click to enlarge
The chart below shows that many other large-cap oil- and gas producers had a rough start into 2014 as well. Nevertheless, ConocoPhillips still has the best five-year performance in the peer group with a return of 134%. Chevron (NYSE:CVX) gained 89%, ExxonMobil (NYSE:XOM) 42%, Total (NYSE:TOT) 34% and BP 32%.
(Source: Yahoo Finance)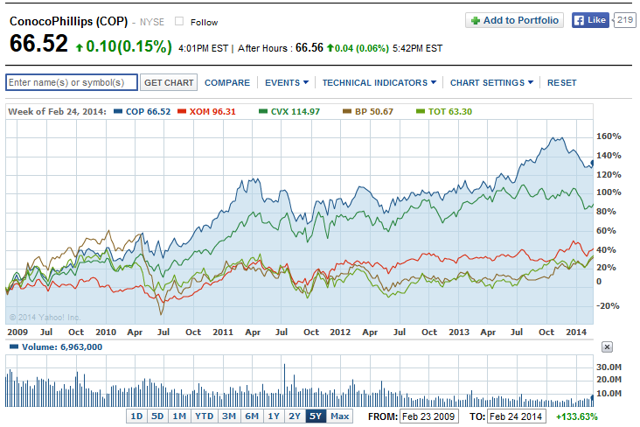 Click to enlarge
Background
US energy companies with US shale exposure -- whether they operate upstream-, midstream- or downstream businesses -- are greatly positioned to benefit from increasing energy demand as the US/world economy grows and emerging market population growth drives incremental fossil fuel demand in the coming decades. ConocoPhillips is an especially good investment for investors who plan on capitalizing on the long-term trend of depleting fossil fuel reserves and increasing energy demand. Moreover, increasing economic momentum should also give oil prices a boost and turbocharge EPS prospects of exploration companies such as ConocoPhillips.
Basic materials companies including oil- and gas firms are cyclical investments which should do well when the economy (particularly the Chinese) rebounds. Prices for precious-, industrial- and energy commodities will largely be dependent on recaptured momentum in the Chinese economy. In an environment of higher energy prices, I expect significant upside potential for shares of ConocoPhillips.
Free cash flow valuation
The table below depicts ConocoPhillips' historical cash flows derived from its most recent 10-K filing with the SEC. I have included my cash flow estimates for fiscal year 2014 as well as a reconciliation to the free cash flow to equity. I estimate very low capex volatility going forward since ConocoPhillips has stated in its latest investor presentation for the Credit Suisse Energy Summit that it expects capital expenditures in the amount of $16 billion per year until 2017.
Correspondingly, I expect ConocoPhillips to deliver a full-year 2014 free cash flow to equity of about $7 billion or $5.62 per share. This translates into a free cash flow yield of 8.44% and a forward P/FCFE ratio of 11.84. Both ratios imply a low cash flow-based valuation while I think my cash flow estimates for 2014 are neither conservative nor overly aggressive.
(Source: Achilles Research, ConocoPhillips 10-K)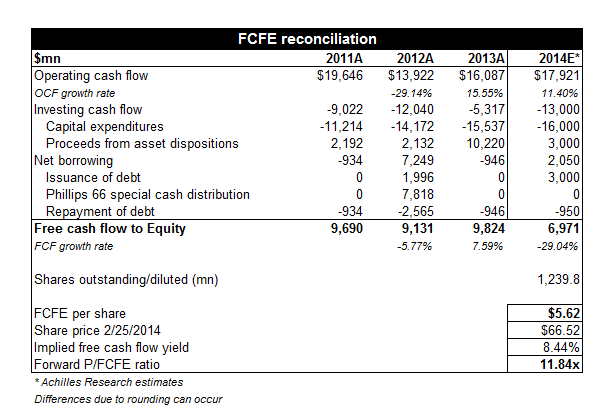 The discounted free cash flow model below (equity cost of capital 10%, terminal growth rate 3%) suggests that ConocoPhillips' intrinsic value stands at around $83.47 per share indicating that the oil major still has more than 25% upside potential.
(Source: Achilles Research)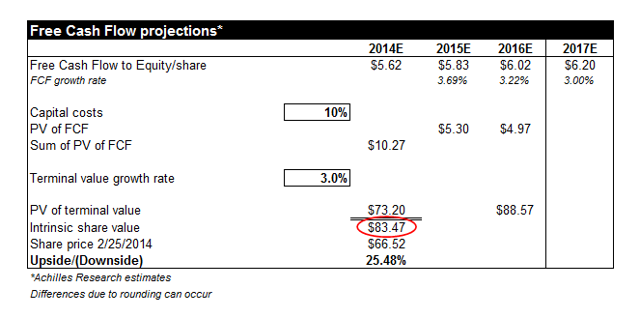 Click to enlarge
Market valuation
The large-cap oil- and gas exploration sector is still extraordinarily cheap. The peer group consisting of ConocoPhillips, ExxonMobil, Chevron, Total and BP displays an average P/E ratio of eleven while ConocoPhillips trades just in line with the average at 10.85 times forward earnings.
(Source: Achilles Research, Yahoo Finance)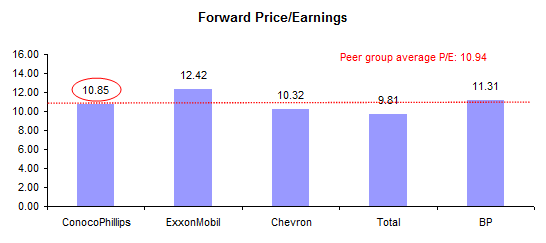 The sell-off in oil companies has improved the initial dividend yields investors get on purchase. ConocoPhillips pays investors a quarterly dividend of $0.69 which translates into an annualized forward dividend yield of 4.15%. ConocoPhillips has a long shareholder remuneration record and investors could likely expect further dividend increases down the road.
(Source: Achilles Research, Yahoo Finance)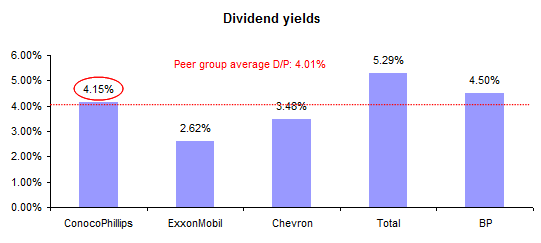 A summary table containing the usual key valuation metrics is provided below:
(Source: Achilles Research, Yahoo Finance)

Click to enlarge
Conclusion
The free cash flow valuation model from above suggests that ConocoPhillips has an intrinsic value of around $83 per share highlighting that shares of the oil major still have 25% upside potential. I think ConocoPhillips also has the potential to surprise to the upside in the coming years for two reasons: The US economy is still growing at a rate below its long-term potential. US growth will eventually mean-revert and lift energy prices and shares of exploration companies. Secondly, ConocoPhillips' shale exposure should drive high-margin liquids production as well as reserve additions in the future.
ConocoPhillips' undervaluation based on estimated free cash flows and strong growth prospects stemming from its shale operations footprint, makes the exploration company a long-term Buy for investors who want to add a dividend-strong fossil fuel player to their portfolios.
Disclosure: I am long BP. I wrote this article myself, and it expresses my own opinions. I am not receiving compensation for it (other than from Seeking Alpha). I have no business relationship with any company whose stock is mentioned in this article.