When a company demonstrates a stronger-than-expected quarter, most investors have a tendency to a take a closer look at that particular company. In this article, I not only wanted to highlight a number of reasons why I'm staying bullish on shares of Range Resources (NYSE:RRC), but also take a closer look at the company's pretty solid Q4 earnings performance.
Company Overview
Headquartered in Fort Worth, Texas, Range Resources Corporation operates as an independent natural gas, natural gas liquids, and oil company in the United States. It engages in the acquisition, exploration, and development of natural gas and oil properties, and holds interests in developed and undeveloped natural gas and oil leases in the Appalachian and Southwestern regions of the United States.
Recent Performance & Trend Behavior
On Tuesday, shares of RRC, which currently possess a market cap of $13.95 billion, a forward P/E ratio of 47.15, and a dividend yield of 0.18% (0.16), settled at a price of $86.90/share. Based on a closing price of $86.90/share, shares of RRC are trading 1.45% above their 20-day simple moving average, 3.74% above their 50-day simple moving average, and 10.28% above their 200-day simple moving average.
It should be noted that these numbers indicate a short-term and long-term uptrend for the stock, which generally translates into a moderate buying mode for both near-term traders and long-term investors.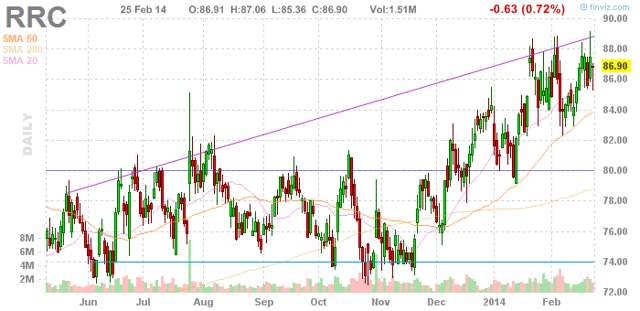 (Source: FINVIZ.com)
A Look At Range Resources' Q4 Earnings
On Tuesday, and after all three major indexes closed fairly flat on the session, Range Resources reported the results of a very solid fourth quarter. Analysts had been expecting the company to earn $0.38/share on Non-GAAP revenue of $459.87 million; however, RRC impressed both investors and analysts when the company reported earnings of $0.42/share on Non-GAAP revenue of $461 million.
One of the more notable factors behind RRC's impressive quarterly earnings performance was clearly its production growth. On a quarterly basis, the company's Q4 2013 production increased 20% over the prior-year period to 1,012 Mmcfe per day, which was another record high for Range and was 5% higher than its production during Q3 2013.
Recently Announced Long-Term Production-Related Guidance
When it comes to the company's recent earnings performance, the 25% increase in the company's adjusted cash flow on a full-year comparable basis and the 26% increase in total proved reserves on a year-over-year basis weren't the only the only things that impressed me. The company's long-term guidance, which noted the three key components that would allow for Range Resources to see its overall production grow by an estimated 20%-25% over the next several years certainly intrigued me.
According to the company's earnings-related press release,
Range has three critical components we believe will differentiate us from our competitors in the sector. First, Range has a sizeable position in the core of perhaps the best gas play in North America that will fuel our growth and allow us to continue driving capital efficiency improvements. Second, we have a team with a proven track record that consistently executes well. Lastly, Range has put in place innovative marketing and transportation arrangements that demonstrate the capabilities of our strong and forward thinking marketing team.
I strongly believe that if Range Resources can keep these three particular components in working order, there's a very good chance the company could meet and/or exceed its production-related growth targets for years to come.
Risk Factors (From The Most Recent 10-K)
Included in RRC's most recent 10-K, there are a number of risk factors investors should consider before establishing a position. These risk factors include, but are not limited to:
#1- Volatility of natural gas, NGLs, and oil prices significantly affect the company's cash flows and capital resources, and could hamper its ability to produce natural gas, NGLs, and oil economically.
#2 - If natural gas, NGLs, and oil prices decrease or drilling efforts are unsuccessful, the company may be required to record write-downs of its natural gas and oil properties.
#3 - New technologies may cause the company's current exploration and drilling methods to become obsolete.
Conclusion
For those of you who may be considering a position in Range Resources, there are a number of things I'd keep a close eye on over the next several months. For example, I strongly recommend keeping a close eye on the company's proved reserves, and any growth that may be mimetic in comparison to 2013 could end shares higher. With that said, I'd also look to keep a closer eye on the company's dividend behavior, as I strongly believe a steady year-over-year increase in the company's cash flows could result in at least one dividend increase over the next 12-24 months.
Disclosure: I have no positions in any stocks mentioned, but may initiate a long position in RRC over the next 72 hours. I wrote this article myself, and it expresses my own opinions. I am not receiving compensation for it (other than from Seeking Alpha). I have no business relationship with any company whose stock is mentioned in this article.