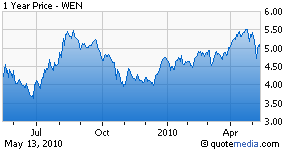 Now we know a little more about the turnaround at Wendy's/Arby's Group (WEN). The company just posted a loss for its first quarter (before charges). However, the company's new focusing wasn't fully implemented for the entire quarter.
Revenue at Arby's restaurants fell 12% in the quarter.

The lackluster Arby's showing weighed on overall results, as the owner of Wendy's and Arby's restaurants said Thursday that it lost $3.4 million, or a penny per share, for the three months ended April 4. That compares with a loss of $10.9 million, or 2 cents per share, last year.

Removing 3 cents per share in charges, profit was 2 cents per share.

Total revenue fell 3 percent to $837.4 million from $864 million.

Wall Street expected the Atlanta company to earn 1 cent per share on revenue of $835.2 million. The estimates of analysts surveyed by Thomson Reuters generally exclude one-time items.
The stock is down today about 3%, although I don't think the earnings report says much about WEN's future. If this turnaround does work, it will take more time. On the other hand, we can see that this situation isn't getting worse. I still view WEN as a highly speculative value stock.