We have been bullish on BlackBerry (NASDAQ:BBRY) as large insider Prem Watsa's Fairfax Financial (OTCPK:FRFHF) rescue continues to unfold as outlined in our article here on SA. We also had numerous hopes/suggestions for the BBM service that came to fruition, and we now can see their benefits creeping into BBRY's share price. The most important improvement was the opening of the BBM free messenger service to Apple's (NASDAQ:AAPL) IOS devices and to Google's (NASDAQ:GOOG) Android devices. The adoption of BBM initially spiked and added some 30 million users taking the BBM user count to 85 million. Moreover, BBM downloads seem poised to ramp again since the announcement of the Facebook (NASDAQ:FB) WhatsApp deal for two reasons. First, WhatsApp plans to start charging for their service after one year of usage and BBM remains free. Second and probably most important and not very well known is the release of a free user to user voice service over BBM. The service works very nicely. The voice quality is superior to Skype and Magicjack (NASDAQ:CALL) in our opinion. And this beats WhatsApp to their anticipated voice service by approximately 2 months. Another SA article here on SA argues that BBM alone is worth $2.5 billion based on the WhatsApp purchase for $19 billion by FB. We think that's very low. We wrote in SA that BBM should be valued using the FB's $110 billion valuation back in September 2013 extrapolating a $5 billion valuation for BBM alone. FB's mushrooming valuation since September to today's fully diluted market cap of $188 billion gives our BBM $5 billion valuation a 71% boost bringing its value on a standalone basis to $8.5 billion. BBRY has total market cap based on yesterday's $10.60 closing price at $6.85 billion adjusted for conversion and dilution, which is a significant discount to our stand-alone BBM valuation and gives zero consideration to BBRY's significant other assets such as the patent portfolio and its real estate. BBRY CEO John Chen said yesterday on Bloomberg that he would consider a sale or spin-off for BBM. This is good news for shareholders. Special situation hedge funds may soon join Dan Loeb in his BBRY bet. Especially given the remaining 93.6 million share short position in BBRY as reported by Nasdaq: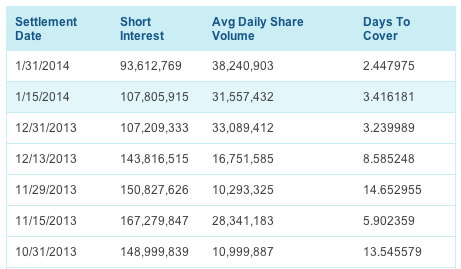 Given our long term belief in the paradigm shift of mobile computing dominance over desktop computing, the solid core BBRY technology platform with its large installed base and the large financial backing by insider Prem Watsa with his ability to continue to guide BBRY though this transitional period for the company, we think our previous target price of $20+ over the next 18 months is very achievable. And don't forget those shorts may have to cover quickly if there is a watershed event like a spin out of BBM.
Disclosure: I am long BBRY. I wrote this article myself, and it expresses my own opinions. I am not receiving compensation for it. I have no business relationship with any company whose stock is mentioned in this article.