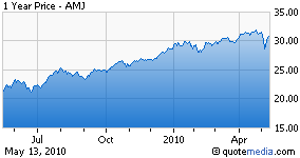 MLPs have gotten through the European debt crisis in good shape. Below is a condensed schedule for the Alerian MLP Index (the 318 close is the yearly high):

April 26: 318
April 30: 311
May 7: 286
May 12: 303
The index started this week up 1 YTD and has risen another 17 in 3 days while the market has been in a strong rally mode. As a result, the yield on the index dropped from 7½% to 7%.
The business model for MLPs is strong, moving energy around the US is attractive which continues to receive ample financing. Enterprise Products (EPD), the largest MLP, this week is raising $2 billion by selling notes:
$400 million in notes due 2015 at a fixed rate of 3.70%
$1 billion in notes due 2020 at a fixed rate of 5.2%
$600 million in notes due 2040 at a fixed rate of 6.45%
At the same time, many other businesses are complaining banks are not lending (like they should). The rates are favorable, at relatively modest premiums over comparable Treasuries. The yield on their 10 year notes is 165 basis points above the yield on the 10-year Treasury note. This is another reminder that financing is and has been available to MLPs (even through the financial meltdown), allowing them to continue their capital programs.
A new mutual fund specializing in MLPs has been started this week: the SteelPath MLP Alpha Fund has a portfolio of 20 MLPs. Their investment team has 6 years of experience at Alerian, the leading MLP indexing company. This fund allows an investor to participate in MLP growth while avoiding the tax hassle limited partners have to endure. Since SteelPath is just starting up, it has no track record along with the usual assortment of risk factors.
But those who like investing in mutual funds and are looking for one specializing in MLPs may be attracted to SteelPath. As a mutual fund, it should also be retirement account friendly. This is not a recommendation, I'm just reporting information. Their website is new, they're still working on it. At a minimum this fund represents a new buyer of MLPs, a bullish factor.
Back to MLPs: the index has not strayed far from 300 in 2010. In January and February it was trying to break through this ceiling. By March it did, but not significantly. In April it went above 310 before getting thrown back late in the month. This week the index is gathering strength to head for the 342 record high. As long as the European bailout holds (which is uncertain), forces to continue low interest rates will remain and encourage investors to bid up MLP prices while accepting lower yields.
Disclosure: No positions