The new-year started on the wrong foot for investors. After 5 consecutive years of gains, the Dow Jones Industrials tumbled badly. Even with the rally in February, the Dow is still down 3% YTD. The low interest rate policy by the Federal Reserve has fueled much of the buying since the last recession. Starting last December, monthly bond purchases have been reduced and all indications are for more reductions this year. Higher interest rates will follow.
Doubts about the main driver for the stock rally could be a damper on a stock rally in 2014. Uncertain economic recovery and political unrest around the world adds to uncertainty. This environment promotes the value of high yields from companies that have track records of raising dividends. One of my favorites is Chevron (NYSE:CVX), a new Dividend Aristocrat. The company now has a 27-year streak of higher dividends and has been increasing the annual dividends at an 11% rate since the $1.53 dividend in 2004, one of the best records for any company. With the stock at $112, the $4 dividend provides a yield of 3.6%.
CVX history goes back to the origins of the petroleum industry. In 1879, John D. Rockefeller founded Standard Oil Company and CVX was acquired in 1900. In 1911, the Supreme Court split up Standard Oil. CVX became a stand-alone company that has been a leader in industry growth for more than a century. Decades ago, it was known as one of the 7 sister companies that controlled the global oil market. Since then it acquired 2 of the sisters, Gulf and Texaco, along with numerous other acquisitions, to become the second largest energy company in America.
The bulk of its business is the upstream division, which extracts energy (oil and gas) from the earth. Upstream provides 80% of earnings and about 75% those earnings come from outside the US. The Downstream division refines and transports crude oil and refined products globally. The chart below shows its 2.6 million daily production around the world in MBOE/D (one million barrels of equivalent per day).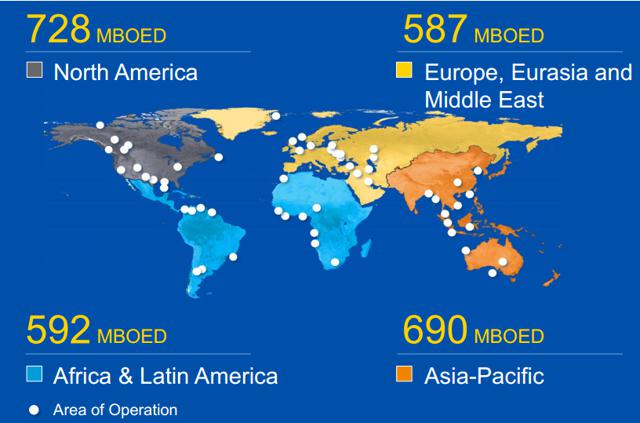 Source: Chevron and click on the link (slide is on page 4)
While most companies are valued on earnings, they have a secondary role with CVX. Earnings are strong and the financial strength is substantial. But capital expenditures are critical because the assets, principally oil and natural gas in the ground, are being depleted annually.
The world needs affordable energy and CVX is investing to meet growing demand. The company is in the middle of a record capital expansion program. In 2008-2011, capital expenditures averaged $24 billion a year. Spending jumped to $34 billion in 2012 and the company expects to spend almost $40 billion in 2014, down marginally from $42 billion last year. 90% of 2014 will be invested in upstream crude oil and natural gas projects. Almost all of the remainder is associated with downstream. In the short run, earnings are pinched because expenditures precede earnings. But this spending program is designed to grow daily production 27% to 3.3 MBOE/D by 2017. International investments are about 70-75% of total with spending on all continents (except Antarctica). Most of the spending in 2014 will be Australia, Nigeria, the US Gulf of Mexico, the Permian Basin (US), Kazakhstan, Angola and the Republic of the Congo.
Over the next 5 years, 50 projects of more than $250 million each are scheduled to begin and 16 of those will have an investment exceeding $1 billion.
Chevron Startups 2013 -- 2017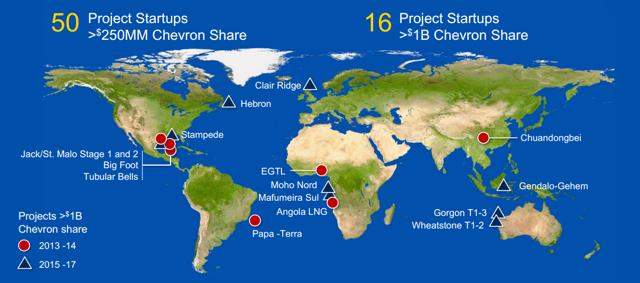 Source: Chevron and click on the link (slide is on page 8)
The 2 natural gas projects in Australia, Gorgon and Wheatstone, deserve special mention. Gorgon, costing $54 billion, has been under construction for 4 years and is about 75% complete. The Wheatstone project, with a $29 billion budget, is almost 25% complete. 2014 is expected to be the peak year for spending on these 2 projects as they move closer to production. In early 2015, the first cargo of LNG from Gorgon will be shipped and in late 2016, Wheatstone is expected to start up. These LNG developments, representing about 400,000 MBOE/D, will make substantial contributions to cash flow in the future. 13 capital projects are also in early phases of development to add production between 2018 and 2022.
There are also significant US investments in the Gulf of Mexico. Jack/St. Malo is scheduled to start up in 2014, the Big Foot project is forecasting a 2015 start-up and Tubular Bell initial production is scheduled for later this year. Combined they will add 300,000 MBOE/D to production.
Additional upstream investments are being made in: Kazakhstan/Russia, Nigeria, Canada, Angola, Republic of the Congo, Argentina and United Kingdom. CVX is also investing to generate power and produce geothermal energy; provide renewable energy and energy efficiency solutions; and develop the energy resources of the future, including conducting advanced biofuels research. Shale resources with new technology will increase total production 10% from existing fields by 2020.
US upstream earnings fell 25% in 2013 from lower crude oil production and higher operating, income tax, depreciation and exploration expenses. The average price per barrel of crude oil and natural gas liquids was $90 in Q4-2013, down from $91 a year earlier. The average sales price of natural gas was $3.35 per thousand cubic feet, compared with $3.22 in the prior year.
The capital spending program is designed to supply increasing demand for energy projected to grow 1.5% annually with oil and gas representing more than 50% of energy supply. While shale is contributing to efficiency to generate more production from existing supplies, new production will account for the bulk of the growth. Shale resources with new technology are being used to increase total production 10% from existing fields by 2020.
Even though it is small by comparison, improving Downstream and Chemicals' profitability is a priority at CVX. At the end of 2012 (the latest data), returns were up 10% from improvements in refining, marketing and costs. The company has maintained a #1 ranking in refinery utilization since 2006. Downstream and Chemicals have delivered volatile but strong earnings. In 2012, Refining and Marketing earnings exceeded $3 per barrel, placing CVX as a strong #2 in the industry. 2013 results earnings fell 60% from higher operating expenses on repairs and maintenance for refineries and lower margins on refined product sales (partially offset by higher gains from asset sales).
The downside to the aggressive capital spending program is earnings suffer over the short term as reflected in sluggish 2013 results.
| | | | | | | | |
| --- | --- | --- | --- | --- | --- | --- | --- |
| Chevron | 2014Est | 2013 | 2012 | 2011 | 2010 | 2009 | 2008 |
| Sales | $230.0 | $220.2 | $230.6 | $244.4 | $198.2 | $167.4 | $265.0 |
| Net Income | $21.5 | $21.4 | $26.2 | $26.9 | $19.0 | $10.5 | $23.9 |
| EPS | $11.13 | $11.09 | $13.32 | $13.44 | $9.48 | $5.24 | $11.67 |
| Dividend | $4.30 | $3.90 | $3.51 | $3.09 | $2.84 | $2.66 | $2.53 |
Sales and Net Income in billions. 2014 projections are from analysts except for the dividend (I projected the quarterly dividend will be increased to $1.10 in April).
2013 results were hurt by lower global oil prices and refining margins than in 2012. In addition, there were smaller gains on asset sales and higher startup expenses that impacted earnings. 2014 data from analysts is flattish and 2015 results are projected to remain little changed. Even though the near term is not impressive, the long term is promising because management is investing to meet growing worldwide energy demand.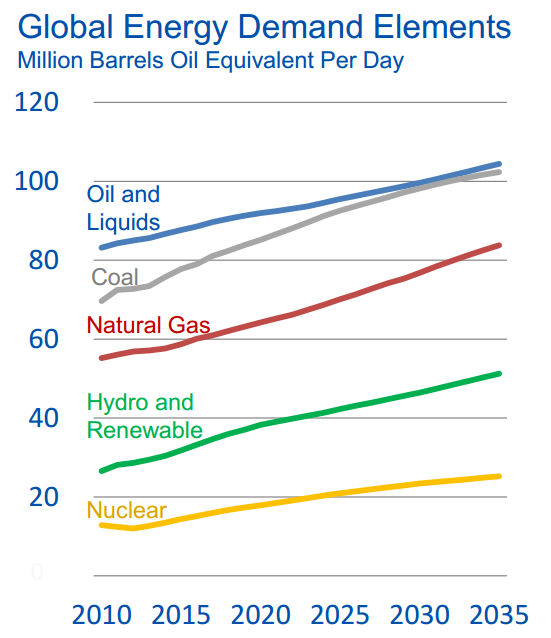 Source: Chevron and click on the link (slide is on page 3)
Reserves are all important for a growing business. Last year CVX added 800 MBOE proved reserves, equivalent to about 85% of net oil-equivalent production for the year. But the objective is 100% so that reserves are not drained. The largest additions were in the Marcellus Shale and the Permian Basin in the US, along with additions in Asia and Africa. At the end of 2012, worldwide net oil-equivalent proved reserves for consolidated and affiliated companies were 11.35 billion barrels (BBOE/D) which compares with 2.61MBOE/D production.
Even with the capital spending program, management will be able to reward shareholders with dividend increases and stock repurchases. In 2013, CVX purchased $5 billion in treasury stock and should continue purchasing stock aggressively this year. The treasury has more than half a billion shares with a market value of over $60 billion (larger than the vast majority of companies).
Stockholders are more interested in dividends. In spite of sluggish earnings, the current dividend is well covered with a payout ratio of 36%. The company should be able to raise annual dividends (probably around 10%) this year and next. New production from capital projects should bring higher dividends after that. Finances are strong with debt a modest $20 billion in December 2013.
The stock performance has been excellent, tripling in 10 years. Few companies, including many famous ones, have matched or exceeded this record.
Chevron - 10 years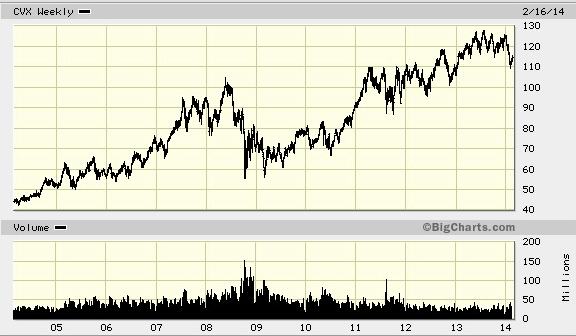 According to the bulls, the stock market should have been rising again this year. But not so far, even after a rally in February. This company has been rewarding shareholders for more than a century by supplying energy around the world. Growing energy demand will bring higher dividends and subsequent capital appreciation. If the $4 dividend is raised to $4.40 in April and $4.80 a year later, the yield will rise to 5% during 2015. As always, the upstream division is greatly affected by price swings in oil, and now gas. But CVX has lived with those swings for decades and prevailing EPS can support dividend increases until the new investments contribute to additional dividend increases.
Disclosure: I have no positions in any stocks mentioned, and no plans to initiate any positions within the next 72 hours. I wrote this article myself, and it expresses my own opinions. I am not receiving compensation for it (other than from Seeking Alpha). I have no business relationship with any company whose stock is mentioned in this article.