Real-time Monetary Inflation (last 12 months): -0.9%
Gold's new nominal highs against the greenback made headlines this week, but nobody (well, nobody outside the Ag community, anyway) devoted banner space to previously skyrocketing hog prices. This spring, livestock gained ground and rose to new highs for the decade while gold dithered in a consolidation phase.
The commodities' roles are now reversed. After a 31% run-up since the top of the year, lean hog prices have reached a plateau around their 10-day moving averages, and now seem ready to work the lower half of their volatility bands. Most troubling for longer-term investors is a tightening price range, often indicative of a pending breakout. Then there's that March price gap — increasingly appearing to signal exhaustion — between 74.12 cents and 77.80 cents. The gap is becoming a tempting target for bears.
CME Live Hogs (July 2010)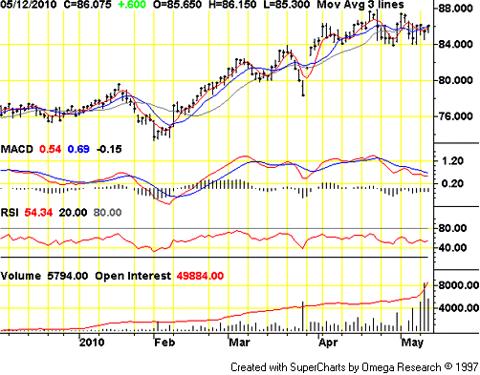 (Click to enlarge)
Tied into livestock's fortunes is the recent buoyancy in corn prices. Corn's current strength reflects more favorable demand for, among other things, livestock feed. There's a fair degree of optimism about corn demand among producers now, sparked by notions that feed use might exceed earlier expectations.
Still, low actual usage levels during the first half of the year combined with declining hog and cattle numbers and expanding production of competing distillers' grains make those projections — some 200 million bushels above that of the last marketing year — look a little too optimistic. At this point, it's good to remember that feed use is one of corn's most volatile demand components.
Corn prices crossed to the upside of their 200-day moving average last week, leaving spot supported at the $3.72-per-bushel level.
CBOT Corn (December 2010)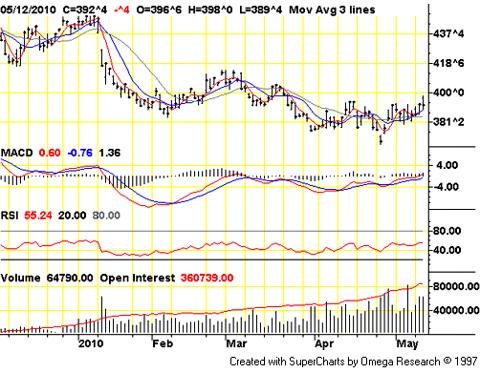 (Click to enlarge)
The pattern now scribed by December corn mimics gold's recent months-long trading range, including the pivot point dip punctuating its center (of course there is the essential difference of corn's preceding trend being downward rather than upward). If any grain or oilseed is due for a turnaround, it's certainly corn. Wheat and soybeans still are mired, weighed down by higher-than-expected ending stocks.
Holders and potential investors of the iPath Dow Jones-UBS Grains Total Return Sub-index ETN (NYSEARCA:JJG) will be watching the corn market for trading signals. Given the range compression in hog prices, the investors in the iPath Dow Jones-UBS Livestock Total Return Sub-index ETN (NYSEARCA:COW) will undoubtedly do the same.
Disclosure: No positions