Global Brass and Copper Holdings, Inc. (NYSE:BRSS) is a little known stock when compared to some industry giants, but investors should get to know this company because it might be one of the most undervalued "metals" plays in the market. This company manufactures and distributes specialized copper and brass products under three different divisions:
Olin Brass: This company produces precision copper foils, rolled sheet and strip products, which are used by the automotive, communications, medical, and electrical industries, as well as fabricated parts which are used to make automotive and plumbing products. It also produces stainless steel products, copper alloy tubing, metal platings and coatings, which are all used in a wide variety of industries. One major customer for these types of products is the U.S. Mint (for coin production).
Chase Brass and Copper Company, LLC.: This company manufactures brass rods which are used in many applications.
AJ Oster: This company provides customers with metal foil, strips and sheets. These are made using aluminum, stainless steel, carbon steel, copper, brass and more. It also distributes antimicrobial copper alloys.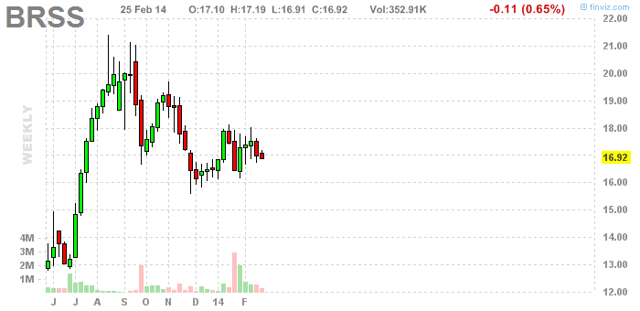 Click to enlarge
As the chart above shows, this stock has been in a very strong uptrend; however, more recently this stock has pulled back providing investors with an ideal buying opportunity. The uptrend looks poised to resume because the shares are a bargain, especially when compared to many other housing or metal industry stocks. Barron's recently described this stock as being "significantly undervalued" and in an article it stated:
"While the housing market has already rebounded sharply off its lows, the recovery isn't likely over yet. In fact, construction growth could stretch on for at least the next few years. One company that should benefit is Global Brass & Copper."
Another interesting article points out that hedge fund billionaire, Ken Griffin (founder of Citadel Investment Group), has taken a stake of about 6% in Global Brass and Copper. This article published by "Street Authority" also sets a $27 price target on the stock and describes how the company reduces risks through matched sales. It states:
"Global Brass operates with a "balanced book" approach, which reduces the impact of metal price fluctuations on earnings. What this means is the timing, price, and quantity of commodity purchases is matched with sales. This also allows fixed prices and shipment terms to be offered to clients. In addition, Global Brass' price exposure is mitigated by derivatives and purchases of the physical metal."
While the Barron's article seems to focus on Global Brass and Copper as a housing play, the Street Authority article brings up a more strategic reason as to why billionaire Ken Griffin appears so interested in this stock. Congress is considering legislation called "COINS" which stands for "Currency Optimization. Innovation and National Savings" Act. Replacing the paper dollar bill with a coin could save the U.S. Mint billions of dollars over time and create very significant demand for the Olin Brass division since this company is a certified supplier to the U.S. Mint. The idea for a dollar coin seems to be gaining some very influential supporters. There is a website: Dollarcoinalliance.org which says the dollar coin is endorsed by: USA Today, The New York Times, The Washington Post, Los Angeles Times, Chicago Tribune, The Boston Globe, and U.S. News and World Report.
This company looks poised to prosper thanks to rising demand for its products in the housing, construction, munitions, and coinage industries. The potential for the "COINS" act to pass through Congress makes sense as the U.S. Government is seeking ways to reduce expenses. Another upside catalyst to consider is the "Federal Reduction of Lead in Drinking Water Act" which became effective on January 4, 2014. This legislation could be an additional growth driver for Global Brass and Copper since it produces the types of products that comply with this new law. This company went public in 2013, so not that many investors are familiar with it. However, as the company continues to grow, and as the stock continues to rise, more investors are likely to "discover" the investment potential it holds. I believe more analysts are likely to pick up coverage of this company as well.
Global Brass and Copper has about $1.74 billion in annual revenues. The company appears conservatively managed with just around $398 million in debt. This debt load is very reasonable for a company with $1.74 billion in revenues, and this reduces potential downside risks for investors. The one significant potential downside risk could be another major recession, but with the U.S. economy growing, that risk seems very limited now.
For the sake of comparison on another metals stock, let's take a look at shares of Alcoa, Inc. (NYSE:AA) which has also been in an uptrend. In fact this stock is up so much that it is overbought and it now appears very overvalued. I would suggest that investors consider taking profits in Alcoa due to the huge run it has experienced. Especially since the fundamentals like earnings estimates for Alcoa do not appear to justify the current valuation. The recent jump in Alcoa shares seems to be based on hopes that the U.S. auto industry will begin to use more aluminum, but that could take years to develop in a material way for shareholders. I am bringing up Alcoa not only because I believe the rally is an opportunity to sell the stock, but also because it shows that Global Brass and Copper shares are very undervalued. As the chart below shows, Alcoa shares have jumped from about $8, and now trade for nearly $12.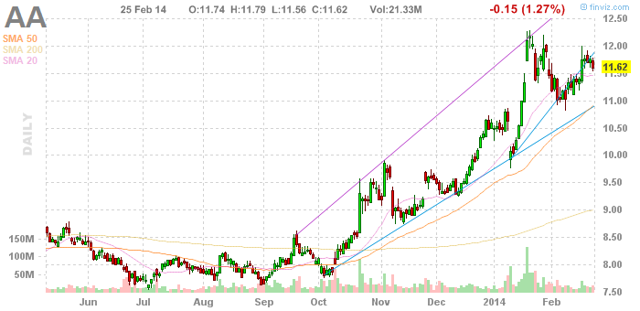 Click to enlarge
There appears to be two problems with the rally in Alcoa shares. One is that Alcoa stock is now reaching overbought levels, with a Relative Strength Index of about 61. Secondly, the run-up in Alcoa shares does not appear to be supported by earnings. Alcoa has earnings estimates of only 35 cents per share for 2014, and just 59 cents for 2015. This implies a price to earnings ratio of 35 for 2014 and about 20 for 2015. Because of this, the surge in Alcoa shares might just be based on momentum and short-covering which means the gains may not last for long. Alcoa is a well-known stock and it is covered by many analysts and for that reason, I see less upside potential. By contrast, Global Brass and Copper looks like a bargain and an undiscovered gem.
The upside potential looks very strong for Global Brass and Copper. Earnings estimates are at $2.41 per share for 2014, which gives this stock a dirt cheap price to earnings ratio of just 7 times. With Alcoa shares trading for roughly 35 times earnings and the average stock in the S&P 500 Index (NYSEARCA:SPY) trading for about 16 times earnings, this shows that Global Brass and Copper has significant upside through multiple expansion. Plus the possibility for the COINS act to pass creates a huge potential catalyst for the stock in the future. New regulations requiring lead-free water piping could also be a significant upside catalyst for this company and the stock. A price to earnings ratio of at least 12 seems reasonable for this stock. Based on earnings estimates of $2.41 per share, that could push it to around $30, as the rally continues.
Here are some key points for Global Brass and Copper Holdings, Inc.:
Current share price: $17.05
The 52 week range is $11.75 to $21.45
Earnings estimates for 2014: $2.41 per share
Earnings estimates for 2015: $2.58 per share
Annual dividend: 15 cents per share which yields .9%
Here are some key points for Alcoa, Inc.:
Current share price: $11.77
The 52 week range is $7.63 to $12.32
Earnings estimates for 2014: 35 cents per share
Earnings estimates for 2015: 59 cents per share
Annual dividend: 12 cents per share which yields 1%
Data is sourced from Yahoo Finance. No guarantees or representations
are made. Hawkinvest is not a registered investment advisor and does not provide specific investment advice. The information is for
informational purposes only. You should always consult a financial
advisor.
Disclosure: I am long BRSS. I wrote this article myself, and it expresses my own opinions. I am not receiving compensation for it (other than from Seeking Alpha). I have no business relationship with any company whose stock is mentioned in this article.