Executive summary:
RAIT's corporate development program was productive in recent years and it will evolve in 2014 as management copes with changing conditions in key markets.
Conduit loans were the major profit center for RAIT until Q4 of 2013. Competition in that market increased dramatically and such will keep pressure on margins in 2014.
Expansion of other activities (especially origination of bridge loans where it retains about 30% interest for its own account) should more than offset the reduction indicated for conduit loans.
The terms of recent bond and stock issuance were very favorable and show that RAIT now has easy access to capital markets and merits an investment grade rating.
The stock merits consideration because of its 7.8% dividend yield. And if the price goes from $8.21 to $10.00 (which is plausible), the total return would be 20%.
_________________________________
The Company
The RAIT Financial Trust (NYSE:RAS) provides debt financing options to owners of commercial real estate and it invests directly in commercial real estate properties located throughout the United States. It is also an asset and property manager of real estate-related assets.
For 2013, RAIT reported growth in all revenue categories: those being loan origination, net interest margin, rental revenue and fee income. Total revenues in 2013 increased 23% to $247 million from the year-ago level. Operating income increased by 113% to $65 million. Fee and other income increased 125% to $29 million, and AFFO for the year increased 64% to $88 million. On a per share basis, AFFO was $1.10 and $1.29 in 2012 and 2013, respectively.
Gross loan production was up 61% in 2013 to $603 million of loans from $375 in 2012. Management expects loan origination volume to exceed $1 billion in 2014. It also expects to originate more floating rate bridge loans in 2014 than fixed-rate conduit loans. In 2013 the fixed rate conduit loans were warehoused and sold to two major banks on quarterly bases. The quarterly turnover of capital permitted RAIT to earn up to 18% per annum on its capital employed for that purpose. Because of increased competition, the rate earned will be reduced to about 10% or 12%.
During 2013 RAIT sold $407 million in conduit loans in ten different CMBS transactions, generating $18.4 million of fee income. Such lending will result in less profitability in 2014 than it historically experienced on a loan-by-loan basis. Because of the increased competition, management is focusing on increasing loan volumes in its floating-rate bridge lending activities which have risk adjusted returns. Nevertheless, if profitability was cut by one-third, RAIT would have to add about $6 million from other activities in 2014 to make up for the reduced profitability from conduit loans.
A new facility with UBS AG (NYSE:UBS) will facilitate growth in its floating rate bridge lending business. And RAIT is currently aggregating loans for its second floating rate securitization which is scheduled to close early in Q2. It then expects to do a follow-up with another floating rate securitization in Q3.
During 2013, it reentered the securitization market and completed a RAIT sponsored floating rate CMBS securitization as it issued $101 million of investment grade securities to finance $135 million of floating rate bridge loans. RAIT retained $34 million (25%) of equity in the transaction for its own account. It was because of the need for more equity capital that led to the recent common stock offering of 10 million common shares to raise net proceeds of $83 million. If it is assumed that all of the new equity will be used to participate in other CMBS securitizations in 2014, RAIT would be able to sponsor a total of $332 million and retain 25% interest for its own account. With the warehousing agreements with banks and its ability to securitize loans, it is now well positioned to expand its loan origination activities. It may have to do another common stock offering later in the year.
Thus far in 2014 it originated more than $260 million of loans consisting of $206 million floating rate bridge loans, $53 million of fixed-rate conduit loans, and $2 million of mezzanine loans. All of them should close by the end of Q1. So it is off to a good start toward its $1 billion in loan originations goal for the year.
Real estate properties continue to provide stability to the overall portfolio. The multifamily properties continue to perform well and they experienced year-over-year same-store rent growth of 5%. But that rate of growth is likely to be halved in 2014. Its subsidiary Independent Realty Trust (NYSEMKT:IRT) (a publicly traded REIT externally advised by RAIT) recently completed a secondary offering of common stock raising gross proceeds of $67 million. RAIT expects to deploy all of that capital by the end of Q1. RAIT owns about 7 million shares (39%) of IRT's common stock. So in addition to the dividends received, it receives a management fee of 70 basis points on the value of IRT's portfolio. IRT's stock is currently priced in the market to yield about 8%.
Rental income increased by 10% in 2013 (to $10.4 million) when compared to 2012. The increase was a result of (1) $4.3 million of four properties acquired during 2012, (2) $2.6 million from three properties acquired during 2012 and (3) $3.5 million from continued improvement in occupancy and rental rates across the multifamily portfolio.
The table below was extracted from the Q4 earnings report and lists quarterly data relating to occupancy and rents on the company's various properties.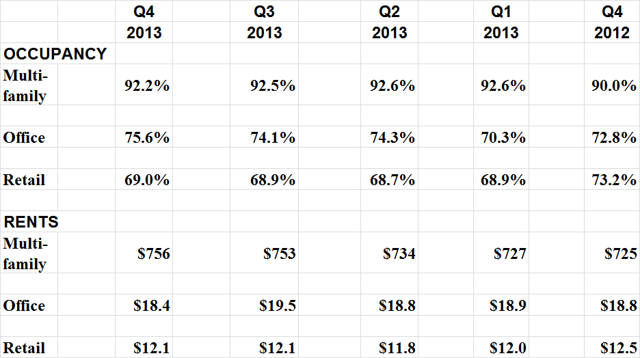 With respect to the real estate portfolio, multi-family occupancy at the end of 2013 was 92.2% up significantly from 90% at the end of 2012. Average office and retail occupancy was stable at about 73% and 69%, respectively. Rental rates continued to improve with multi-family rates increasing to $756 per unit per month at the end of the fourth quarter 2013, a 4% increase since the fourth quarter of 2012. Rental rates on office properties were basically flat as were those on retail properties.
FINANCING
Three capital market transactions were recently completed and they are worthy of note: (1) In December 2013, RAIT completed a $125 million, 4% convertible debt offering. It used proceeds from that offering to repurchase $80 million of its 7% convertible debt.
(2) In January 2014, it completed a 10 million common share offering and raised net proceeds of $83 million. All of these proceeds will be used to fund its pipeline of loans.
And, (3) in January 2014, Independence Realty Trust (its consolidated subsidiary) completed an 8 million offering of common shares and raised net proceeds of $63 million. It already deployed approximately $29 million of the proceeds into an apartment property in Waukegan, Illinois, and expects to acquire additional private properties before the end of Q1.
The bond offering was done on very attractive terms and with the funds from recent share issuance being quickly invested in income producing ways, they ought to be accretive to FFO in 2014.
AFFO Growth and the Dividend in 2014
Three analysts follow the company regularly and their consensus estimate for 2014 is $1.47. That would be a gain of 14% over the $1.29 reported for 2013. RAIT reported results that are still distorted by legacy charges relating to Taberna as well as charges resulting from interest rate hedges that continue to run off. All of these charges are book keeping entries and not cash charges. It is likely that actual cash flow available for distribution was about 95 cents per share in 2013. So the dividend payout rate of 64 cents was about 67% of cash flow. The dividend was increased in each of the last six quarters and the string is likely to be broken in 2014. It is probable that the dividend will be increased as cash flow increases. My seat-of-the-pants guess if that cash flow in 2014 will be about $1.00 per share.
There are about 80 million shares outstanding. Institutions own about 55% of the shares and insiders about 1.2%. There are about 5.2 million shares sold short.
The Recent Performance of RAS and REITs in the Market
The chart below was constructed from data readily available on Yahoo Finance. It compares the performance of RAS with two market barometers during the past two years.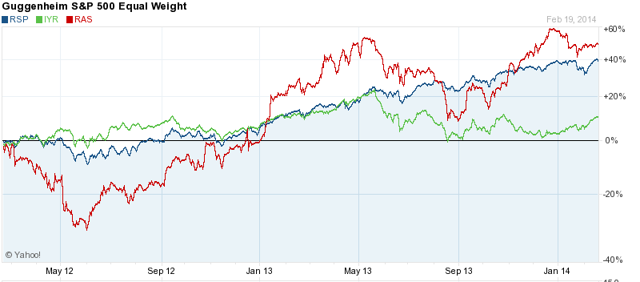 I became interested in RAS in October of 2012 when I wrote my first of six articles on RAIT. The stock was priced at $5.44 and it soon began a run to the upside. During the first five months of 2013, RAS (the red line) and many other REITs substantially outperformed the market as measured by the Guggenheim S&P Equal Weight Index (NYSEARCA:RSP) and the iShares Real Estate ETF (NYSEARCA:IYR). Those barometers are the blue and green lines on the chart, respectively. Since peaking in May RAS and the REITs began to underperform the RSP and just about every other major industry group. While the market as measured by the RSP peaked when the REITs did, it rallied after a brief sell-off and went on to make new highs for the year. It backed off in recent days but is still trading near its high for 2013. RAS managed to stabilize in September and went on to make a new high at $9.21 as 2013 came to a close. It is currently priced at $8.21.
Many of the other REITs couldn't sustain their attempted rallies and languished in the market as they finished 2013 at or near their lows for the year. And many of them posted good operating results during 2013 while sporting dividend yields well in excess of that on the RSP. But that didn't prevent them from performing very poorly in the market. This underscores the fact that it is important to consider technical analysis as well as fundamental analysis when making investment decisions.
The Technical Market Appeal of RAS
The chart below was constructed from data in my workbook.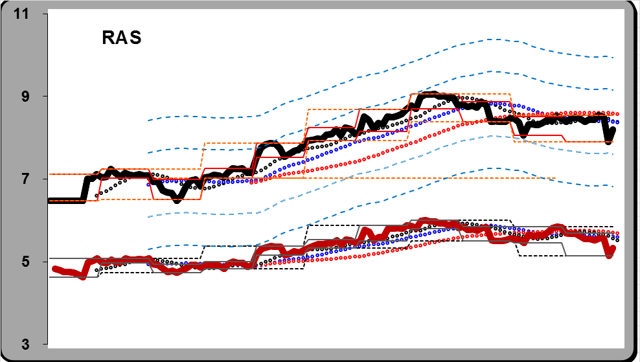 (1) The bold black line on top is price and the bold red line below is relative strength. (2) The three dotted lines (black, blue and red) are moving averages, and there is a set of those for price and a similar set for relative strength. They are used to define trends and detect trend reversals. (3) The five sets of solid-orange parallel lines and the 10 sets of dotted-orange parallel lines (the two overlap half of the time) that frame the price action are 22-day and 11-day trading ranges. (Similar gray lines are used for relative strength.) Their progression shows how the trading ranges shifted during the 110 days charted. And (4) the four wavy-blue hashed lines that straddle the price line are Bollinger Bands. They are used to detect overbought or oversold situations.
Any of the items listed as (2) or (4) is independent of the others and it could be used as a valid technical indicator for making buy or sell decisions. But in order of importance, the moving averages are of primary importance while the trading ranges and the Bollinger Bands are of secondary and tertiary importance, respectively.
The best way for me to tell you if the stock is a buy, sell or hold at this time is for me to tell you what I am doing with the stock, and, of course, state my reasons for doing so. I had good success trading RAS when it became volatile in 2013. After buying in at $5.44 in October of 2012, I bought additional shares as its price chart strengthened. I began selling at $8.20 when the stock was peaking in May of 2013 and sold three more times down to $7.53, where I sold the last of my shares. The stock bottomed at $6.18 but I didn't get back in until October at $6.45. The size of my current position, however, was (and still is) about 40% of what it was a year ago.
I purchased additional shares in December at $8.50 when the convertible note offering was announced because I thought that was very bullish. The stock popped to $9.21 and then when it completed a reversal on its moving average trend lines for both price and relative strength, I sold the $8.50 shares at $8.78 but I kept my $6.45 shares.
The price of the stock is still trading below its moving average trend lines and the trading ranges on price and relative strength have shifted downward. That is ominous for the near-term performance of the stock. But, because of the 7.8% dividend yield on the stock and the fact that I am still bullish on the fundamental performance of RAIT, I believe that the stock has little downside risk at this time. In effect, I am crossing my fingers and hoping that technical analysis is going to be not too right this time. I will not buy additional shares until I see that the technical performance on the price chart has turned bullish.
This was not an easy decision for me to make because I believe that RAS and many of the 44 REITs that I follow have the "potential" to outperform the market as measured by the RSP in 2014 for the following reasons: (1) Most of the REITs will be posting significant gains in FFO, and they sport dividend yields well in excess of the 1.5% indicated for the RSP.
(2) It is well known that the RSP levitated upward in recent years mainly because of the so-called "Bernanke Put" that was under the market due to QE policies of the Fed and not because of robust growth in earnings. That era is coming to an end because the Fed is now compelled to taper its purchases of bonds and eventually abandon its use of QE as a policy tool simply because it is ineffective when it comes to stimulating economic growth.
(3) The political divide in the "do-nothing" Congress continues to grind on, and without fiscal stimulus by way of an infrastructure program, the pace of economic growth in the economy is most likely to be tepid.
(4) Instead of investing their free cash flow in capital expenditure projects to expand the economy, many corporations are engaging in multibillion dollar share buyback programs. So, where is the economic growth going to come from? Capital expenditures are the "accelerator" that gives rise to sustainable growth.
(5) Interest rates on 5-, 10- and 30-year Treasuries are sluggish and about 150 basis points below historic norms even though the Fed's "tapering" policy will continue. This is a sign of weakness in the general economy because it shows that there is a lack of demand for credit by potential borrowers. Also, the dividend yields on many REITs are very competitive with bond yields.
And most importantly (6) the REITs have already had their correction in the market and many of them are rallying off depressed price levels, which look like their bottoms for the foreseeable future.
Because of the six items listed above, I am (A) neither bullish nor bearish on the economy, (B) generally bearish on the stock market, and (C) selectively bullish on REITs where earnings growth is well defined and dividend yields are much higher than those available in other industry groups.
This is not an easy market to handicap because of political and general economic problems. To ignore them would be folly. There is much to be considered when making an investment decision at this time. I apologize if I made it sound complex. I can only tell you what my concerns are and what I am doing to cope with the situation.
I have not been ordained to preach, so I am not going to pound the table and tell you (the reader) that you must do as I do. I just wrote the article on a company I think has considerable investment appeal and told you what I am doing with the stock. It is up to you to discount what I wrote as you see fit and make your own decision according to your personal investment criteria.
Disclosure: I am long RAS, EXR. I wrote this article myself, and it expresses my own opinions. I am not receiving compensation for it (other than from Seeking Alpha). I have no business relationship with any company whose stock is mentioned in this article.