China MediaExpress's (OTCPK:CCME) Should Be Traded Twice of Its Current Price
Media companies have been awarded high multiples historically due to their natural monopoly standings. Take Focus Media for example. Its average forward looking P/E has been 21. Before October 2008 when the market had the crash its average forward-looking P/E was more like 26. Warren Buffett bought Washington Post (WPO) and Buffalo News based on the natural monopoly theory and he gained substantially from the investments. Nowadays, newspaper business is not making money due to the secular trend change. However, the natural monopoly phenomenon still holds true in the new media business, a good example being Google (NASDAQ:GOOG).
The media business multiples were compressed during the financial crisis, but they have been improving after March 2009. As a business sensitive to the economy activities, the media business multiples tend to rise faster than the general market in a recovery. (Of course we have to be sure if we are in a recovery.)
The management guided 71-75 million net income for CY 2010 assuming no major acquisitions, which translates into $1.78 EPS. With the current price, that would mean forward-looking P/E 7.2, and EV/EBITDA 4.6. I conservatively estimated that its CY2010 revenue $159m based on its guidance and CY2011 revenue $210m and $2.35 EPS (I will elaborate on this estimation later).
A valuation comparison table using the most updated data is shown below. I did not include Sohu because half of its business is game business so it is not very comparable.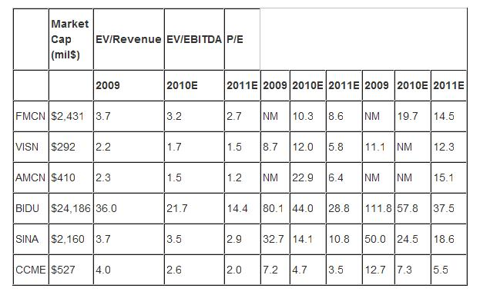 FMCN, VISN and AMCN are the closest comparables. CCME is much cheaper with nearly all the metrics. CCME is currently valued less than half of its peers based on EV/EBITDA and P/E. At the same time, CCME is growing much faster organically and is free from the legacy problems its peers have.
If CCME were valued at 7x 2011 EV/EBITDA, the average of its closest peers, the stock price would be $23. If CCME were valued at 14x 2011 P/E, the average of its closest peers, the stock price would be $33. Either is significantly higher than the current price. And I can argue that CME deserves higher multiple because it is in a better market position than its peers.
The only metrics that is alarming is its high P/B at 4x. If the stock price doubles as I suggested, the P/B would be 8x. I argued with myself on this one and decided that 1) its revenue has much more to do with the demand than the supply, so its asset level is not important and 2) its market position is not challenged. It deserves the high P/B.
Now I need to make my final point in the valuation section. I estimated 2010 EPS at $1.78 per share and 2011 EPS at 2.35 per share based on the stock earn-out program of the management. If the management makes 83.5 million net income in 2010, they will get 7 million more shares, and if they make $130.2 million in 2011, they will get another 7 million. In my view, these targets are rather aggressive, and the management probably will not reach those targets without significant business expansion.
However, the motivation of the management is quite well aligned with investors. If the management makes the forecasted income, we will have the estimated EPS calculated on an increased share count. If the management cannot make the forecasted income, we will still have similar EPS based on the original share count.
The investors and the management both lose when the management cannot make the targets by a big margin, which I deem quite unlikely. The investors however do need to watch out for the future acquisitions made by the management, as they are now incentivized to do so. Each acquisition should be put under a microscope to examine their business merits.
Why Is It So Cheap Then?
Well, you might now wonder why such a cheap stock exists in the market and why someone did not push the price higher. I believe that there are five reasons.
This is a relatively new company in the market through reverse merger, which does not typically get good attention.

Pali Capital, a decent boutique investment bank who was involved in the reverse merger, went bankrupt, and thus this stock does not have good sell side coverage.

Chinese companies, especially those through reverse merger, are often "too good to be true", and do not have enough respect from the buy side.

The companies in its sector each had or is having some problems, which casts the long term value of outdoor media in doubt.

The recent resignations of two directors, who were original management of TM, raised some doubts.
For the first issue, CME did try to do a proper IPO back in 2008 but withdrew due to the very poor market condition. It later on entered a binding reverse merger with TM. On one side I wish it came in the market with a proper IPO; on the other side I would not get this stock cheap if they had.
For the second issue, it was unfortunate for Pali Capital to go under. I liked research reports prepared by Pali and had tremendous respect for its business. Pali Capital went bankrupt due to its internal management problem. CME lost the only possible analyst coverage due to Pali's demise. The lack of coverage suppressed the current price, so I hope my writing-up will help this company to a degree.
For the third issue, it is true that many Chinese companies have accounting issues. I have written articles discussing various accounting or business issues I found with US listed Chinese companies, such as Lihua International (NASDAQ:LIWA), Rino International (OTC:RINO), VisionChina (NASDAQ:VISN) and Fuqi International (OTCPK:FUQI). In a way, I have a nose for fraud. I do look at various metrics and evaluate their trends in the context of the business model. I did the same thing on CME.
I have also been a longtime investor of Focus Media and VisionChina, and developed quite good understanding of China outdoor media business through their successes and failures. I cannot find alarming problems of CME either qualitatively or quantitatively. There are also three external parties endorsing CME's book. TM negotiated the deal, and we can tell that TM performed extensive due diligence and set up favorable terms for the TM investors. Starr International's background is also a strong endorsement. Its terms with the CME management, while protect itself, protect external investors as well. Finally Deloitte has signed off 10-K for 2009. If CME were a fraud, it would really have to be a "perfect" fraud.
For the fourth issue, the issue was rather with very competitive environment, which is not the case for CME. Focus Media had a powerful competitor and was pretty much forced to adopt very aggressive acquisition strategy to gain market share. Its acquisition practice became more reckless under the pressure and caused huge write-offs when tides turned. Vision China had the same issue. AirMedia suffered from the lack of negotiation power with its supplies.
CME has no equivalent competitors in its dominated market, and its suppliers, the bus operators, are much less concentrated and sophisticated than airports. It is unlikely that CME is going to repeat the same problems its peers had. With the very observable value it creates for its customers and its monopoly position, I believe that this company is producing long term value for both its customers and its investors.
For the fifth issue, I looked up the company history again. It appears that before the resignations, four independent directors were added to the board after the two original board members. It is not untypical for a foreign company to have only three independent directors, the minimum required to meet the listing requirement. So it seems that adding four new independent directors and then removing the two existing ones was a planned action.
So I believe that the reasons suppressing the stock price are non-issues.
CME Has Plenty Room to Grow
I will try to answer another question in this section: Will this company be able to grow as fast as the management planned to be? While I am being conservative in downplaying the management's estimation, I believe that it is quite likely that they make the projection, because the management has quite a few cards under their sleeves that they can play as they stated in their prospectus.
Expand its coverage. Since CME only controls 50% of the market, it is signing up new buses. So far CME has chosen to buy assets or sign new contracts, the expansion is organic and we do not see any hard-to-justify goodwill on its balance sheet.

Raise advertising rates. The economic recovery and the New Media as a secular trend work together to increase the business spend in outdoor advertising. With its CPM advantage, there is ample room for the company to increase the rates. I estimate that we should see at least 15% increase in advertising rate this year. The company is also going to price the first minutes in the advertising slots at a premium because those minutes are generally considered more effective.

Sign up direct customers to increase the gross margin. The company is using ad agencies to sign up customers mostly, but it is now moving to sign up more direct customers. In 2009, direct customer's revenue composes 21% of the total revenue. The company is targeting 35% in 2010. The margin difference between the two is 10 to 15 points.

Sell special package and rates for its airport shuttles and other types of buses with more defined audience.

Generate revenue from soft commercials embedded in regular entertainment programs.

Establish stationary advertising media.

Offer travel related services through broadcasting to travelers.

M&A.
The majority of those strategies are well within the company's easy reach. The beauty of them is that they can be implemented within the market CME dominates. This probably explains why the management was so bullish in projecting their growth to begin with.
The Thesis
So here is my thesis. I believe CME is built on a solid ground and is fast growing in a dominated market. For historical reasons, it is selling at half the price I think it should fetch NOW. Even after the price doubles, I believe the stock is still cheap given the opportunities available to CME.
The Catalysts
Two catalysts are out there. First is the usual earning reports, which I expect to prove to more investors CME's unique position and value. The company pre-announced its first quarter report, and you can read the analysis from fellow Seeking Alpha author Super Trades. Second is sell side analyst coverage. After Pali Capital went out of business, its star Chinese stock analyst, Tian Hou, and her team went to join Auriga USA. She has started covering the companies she covered in Pali, expecting to gain businesses from those companies. I believe that she has good knowledge of CME and will start cover it, with the same expectation.
References
Credit
This Super Trader's article initiated my research.
Disclosure: Author long CCME