SodaStream (NASDAQ:SODA) has had a breakneck couple of weeks. After lowering its guidance in January, the stock was hit about 20%. Days later, when Green Mountain (NASDAQ:GMCR) and Coca-Cola (NYSE:KO) announced their partnership, SODA shares shot through the roof, up about 20% in a matter of days.
Since then, SODA shares have again calmed down and fallen under the $40 mark - they're off 26.9% in the last three months and down 17.5% in 2014.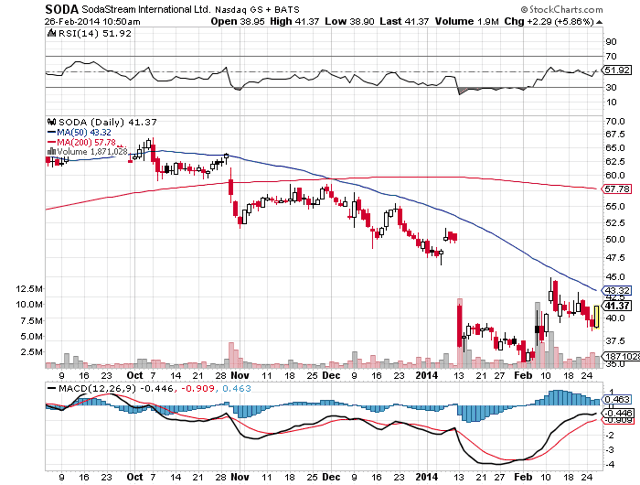 We all didn't really expect a great report out of SodaStream this morning, especially after the company came out last month and basically told investors not to get their hopes up due to slow holiday sales and rising COGS.
This morning, SodaStream reported its fourth quarter earnings before the market opened.
SodaStream reported profits of $681k, down from $7.5 million the year prior. EPS ex-items came in at $0.16, compared to $0.45 the year prior. The company grew its top line by 26.4% posting revenues of $168.1 million - it was record revenue for the company, but it didn't translate to net income.
Technically, it was a beat on both lines, but only after analysts had lowered their predictions for the quarter post-SODA's guidance a month prior. However, the company noted that margin difficulty and increased costs made it difficult to create profit from its revenue.
So, it was disappointing, which we knew it was going to be - but it wasn't catastrophic. The market responded this morning with SODA up around 5% about an hour and a half into the trading day.
The company offered guidance of 15% revenue growth for the current year, which was below analyst consensus of 16-17%, depending on where you look.
CEO Dan Birnbaum said that the company's strong revenue in 2013 "underscores the high level of consumer interest and activity in home carbonation." And, one would think with Green Mountain and Coca-Cola getting into the field, "consumer interest" is going to continue to rise over the coming year.
Which leads us to the big fat elephant in the room.
There isn't too much to be excited about right now for SodaStream, except ...
(click to enlarge - source Google Finance)

... except that at any moment, investors are expecting the company to come out with a partnership with Pepsi (NYSE:PEP) to combat Green Mountain and Coca-Cola. With a big name like KO moving into the cold drink space, SODA is going to have to get some big help, otherwise they're going to start feeling the pressure of massive competition that the company hasn't had before in the home carbonation space.
And, from an ideological standpoint, SODA still has an edge. It seems like every day I see a new article about some earnest hard working mom explaining why she's not using K-Cups or isn't buying bottled water out of fear for bisphenol in her plastics. Regardless of whether or not there's a real threat there, the consumer is going to continue to gravitate towards a bit less plastic when they can.
What that does is give Pepsi an angle and a reason to want to work with SODA. Pepsi is, out of the two colas, the one for the younger generation. So, why not play to the green PR and use SODA to help push that angle?
There is no doubt in my mind that there are talks going on between SODA and PEP in some facet. I don't have a source for this, but, it just makes sense. It was the first thing I thought of when KO and GMCR made their announcement and using Occam's razor, it led me to believe that something could likely develop between these two companies.
I bought SODA calls earlier this month and haven't sold yet - I'm thinking about rolling them over for a bit longer dated calls, but I'm holding at this point, in anticipation of what I think is a likely chance that SODA and PEP partner up.
Long SODA, best of luck to all investors.
Disclosure: I am long SODA. I wrote this article myself, and it expresses my own opinions. I am not receiving compensation for it (other than from Seeking Alpha). I have no business relationship with any company whose stock is mentioned in this article.