As I've scoured the markets for great examples of high yield stocks and dividend growth stocks to build my two experimental portfolios, (you can see both portfolios here and here) I have come across one of my favorite companies in the REIT space. The more I research, the more I believe that this REIT is a perfect blend of high yield and dividend growth.
Retail Opportunity Investments Corp. (NASDAQ:ROIC) is a new, small REIT that IPOed at the end of 2009. The strength of this REIT is immediately obvious to anyone who is familiar with Pan Pacific Retail Properties (PNP). Stuart Tanz, former CEO of Pan Pacific, has been among the kings of West Coast commercial real estate for over 25 years. During his 9 years as CEO of Pan Pacific he grew the REIT from a market capitalization of $437 million to $4.2 billion before selling the REIT to Kimco Realty. All told, he delivered investors 28.6% CAGR for nearly a decade and that is not counting dividends.
Mr. Tanz began Retail Opportunities with a sterling spreadsheet of no debt and $400 million raised in the IPO. His expert team of seasoned West Coast commercial real estate veterans immediately went to work executing their business model, which is to use their connections in the industry to acquire high quality malls, in private, non listed transactions. Each of the malls the REIT acquires are located in a medium to upper class residential neighborhood that is anchored by a large, well known nationally branded store (typically a grocery store). What makes this REIT so special is that the deals Mr. Tanz and his team are able to broker are steeped in personal relationships and a superb knowledge of the local commercial real estate market. This has led to two kinds of acquisition types by the company.
First is the most common, Retail Opportunity purchases a high quality but distressed mall for below replacement cost. Theys utilize their expertise in retail optimization and reinvest in mall, improving the tenant base, increasing foot traffic and raising the leasing rate to the mid to high 90%. In the meantime, as the mall becomes gentrified rent increase and the cash flow quickly grows.
An example of this would be the Pleasant Hill Shopping Center in Pleasant Hills, California. Initially, when bought this mall had an occupancy rate of 57% and had a cap rate of 6% (cap rate is the equivalent to investment yield in real estate, the higher, the better). After Mr. Tanz and his team got through working in a better mix of tenets, the occupancy rate had climbed to 100% and the cap rate was now 9% (meaning that if the mall were sold it would fetch a 50% profit).
The other deal Mr. Tanz is famous for is the acquisition of best in class malls fully leased for ridiculously low prices. An example of this transaction is the recent follow-on acquisition of Crossroads Mall in Bellvue, Washington.
In 2010 Retail Opportunity bought a 49% stake in the mall from Ron Sher, whose family owns a series of malls on the West Coast. The mall was the crown jewel in the Sher mall empire. It is optimally placed 3 blocks from the headquarters of Microsoft with nearly a quarter million upper middle class shoppers living within 3 miles of the mall. The occupancy at the time was 89%. Over the last 3 years, with Mr. Tanz and his team managing the mall, occupancy has risen to 99% along with rental rates. Now there is discussion about adding an additional level to the mall in the future which would nearly increase the square footage by 50%. The manner in which Retail Opportunity bought the mall was pure genius. They paid Mr. Sher with $46 million in stock. This made him a team member and not just a partner in a joint venture. It aligned his interest with the REIT's shareholders and according to Mr. Tanz in the Q3 2013 earnings report, it's the reason that they were able to acquire the Five Points Plaza mall in Huntington, California, from Mr. Sher. This mall is fully leased and anchored by a Trader Joes that is one of the busiest in the nation. This guarantees foot traffic through the mall is always high. In addition, according to Mr. Tanz, Retail Opportunity now has the right of first refusal on any of Mr. Sher's malls. This means that if a Sher mall is going to be sold, Mr. Tanz and Retail Opportunity has a chance to buy it first, before it even becomes publicly listed.
On October 1, 2013, Retail Opportunity bought the remaining 51% stake in Crossroads mall. Mr. Sher commenting on the transaction, "I have known Mr. Tanz for many years and have great respect in Stuart and his team's ability to add value."
Mr. Sher's comment exemplifies the key competitive advantage of this REIT over others in its industry. Today's investor in Retail Opportunity is betting on the jockey that is Mr. Tanz. In the world of real estate the best deals require insider knowledge and connections - the kind that take decades to acquire and that Stuart Tanz and his team have in spades. The kind of expertise in undervalued mall acquisition, management and efficiency maximization that turned Pan Pacific into such a profitable investment is on display again at Retail Opportunity. The only difference is that the REIT is still small and young, at 3.5 years old and $1.06 billion. Long-term investors can get in on the ground floor of another Stuart Tanz elevator to West Coast commercial real estate profits.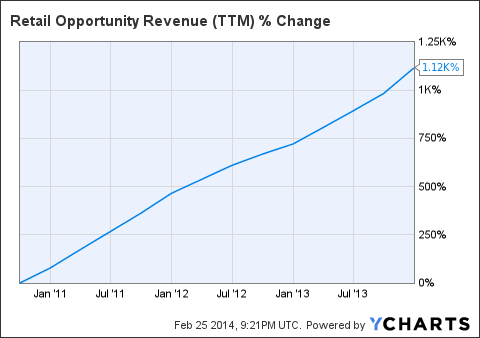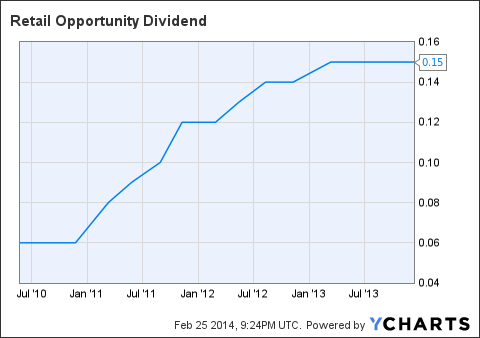 As seen above, the growth in revenues and dividends has been astronomical. 123% compound annual growth rate, (CAGR) in revenues, 35.6% in dividends and the stock price has grown as consistently as the dividends.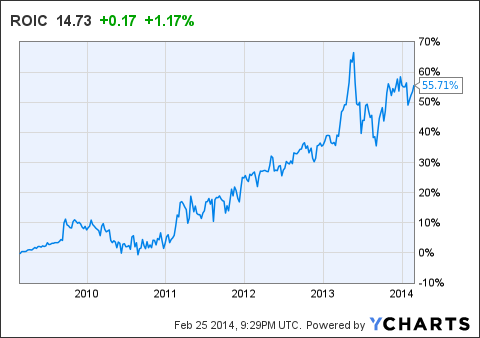 Since its IPO Retail Opportunity has returned 10.55% CAGR in capital gains alone.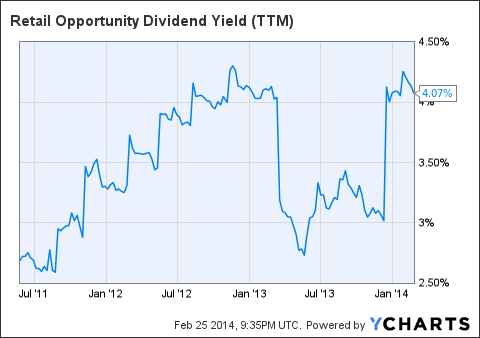 Historically the yield on Retail Opportunity has averaged 3.83%. The total return for investors has been 14.93% CAGR when dividends are reinvested.
The company's
Historically the yield on Retail Opportunity has averaged 3.83%. The total return for investors has been 14.93% CAGR when dividends are reinvested.
The company's last earnings report illustrates that the company continues to fire on all cylinders.
Net income of $34.0 million, or $0.48 per diluted share
Funds From Operation (FFO) of $76.0 million, or $1.07 per diluted share
$437.1 million in shopping center acquisitions
96.3% portfolio occupancy rate at December 31, 2013
6.8% increase in same-center cash net operating income (2013 vs. 2012)
7.3% increase in same-space comparative cash rents
Awarded investment grade ratings from Moody's and Standard & Poor's
36.5% debt-to-total market capitalization ratio at December 31, 2013
88.4% of the company's total outstanding warrants retired to date
13.2% increase in cash dividends per share paid (2013 vs. 2012)
Meanwhile, the FFO payout ratio is a low 56%, with management targeting 70%, indicating that dividend growth in 2014 is likely to be higher than this year's 13.2%. According to the 4th quarter earnings call, management expects about $250 million in additional acquisitions in 2014.
Retail Opportunity is currently 7% undervalued on a yield basis and likely to reward long-term investors with 10-20 years of market beating returns. As explained before, the average yield of Retail Opportunity is 3.83%, today it's 4.1%, indicating that the REIT is historically undervalued. If we model 12.5% five-year dividend growth, then in 2018 the dividend will be $.96/share. Modeling the historical yield of 3.8% gives us $25.06/share. Add in the five years of dividends which come to $3.83 and you get a total share value in 5 years of $28.91. This is 14.4% CAGR, 18.8% when dividends are reinvested. This projected return is about double of the stock markets 1871-2013 9% CAGR.
Technical analysis indicates massive support at $14.55 with moderate resistance at $14.84. This means that there is little downside risk and a low probability of the price improving much in the short to medium term.
In summary, Retail Opportunity Investments Corp is truly a hidden gem among the dividend growth and high yield REIT community. It is too young to have built a track record on its own, but its CEO Stuart Tanz has already proven that he knows how to deliver phenomenal investor returns over the long term. Given the undervalued nature of the stock today, the caliber of the management and the prospect of future growth in the REIT I recommend interested investors open a position at this time. I am very confident that in the long run you won't be disappointed.
Disclosure: I have no positions in any stocks mentioned, and no plans to initiate any positions within the next 72 hours. I wrote this article myself, and it expresses my own opinions. I am not receiving compensation for it (other than from Seeking Alpha). I have no business relationship with any company whose stock is mentioned in this article.