Investors are punishing a number of companies today for poor results, poor guidance and announcements that are not delivering everything on the wish list. The trend continues whereby investors punish companies which are looking at ramping up cap-ex in the near-term while rewarding them long-term for the growth which is derived from those programs. The only logical moves to make in this environment is to buy on that weakness and be prepared to hold over the long-term to realize the growth.
Looking at the commodities complex, we have seen natural gas retreat to levels which seem a bit more realistic in our eyes and for those who were short we think it would now be prudent to book some profits. With the big move in natural gas to the downside and oil seeing some strength recently, we suspect that traders have been rotating within energy.
The industrial metals are also retreating, with copper catching our eye as a possible trade at these levels for a 1-2% move higher. Not a lot in regard to returns, but we will take what the market offers us.
Chart of the Day:
We refer to the chart below for our reasoning of why readers who are short natural gas might want to book profits now. The gains have been tremendous and they have come quickly on the trade, and with a possible support level coming up it appears best to take money off of the table just in case the bulls make a stand and find the weather assisting them once again.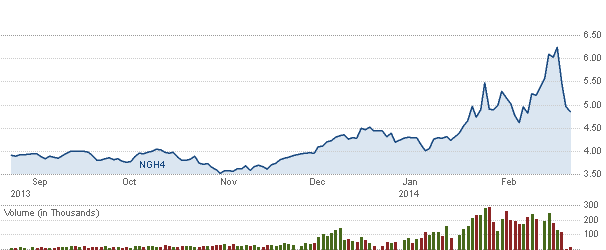 Source: CNBC
Commodity prices this morning are as follows:
Gold: $1,326.00/ounce, down by $16.70/ounce
Silver: $21.22/ounce, down by $0.743/ounce
Oil: $102.65/barrel, up by $0.82/barrel
RBOB Gas: $2.7999/gallon, up by $0.0018/gallon
Natural Gas: $4.877/MMbtu, down by $0.219/MMbtu
Copper: $3.238/pound, down by $0.0205/pound
Platinum: $1,426.40/ounce, down by $16.20/ounce
Oil And Natural Gas Players Struggling
Chesapeake Energy (NYSE:CHK) shares are under pressure after reporting quarterly results which were underwhelming for investors. Production fell sequentially in the quarter in part due to planned reductions but also due to weather conditions which affected the company to a great deal. The company reported revenues which beat the analysts' consensus, however the miss by $0.12 on the EPS consensus of $0.39 is grabbing the headlines.
Management is looking to lower costs in 2014 by lowering its capital expenditure budget while also realizing further economies of scale. Production should grow modestly but the shift toward liquids will continue with NGLs projected to see production increase by 40% in the year ahead. Also catching our eye was that Chesapeake anticipates that it will be able to move forward without large asset sales to continue to fund its drilling campaigns. The company has come a long way in the past few quarters, but this all seems to indicate that 2014 might be a lost year for the company as management looks to repair the balance sheet and adjust production via internal means.
Chesapeake has lost momentum and with shares now trading around the $25/share level one has to make sure that the little support that shares have at this area does not break down. Investors could flee on any further move lower. That would provide an opportunity to be a long-term buyer though.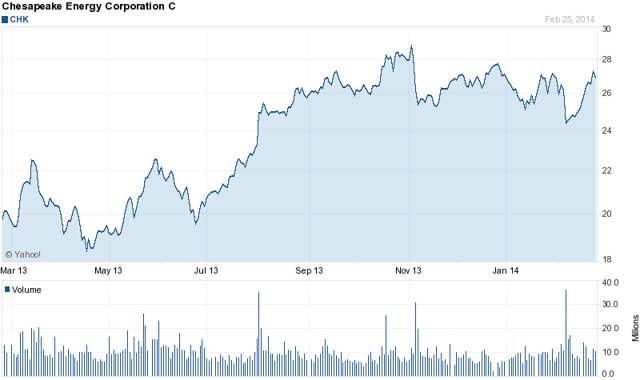 Source: Yahoo Finance
It seems to us that one could do far better than investing in Chesapeake right now while also benefiting from Chesapeake's activities. EV Energy Partners (NASDAQ:EVEP) should benefit from the increased production from the E&P JV in the Utica and its impact upon the processing JV which has been waiting for increased production in the play.
Another name catching our eye today is Apache (NYSE:APA) which is hosting its Investor Day today. The company will remain active in North America through the year, something most everyone already knew but also stated that they would continue purchasing shares under the current $2 billion repurchase program, something we know investors in the E&P names want to see more of rather than the $8.5 billion capital expenditure figure the company reported.
Apache is also looking to lower its exposure to the LNG export terminal it is building with Chevron (NYSE:CVX) in British Columbia to export production from the area to Asia. The company's CEO, according to Bloomberg (see article here), stated that the company could no longer afford to fully participate in the project. Our guess is that a deal is reached in the next few months as spending is ramping up on the project this year.
EOG Continues To Mature
Investors cheered the results from EOG Resources (NYSE:EOG) when it reported quarterly results this week. The stock is now trading at 52-week highs and has the investor base excited as there is a 2-for-1 stock split set for those shareholders of record on March 17th as well as a 33% increase in the company's dividend. The increase in the dividend is the real news, however the stock split will broaden the shareholder base and increase liquidity.
With this fresh breakout, EOG shares might be poised to head much higher in the next few months.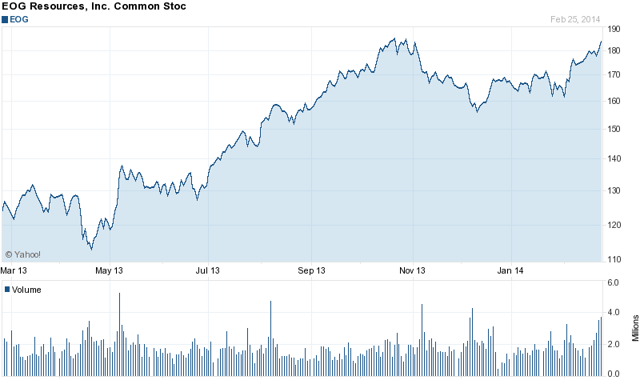 Source: Yahoo Finance
Looking forward we continue to believe that EOG will become a consolidator in the industry, but we also believe that with the pristine balance sheet that it possesses that there is opportunity to increase the annual dividend to a level on par with some of its peers in the next few years - a yield somewhere in the 1-1.3% range.
Disclosure: I am long EVEP. I wrote this article myself, and it expresses my own opinions. I am not receiving compensation for it (other than from Seeking Alpha). I have no business relationship with any company whose stock is mentioned in this article.