You never know where Best Stock Now ideas are going to come from.
Sometimes they come from your backyard.
Sometimes they come from far across the sea.
And sometimes they come from outer space.
Gunderson Capital Management started buying shares in Orbcomm (NASDAQ:ORBC) in late January. The company represents an interesting investment opportunity in the growing satellite M2M market.
Orbcomm, headquartered in Rochelle Park, New Jersey, is a wireless data communications company that offers M2M (machine to machine) global asset monitoring and messaging services utilizing a system of 29 communication satellites orbiting the earth.
And in the first quarter of this year, with the help of Elon Musk's (Tesla fame) satellite launching venture SpaceX, Orbcomm plans to launch 17 more satellites to further expand its global coverage footprint.
Orbcomm is the market leader in satellite M2M with a 42% share of the market and it is also the only satellite network and company 100% dedicated to M2M.
Orbcomm offers a combination of global satellite and cellular services designed to track assets in many key vertical markets including: transportation and logistics, heavy equipment, oil and gas, maritime, and government.
The company also plans to expand its market reach to include security and medical devices. Orbcomm seeks to broaden its global M2M opportunities through a combination of lower prices, better satellites and a truly global network.
Another way the company hopes to expand is by reaching markets that are not only cut off from satellites by natural barriers, but by regulatory barriers, such as China.
Industry Growth
The Global Mobile Satellite Services (MSS) market is expected to grow at a CAGR of 9.81% over the period 2012-2016. One of the key factors contributing to this market growth is the increasing demand for broadband mobile satellite services.
The Global Mobile Satellite Service market has also been witnessing an increasing demand for mobile satellite services in emergency situations. However, the high initial investment required for the development, launch, and insurance of satellites continues to pose a challenge to the growth of this market.
Orbcomm is pursuing a niche market strategy by focusing exclusively on the faster-growing satellite M2M segment.
According to a 2013 report published by The Carbon War Room, the $121 billion M2M industry is projected to maintain a 23 percent annual growth rate over the next decade, soaring to $948 billion by 2020.
I just love an industry with rapid growth.
Vertical market applications for M2M technology include: fleet tracking and monitoring, refrigeration monitoring, cargo security, preventative maintenance, and distress identification and assistance.
Competition
The satellite business obviously has significant barriers to entry. Orbcomm's largest competitors are Globalstar (OTCQB:GSAT), Iridium Communications (NASDAQ:IRDM) and private company Inmarsat.
Orbcomm compares favorably to its competition and is the only firm totally focused on the higher growth M2M market. Orbcomm is the smallest public company in terms of market capitalization and revenue.
It is also the most expensive on a PE multiple basis, trading at 59X trailing twelve month earnings. But it remains focused on a higher growth segment of the market.
At the same time Orbcomm trades at a very reasonable 1.8X book value and 4.8X sales.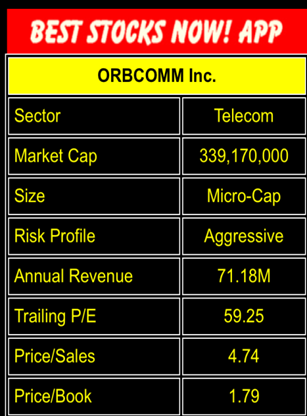 Data from Best Stocks Now App
Strategic Acquisitions and Alliances
The company's growth strategy involves growing partly through acquisitions. In the past year it purchased GlobalTrak and MobileNet to expand its distribution channels and product offerings.
GlobalTrak expanded the company's presence in the governments market throughout the Middle East, Asia, and South America. The MobileNet acquisition expanded Orbcomm's capabilities to receive diagnostic data in order to schedule and service repairs by OEM dealers and fleet owners.
In January Orbcomm raised additional funds through a stock offering of 5.5 million common shares priced at $6.15. The company states the net proceeds are to be used for future acquisitions and/or for debt repayment purposes.
The company has also formed strategic alliances with Tier One wireless carriers in order to provide enhanced communication capabilities.
The company's cellular partners include AT&T, Verizon, Vodafone, Rogers Communications, T-Mobile, and most recently in November of 2013, Telefonica.
Also in November of 2013, Orbcomm announced it had formed a strategic alliance with Inmarsat (a leading provider of mobile communications services based in the UK) to collaborate on additional M2M opportunities.
Customer Growth
Orbcomm has gained several new key customers in the last year including: Doosan, Hub Group, and Ryder.
According to research firm Canaccord Genuity, who initiated coverage with a BUY rating on January 28th, these new customer wins should provide an additional $80-$100 million in sales visibility over the next several quarters.
In the September 2013 quarter, Orbcomm added an additional 27,000 subscribers, bringing its total of total billable subscribers to 827,000. Total revenues for the quarter of $19.7 million, represented an increase of 22.4% year-over-year driven by organic growth and acquisitions. The company's gross margin for the quarter came in at 30%.
Conclusion
From an industry and company standpoint, Orbcomm is an interesting company. But is it also a good investment?
I believe that it is.
If Orbcomm can meet or exceed the current projected 5 year annual growth rate of 20%, I believe that the shares could trade north of $15, 3-5 years from now.
This give the stock the potential double during that time frame.
I also like the recent relative performance of the shares against the other 3,800 stocks that I track on a daily basis: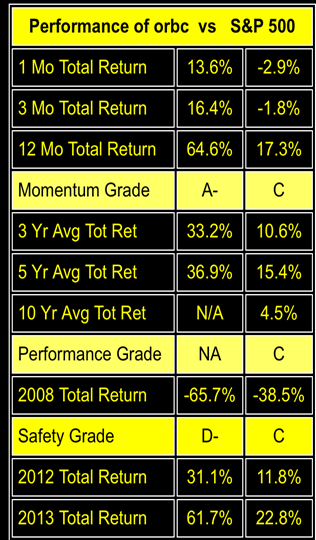 Data from Best Stocks Now App
As you can see, the stock has outperformed the overall market by a wide margin over the last one, three, and five years.
The stock currently earns a momentum grade of A-
It should be noted that this is a high-risk micro-cap stock, however. Note that the shares were down 65.7% in 2008.
The current technical picture of the stock is also quite good.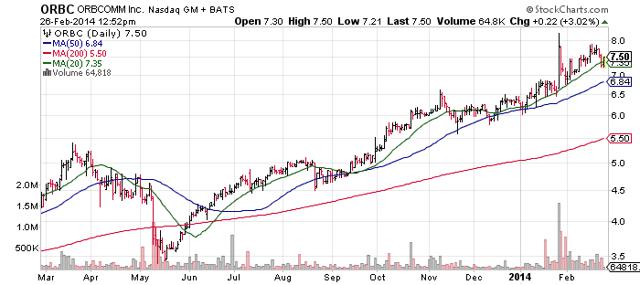 The stock is in a very strong uptrend. I like stock that are in uptrends.
When I stack up the valuation, performance, and technical pattern of Orbcomm against all of the other stocks in my database, it comes in at number 55 and gets a proprietary Gunderson Grade of A.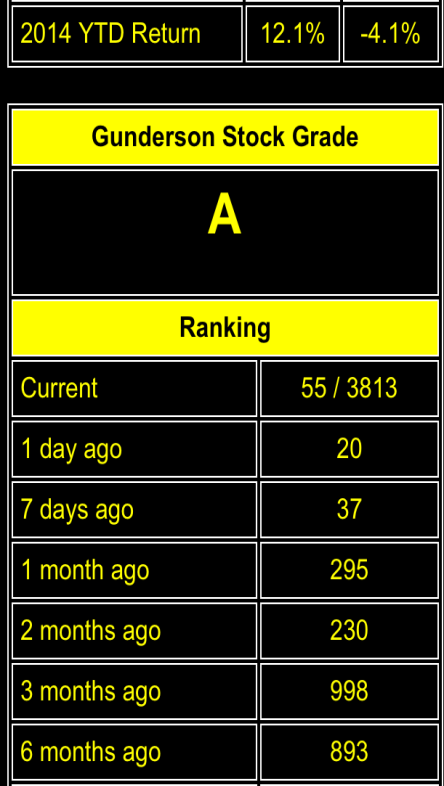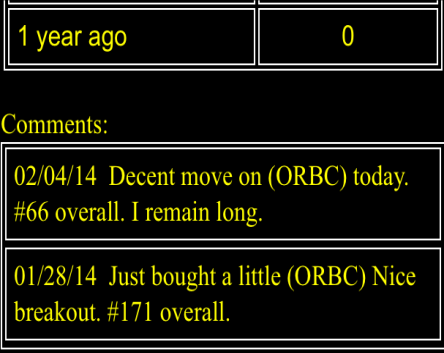 Data from Best Stocks Now App
Only 77 stocks in my universe (including outer space) get a grade of A or better at the current time.
As I mentioned earlier, clients in the aggressive portfolio at Gunderson Capital Mgt. are long the stock.
Risks/Concerns
The stock is expensive on a valuation basis relative to the market and its industry competitors. With a market cap of only $341 million it falls in the microcap range of stocks and its risk profile is aggressive. Orbcomm's customer base is comprised primarily of global industrials which are highly cyclical and economically sensitive. Orbcomm growth prospects are closely aligned with industrial capex and global growth trends. However, the value proposition and return on investment (ROI) for customers continues to be a key selling point, even in a challenging economic environment.
Disclosure: I am long ORBC. I wrote this article myself, and it expresses my own opinions. I am not receiving compensation for it (other than from Seeking Alpha). I have no business relationship with any company whose stock is mentioned in this article.