(Editors' Note: This article covers a micro-cap stock. Please be aware of the risks associated with these stocks.)
The New York City Police Department's intelligence and analytics unit has acquired several sets of Google's (NASDAQ:GOOG) Google Glass to beta test, according to Venture Beat columnist Richard Byrne Reilly. Beyond the buzziness of Google Glass and the controversy created by everything the NYPD does, the news raises some interesting prospects for investing in technology and security.
Trading over $1,000 per share at a P/E north of 33, Google stock isn't cheap. The prospect of Google selling millions of pairs of Google Glass to police forces all over the world might tempt you to pay top dollar for a top-shelf tech stock, but there are other companies that stand to profit from local and state governments beefing up their tech profile before Google does. The three major players in this sector are Digital Ally Inc (NASDAQ:DGLY), L-3 Communications (NYSE:LLL) and TASER International Inc (NASDAQ:TASR).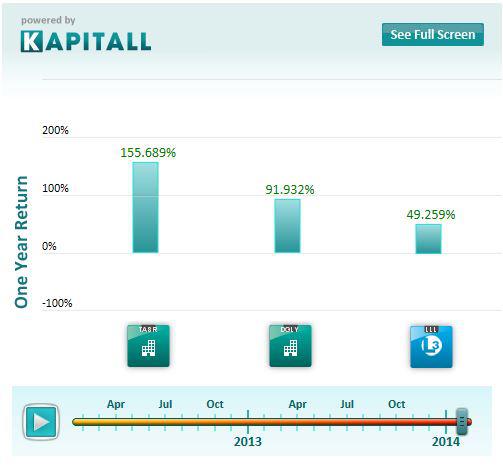 Click here to get more information on these stocks.
The NYPD is definitely the largest police force in the US, but it's not the only one interested in beefing up its tech. A two-year study conducted by William A. Farrar, police chief of Rialto, California, has proven that interactions between security forces and civilians can be significantly improved if both parties are aware that they are being recorded. According to the New York Times, "Even with only half of the 54 uniformed patrol officers wearing cameras at any given time, the department over all had an 88 percent decline in the number of complaints filed against officers, compared with the 12 months before the study, to 3 from 24." Surveillance doesn't just make the "man on the street" safer, it also provides police evidence to support their conduct if challenged.
And, of course that works the other way around. The study also found that "Rialto's police officers also used force nearly 60 percent less often" when they were wearing a camera. This finding prompted judge Shira Schendlin, who famously declared NYPD's use of "stop and frisk" unconstitutional, to opine "While the logistical difficulties of using body-worn cameras will be greater in a larger police force, the potential for avoiding constitutional violations will be greater as well." Jay Stanley, a senior policy analyst at the ACLU agreed, that "all parties stand to benefit - the public is protected from police misconduct, and officers are protected from bogus complaints." If policy makers continue down this road, police body cameras could become a legal mandate for hundreds of thousands of police across the country.
Of the three stocks under consideration, Digital Ally is the most speculative. After its shares spiked in September to a 52-week high of $17.47, it has since lost more than half its value to close under $9. Digital Ally's stock jumped on news that it sent a large shipment of event recorders to a Midwestern ambulance company and from the judicial ruling, cited above, that recommended police officers wear cameras. Though Digital Ally's gross profit margin widened to 58.4% of total revenue, and its operating loss shrank 47% in the first nine months of 2013, it is still far from profitable, and its market cap is under $20 million.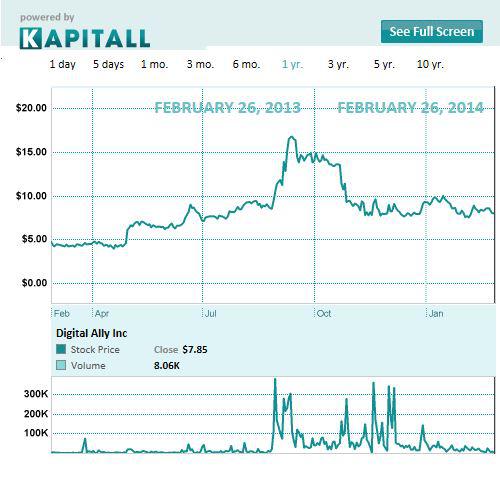 Click here to get an in depth look at DGLY.
Taser, the next largest player with a market cap around $981 million, is also the only company of the three with a positive cash flow. Moreover, Taser has little debt and a debt-to-equity ratio of just 0.12. This means two things: First, Taser's money can be invested in the company instead of debt maintenance, and second, Taser has the option, if management sees fit, to fuel rapid expansion by issuing debt. More important that either of these considerations, Taser is the average police officer's weapon of choice. It's brand is well known, and its product is highly visible.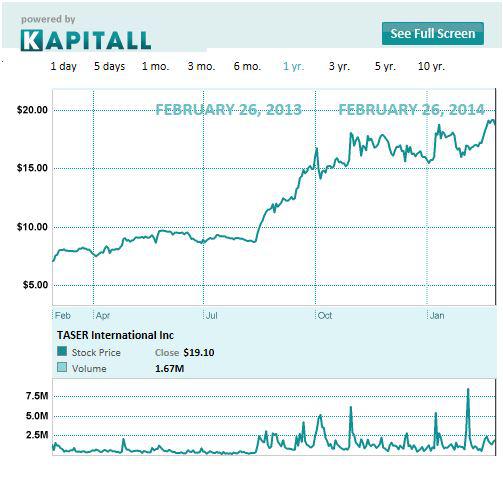 Click here to get an in depth look at TASR.
L- 3 Communications is the 900 pound gorilla in the industry with a market cap of over $10 billion. Their mobile division, L-3 Mobile-Vision Inc., produces the Flashback2 and Flashback3 in-car video systems that are already widely used in American police departments. Recently L-3 released PatrolScout, a software package that adds the ability to stream live video, on-demand through a Web-based interface. L-3's push to integrate its surveillance technology to the cloud is both forward looking and potentially game changing. Though their debt-to-equity ratio is an eye-popping 60, their free cash flow of $849 million. L-3 is trading at the top of its 52-week range, but with a P/E of 13.29 and dividend yield of 2.1% this stock should be attractive for both value conscious investors and growth investors.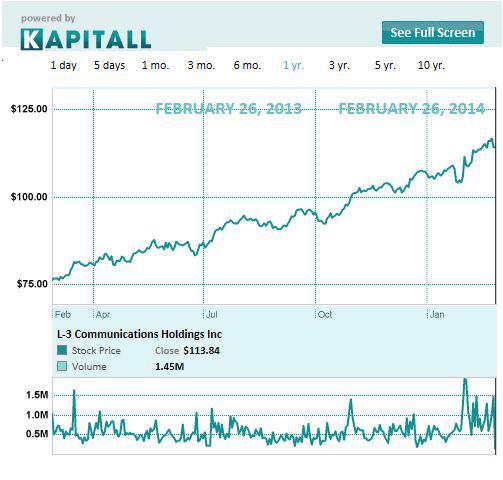 Disclosure: I have no positions in any stocks mentioned, and no plans to initiate any positions within the next 72 hours.
Business relationship disclosure: Kapitall is a team of analysts. This article was written by Will Kenton, one of our writers. We did not receive compensation for this article (other than from Seeking Alpha), and we have no business relationship with any company whose stock is mentioned in this article.