Citigroup (NYSE:C), the third-biggest US lender by assets, more than doubled net income to $2.7 billion in the fourth quarter but missed estimates. The bank's earnings per share were $0.82, widely missing analyst estimates of $0.95. The bank posted fourth quarter revenues of $17.8 billion with net credit losses of $2.5 billion which declined 15% versus the prior year period. Tangible book value per share increased to $55.38. Deposits of $968 billion grew 4% and loans of $575 billion grew 7% on a yearly basis. Basel III Tier I Common Equity Ratio saw a pick-up to 10.5% which had been 8.7% at the end of 2012. Citi Holdings, where Citigroup put its bad assets into, had assets of $117 billion, and declined 25% on yearly basis, and represented 6% of total Citigroup assets at year-end 2013 (click here to read the full report).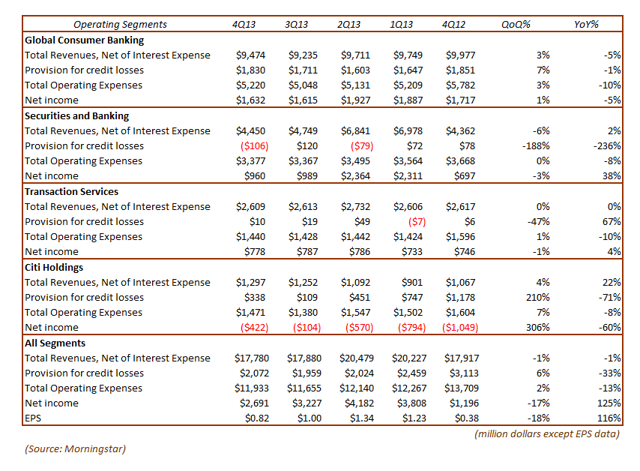 For Citigroup last year was full of ups and downs. For the first two quarters, the bank surprised the market to the upside with beating analyst earnings per share estimates by 5.1% and 13.6%. However, the following quarters were clear sailing for the bank as the number came out lower than expected.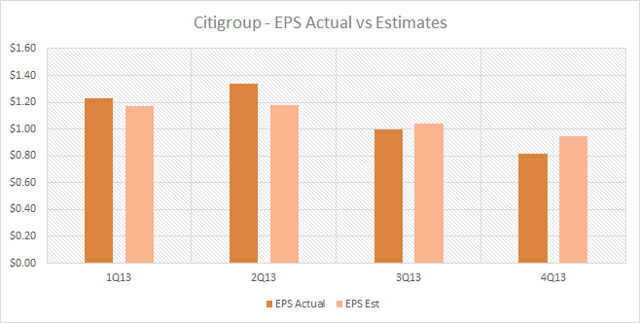 (Source: Yahoo)
Citigroup is facing the some headwinds in fixed income, commodities and currencies trading and a drop off in mortgage refinance activity. Revenues from fixed-income trading fell 15% in the quarter from a year ago and 16% from the previous quarter's $2.3 billion. The decline was a result of lower client activity, particularly when it comes to the credit and spread-related securities. Additionally, North America consumer revenues declined 8% to $4.9 billion, primarily reflecting US mortgage refinance activity. US mortgage originations slumped 51% from a year ago and 43% on the quarter to $8.3 billion. Citigroup should have managed to offset slowdowns by leaning on other parts of the business or focusing on different products, just like Wells Fargo (NYSE:WFC) enhancing its commercial lending business. And what is worse, Citigroup may be losing its ability to compete in the US.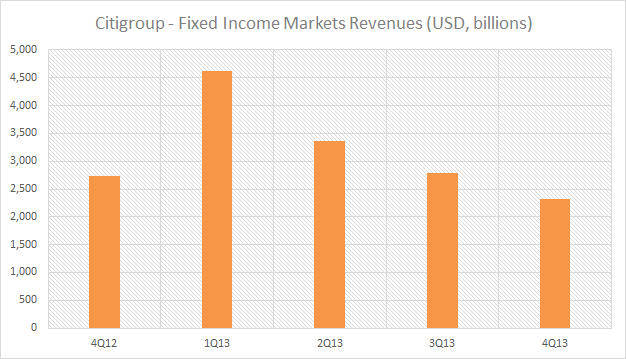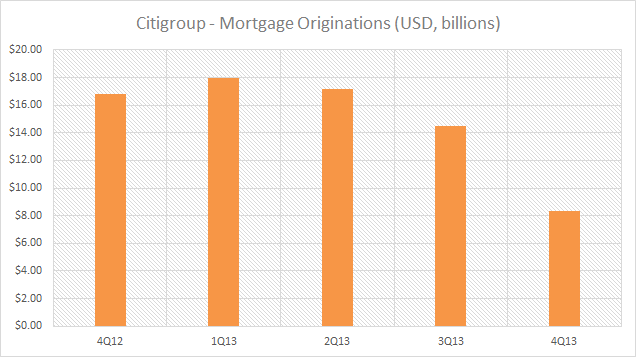 (Source: Morningstar)
With its presence in emerging countries, Citigroup is the one with a global reach on the commercial side of all the US banks. In other words it diversified its business well. In the long term this is a profitable business strategy but not over the next two years. Because in such a environment where liquidity flows into emerging countries are about to change, Citigroup's exposure to them must be reviewed carefully. What's more, this gains even more importance due to the fact that Latin America and Asia are the only regions where Citigroup increased its revenues on a quarterly basis. Emerging markets are expected to largely slow with the potential global shocks to them from higher borrowing rates. Therefore I do not foresee that both Latin America and Asia regions to contribute to revenues as they did in 2013.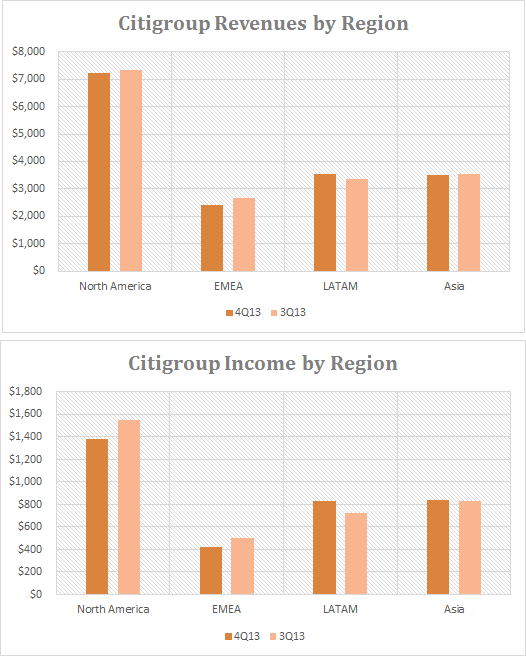 (Source: Morningstar)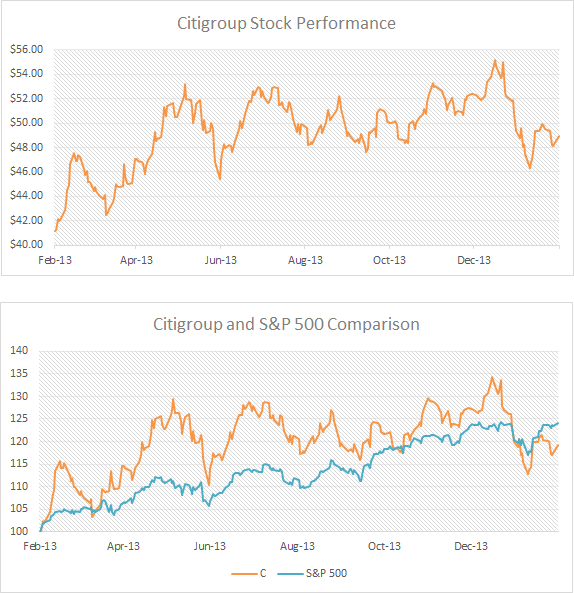 (Source: Yahoo)
Focusing on stock performance, Citigroup is up 19% over the past twelve months and at this period it underperformed the market as the S&P 500 is up 24%. The stock trades at $48.40 which is 9.78 times its earnings and roughly three fourths of its book value, according to Bloomberg. Compared to its peers, multiples appear cheap but given the catalysts above the valuation is fair in my opinion. As the US economy improves, investors will be looking to gauge the relative prospects for bank stocks but I believe that Citigroup is not in good shape to grow and not worth adding to your portfolio.
Disclosure: I have no positions in any stocks mentioned, and no plans to initiate any positions within the next 72 hours. I wrote this article myself, and it expresses my own opinions. I am not receiving compensation for it (other than from Seeking Alpha). I have no business relationship with any company whose stock is mentioned in this article.