Executive summary:
The potential plan for a Weibo IPO will unlock the value of Sina (NASDAQ:SINA), as the microblogging platform's valuation could be at Sina's current level.
Q4 results are slightly ahead of expectations, and quarterly revenue growth accelerated once again.
Weibo user growth in Q4 was the slowest ever and might be weighing on Sina's share price along with a probable disappointment by the lack of news on Weibo IPO.
Last year's note offering nearly doubled Sina's cash position and the company might use the funds for a major acquisition.
_________________________________
Sina reported Q4 revenue and earnings slightly ahead of analyst estimates. However, Sina is trading down significantly after the earnings report, and there are two probable reasons for the selloff: Weibo's user growth in Q4 was the slowest ever, with a 4.2% sequential increase, and the lack of news on the rumored Weibo IPO that was largely expected. I believe that Sina's share price will find its bottom soon, as Weibo's potential IPO may unlock value. In addition, Sina has a strong balance sheet with more than $1.8 billion in cash and equivalents, which the company might use for a major acquisition and for share buybacks. Another positive for Sina is the fourth straight quarter of revenue growth acceleration and continued gross margin improvement.
Q4 highlights
The most important notes from the Q4 report are:
1. Accelerating revenue growth. Weibo's growth is the most important contributor to the earnings growth acceleration. Revenue growth accelerated from 4.5% in Q4 2012 to 42.7% in Q4 2013. Weibo ad revenue was up 163% year-over-year to $56 million, and Weibo non-ad revenue increased 114% to $15.4 million.
2. Gross margin increased 700 basis points to 64%.
3. Weibo posted an operating profit of $3 million for the first time in the company's history.
4. Weibo's user base increased by 4.2% sequentially to 61.4 million, the slowest pace ever. Weibo's main competitor WeChat had 271.9 monthly active users in Q3.
While there is more good news than bad news, investors seemed disappointed with the lack of news on Weibo's potential IPO.
Weibo IPO might boost the share price close to $100
I believe that the Weibo IPO might unlock value of Sina shares, and the price could rise 30% to 50% from here. To put things into perspective, Barclays values Weibo around $5.1 billion, which means that Sina's stake is worth around $4.1 billion. Sina's current market cap is $4.6 billion, and the company has net cash of more than $1 billion. Last year, Alibaba purchased an 18% stake in Weibo for $586 million, valuing Weibo around $3.2 billion at the time. Weibo was in an early stage of monetization at the time, with probably around $100 million in revenue. Sina started reporting Weibo's revenue in Q2 2013, which came in at $37 million. Weibo's Q3 and Q4 revenue was $53.4 million and $71.4 million respectively. Weibo's annual revenue is close to $200 million. Given the current momentum in the IPO market, Weibo could rise substantially higher after going public, which would bring Sina's share price higher. Qihoo 360 (NYSE:QIHU) is currently trading at P/S ratio of 23, while Twitter's (NYSE:TWTR) P/S ratio is 45. Their revenue growth is similar to Weibo's growth, and we could expect Weibo trading in that P/S range if it goes public.
This would Sina's share price close to, or above the current analyst consensus of $91, since Sina's current valuation almost equates to Weibo's estimated value.
Large cash position might be used for acquisitions, buybacks
At the end of Q4, Sina had $1.87 billion in cash and equivalents. The amount includes the recent note offering of $800 million, and when we exclude the debt, we get a net cash position of just above $1 billion. The company used $100 million to buy back shares, while the rest may be used for acquisitions of complementary businesses. The company may use acquisition as a way to strengthen its core business, expand into new verticals and additionally accelerate growth. The company has already invested in some areas like online payment, which management believes is the base for the internet finance going forward. Sina has a payment license and has invested in companies which produce innovative financing and trading products which results in lots of trading volumes on its platform. This might be a potential area for an acquisition, as management sees it as one of the largest opportunities for the company going forward.
The big picture
It is also worthy of note to look at the big picture - the long-term chart. Sina's recent woes are in part related to the strong market selloff in China (NYSEARCA:FXI). The chart also reveals Sina's relative strength, as the stock mostly outperformed FXI since the start of 2013. Once the trouble's in China's equity market are over, Sina might perform much better than in previous two months, especially given the company's current valuation. Weibo IPO could be a big catalyst for Sina going forward, leading to strong outperformance in the future.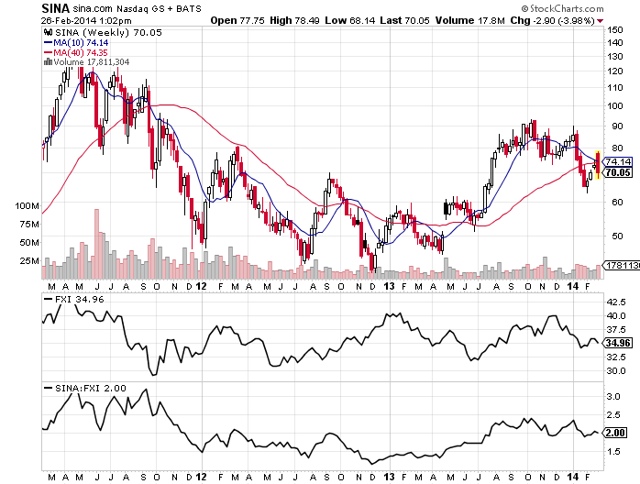 Click to enlarge
Source: Stockcharts.com
Final thoughts
Sina's share price is down more than 20% in the last two months, on the heels of a general selloff in China, the lack of news about Weibo's IPO, and perhaps on news about Weibo losing users to its main competitor WeChat. However, management addressed the alleged loss of users in the Q4 conference call, stating that the CNNIC report is about the total Weibo market in China, and that there are 20 different kinds of Weibo services. Management acknowledged the slower user growth in Q4, and Sina's CEO Charles Chao said that the company "took some initiatives already, as you have seen, like working with the TV programs and tried to drive more engagement by users through different kind of activities and so far, it has been working and the growth in the last couple of months, has been improved significantly from the last quarter and the fourth quarter." I believe Weibo is the most important asset for the company, and that an eventual IPO will greatly improve Sina's share price. In addition, Sina has a large cash position which it might use to acquire complementary business and expand the company's revenue stream.
Disclosure: I have no positions in any stocks mentioned, and no plans to initiate any positions within the next 72 hours. I wrote this article myself, and it expresses my own opinions. I am not receiving compensation for it (other than from Seeking Alpha). I have no business relationship with any company whose stock is mentioned in this article.