A crummy stock price and a rising dividend have combined to push the Western Union (NYSE:WU) dividend yield above 3%, and that has some investors wondering whether this beaten-up money transfer handler could be a turnaround play.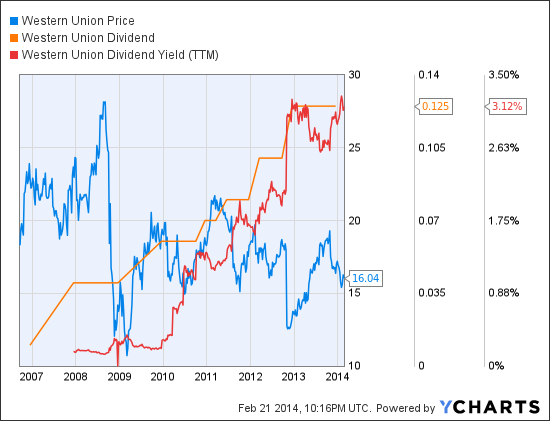 The business is under assault by smaller competitors, such as MoneyGram International (NYSE:MGI). It also suffers in economic downturns as people have less money to ship, fewer workers relocate internationally and then send money home, and governments continue to raise compliance standards to try to reduce money laundering.
Revenue has been flat-ish and profit margins have suffered as Western Union spends to upgrade its compliance. It's also in something of a price war with competitors. Thus, in the most recent quarter, consumer transaction volume increased by 9% but that was wiped out by price cutting and a shift to less-well-paying business. Noted Robert Napoli, an analyst at William Blair & Co. in Chicago:
"Management tightened its compliance cost outlook, but anticipates elevated costs will linger into 2015."
Ouch.
The beaten-down shares now trade at a forward PE ratio of about 11, which is low historically.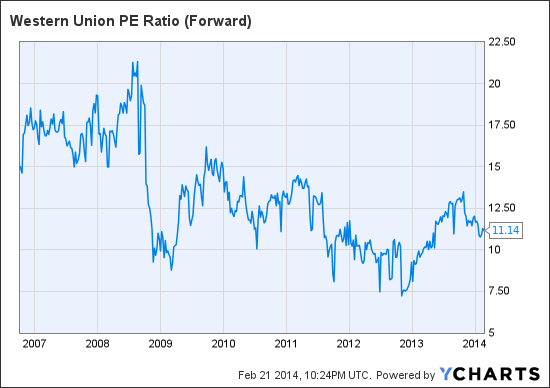 WU PE Ratio (Forward) data by YCharts
Some value managers, including John Rogers at Ariel Capital in Chicago, have loaded up. The Ariel Appreciation fund holds about 4.5 million Western Union shares, or 4% of its portfolio, and Rogers added to the holding during the fourth quarter, according to Dataroma.
The long-term trend is for workers to increasingly cross borders, so money transfer isn't going away as a business. It ought to grow. It's certainly possible for Western Union and other incumbents to get disrupted by some new technology. But many customers aren't computer-savvy and mightn't trust a new transfer method. The business is certainly Western Union's to hold onto, or lose. And its results will either improve or more activist investors might show up.
Meanwhile, that dividend yield pays you to wait.
Jeff Bailey, The Editor of YCharts, is a former reporter, editor and columnist at the Wall Street Journal and New York Times.
Disclosure: None