Introduction
In this article I'll have a closer look at First Majestic Silver (NYSE:AG) which has just reported its financial results for 2013. These results seem to have been delayed a bit as the original plan was to release them before the markets opened. I will provide my view on the company's financial results and the status of its balance sheet. Thereafter I will briefly discuss the outlook for 2014 which will result in the conclusion at the end of this article.
All images in this article were directly sourced from the press release.
My view on the financial results
In 2013, First Majestic produced 10.6 million ounces of silver which means the company is now 'officially' a senior producer as 2013 was the first year wherein First Majestic breached the 10Moz threshold. This resulted in a revenue of $251M which is approximately 2% more than in 2012, meaning the increase in production has compensated for the lower silver price. Unfortunately the cost of sales has increased by 45% which caused a 19% decline in gross margin. Add a $28M impairment charge and a $63M deferred tax charge, and First Majestic reported a net loss of $38M in 2013 which equals a loss of $0.33/share.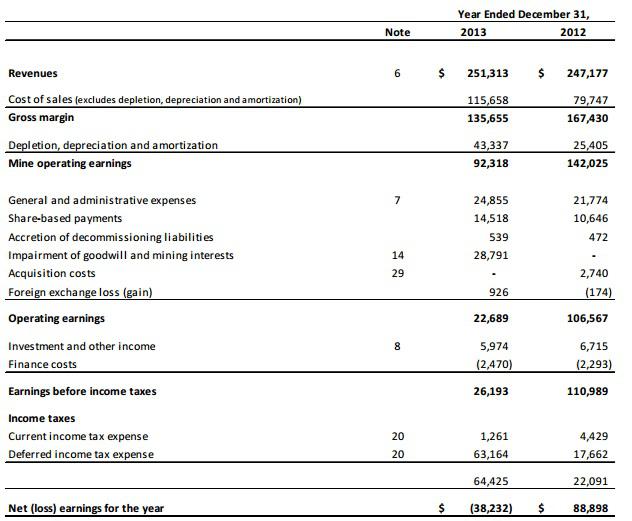 As most of my readers know, I also like to have a look at the cash flow statements of a company as I believe those statements usually offer a better view on the quality of the underlying business, and this is specifically the case when non-cash charges cause the net income to decline. So when looking at the cash flow statements, you can see that First Majestic Silver generated an operating cash flow of $130M before changes in working capital. As the total capital expenditures in 2013 were just $94.5M, First Majestic Silver was actually free cash flow positive to the tune of $35.5M (if you exclude non-recurring asset purchases). This is an excellent result as it became obvious most of the mining companies struggled to be free cash flow positive in 2013. However, investors should be aware that $11.4M which the company received from Orko Silver as a termination fee is likely added to the free cash flow. This is obviously a non-recurring event.

My view on the balance sheet
Moving over to the balance sheet, First Majestic Silver had a working capital position of almost $33M and a current ratio of 1.43. As you know, a current ratio higher than one means the company has sufficient current assets to cover its current liabilities, so I don't expect First Majestic to run into any near-term financing problems.
As of at the end of 2013, the book value of First Majestic was approximately $4.87/share, which means the company is trading close to 2.3 times its book value which is quite high for a mining company.
Outlook for 2014
First Majestic's production will be boosted once again in 2014 as the company now expects to produce between 12.7M and 13.3M ounces of silver, which is much more than the 2013 production result of 10.6 million ounces. This should increase the revenue by at least 15-20% and will very likely have a positive impact on the gross margin.
The company plans to spend $106M in capital expenditures this year, of which $8M will be spent on exploration drilling to expand the mine life of the current mines. As the capex increases at a slower rate than the production (and revenue), I expect First Majestic Silver to continue to be free cash flow positive which should allow the company to re-build its cash position so it can eye another acquisition in the future to continue to build its production profile.
Conclusion
First Majestic has always been run by smart people, and I can only applaud the move of the management team to walk away from Orko Silver last year instead of starting a bidding war. This shows that the current management team wants to grow the company, but not at any cost which means it's only looking for accretive deals.
First Majestic isn't trading extremely cheaply, but it's encouraging to see the company is at least free cash flow positive, and I think this will once again be the case in 2014 as the production is expected to increase by at least 19%.
For people with a more cautious approach it could make sense to write a P10 July for an option premium of $0.80 or a P7.5 January 2015 for a premium of $0.55. This would result in an annualized yield of respectively 19.2% and 8%.
Disclosure: I have no positions in any stocks mentioned, and no plans to initiate any positions within the next 72 hours. I wrote this article myself, and it expresses my own opinions. I am not receiving compensation for it (other than from Seeking Alpha). I have no business relationship with any company whose stock is mentioned in this article. I currently have no position but could write an out of the money put option later today, as I explained in the article.