Executive summary:
Vipshop (NYSE:VIPS) is doing business in China and Zulily (NASDAQ:ZU) in United States but their business models are quite similar.
Recent acquisitions enhance Vipshop's growth prospects.
Zulily's earnings announcement may drive the stock price higher in the next couple of weeks.
Both stocks have been strong performers, but Vipshop's valuation seems far more reasonable, as Vipshop is trading at a steep discount to Zulily.
_________________________________
I wrote about Vipshop in late July 2013, explaining my long thesis. The stock is up more than 160% since the article was published, and I believe that Vipshop has more room to run. I will compare Vipshop with Zulily, and show that it is a much better investment, since Vipshop's valuation is more reasonable than Zulily's, and given that Vipshop's addressable market is larger.
Vipshop and Zulily - strong performance and outstanding growth
Both Vipshop and Zulily delivered outstanding revenue growth in recent years, and their stock prices have appreciated substantially in recent months. Both companies have reported 2012 revenue growth in triple digits, and both are expected to deliver 2013 revenue growth north of 100% again. Vipshop is China's leading online discount retailer for brands. The company offers high quality and popular branded products to consumers at significant discounts from retail prices. Zulily operates as an online flash sales retailer in the United States, Canada, United Kingdom and internationally. The main distinction between the two companies, other than their geographic locations, is that Zulily's main offerings are children's apparel, women's apparel and children's merchandise, while Vipshop has a broader focus.
A look at the charts reveals how the strong growth of their businesses translated into strong share price performance. Zulily went public in mid-November at $22 and is up 165% from the offering price, while Vipshop is up 27% since Zulily went public, but to gain a broader perspective, the stock is up more than 500% since the beginning of 2013. Their future price performance will be dependent on their execution and growth levels, which would need to be quite high in order to justify their current valuations.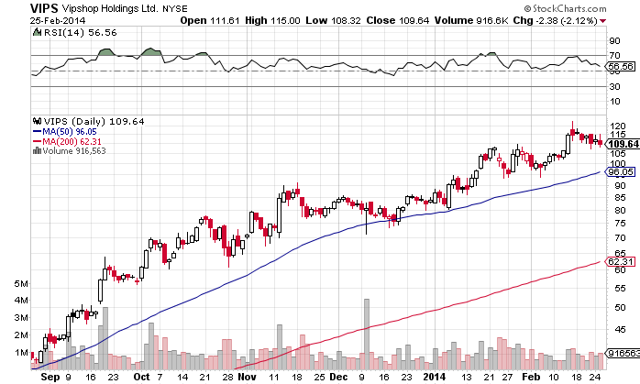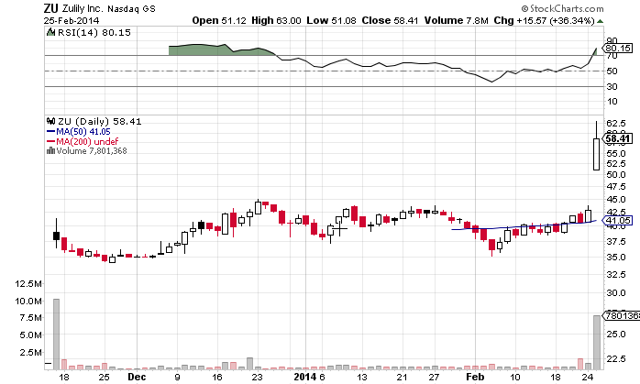 Source: Stockcharts.com
Vipshop's acquisitions - securing supply for high-demand products
Vipshop has recently spent nearly $200 million on two acquisitions. On February 14, Vipshop acquired 75% equity interest in Lefeng.com from Ovation Entertainment for $132.5 million. Lefeng owns and operates the online retail business conducted through lefeng.com, an online retail website specialized in selling cosmetics and fashion products in China. The acquisition is aimed to expand Vipshop's cosmetics offerings, and enhance the customers' experience. On February 21, Vipshop acquired a 23% equity interest in Ovation Entertainment for $55.8 million. This strategic investment provides Vipshop access to a consistent supply of Ovation branded cosmetic products, which are in high demand among Vipshop's growing user base. Vipshop's CEO said in the statement that about 75% of the company's customers are female.
The two equity interest acquisitions strengthen the company's product offerings and enable Vipshop stable access to products that are in high demand. As the company's growing (female) user base grows, it will be more able to cope with rising demand for various cosmetic products.
Valuation - Vipshop is the winner
As we compare Vipshop's and Zulily's valuation, Vipshop comes out as much cheaper. When you compare the expected revenue growth in 2014 and 2015 and Vipshop's and Zulily's forward P/S and P/E ratios, it is evident that either Vipshop is significantly undervalued, or that Zulily is significantly overvalued. I would consider buying Vipshop in the $100 to $110 range, while I would not buy Zulily (at least not on a fundamental basis, while it may continue to build momentum in the next couple of weeks on heels of a great Q4 earnings report) unless their valuations come closer to each other. If Zulily is able to maintain its current valuation, I would expect Vipshop to rise at between 70% to 100% in order to shrink the valuation difference.

Source: Yahoo! Finance, Reuters
Zulily's Q4 report may lead to higher stock price in the next couple of weeks
Zulily reported Q4 earnings and revenue ahead of analyst estimates. The company delivered revenue growth of 100% in Q4 and 110% for the full year. FY 2014 guidance was largely in line with current consensus estimates. The results may lead to a higher stock price in the next couple of weeks as a result of strong momentum, which may drive the valuation higher and further away from Vipshop, creating an even greater discount, and increasing Vipshop's potential share price in order to catch up with Zulily's valuation.
Zulily's advantages
While both Vipshop and Zulily are mostly catering to women, Zulily is more concentrated on them. It may be an advantage, because most of its customers are moms, and a more focused business model may give the company an advantage over most of its competitors, as opposed to a broader product mix. The other advantage Zulily has over Vipshop is that Zulily is incorporated and doing business in the United States and other developed countries, while Vipshop is incorporated and doing business in China. While China is a faster growing market, many investors are concerned with accounting and fraud issues coming from China in recent years. I would expect Zulily to be trading at a premium against Vipshop while assuming a similar growth profile, but the assigned premium would certainly not be 150% to 200%, which is the case at the moment. A 20% to 30% premium would be more reasonable, and given the circumstances, I am still favoring Vipshop over Zulily.
Conclusion
It is clear that Vipshop is a better investment at current price levels. Current valuation gives Vipshop a clear advantage over Zulily, and I expect Vipshop to outperform in the next six to twelve months, at least until their respective valuations come closer to each other.
Disclosure: I have no positions in any stocks mentioned, but may initiate a long position in VIPS over the next 72 hours. I wrote this article myself, and it expresses my own opinions. I am not receiving compensation for it (other than from Seeking Alpha). I have no business relationship with any company whose stock is mentioned in this article.