Few sectors face as much uncertainty at this time as does the Energy sector. The Deepwater Horizon oil spill continues to gush into the gulf and political factions could threaten new drilling projects in the region due to environmental concerns for years to come. This comes after many oil companies had begun to focus more attention on the Gulf of Mexico; Apache's (NYSE:APA) recent M&A deals come to mind (Into the Deep: Apache Bids $4B for Mariner Energy). Furthermore, major integrated oil & gas firms here in the US are dealing with extreme weakness in downstream operations. Upstream operations had been boosted by rising oil prices, but with crude prices falling more than 10% in a matter of weeks there is plenty of certainty in the sector.
Contrasting those bearish factors, economic activity is expanding and energy is generally in greater demand in such a case. Furthermore, commodities are a great way to hedge against inflation, which many people think may be upon us soon. Also, despite oil's recent swoon it is well above the depressed levels of a year ago.
For our Ockham daily screen, we are looking specifically at the Major Integrated Oil & Gas industry of the energy sector. We cover 17 stocks in the subset trading on both US and Canadian exchanges. Interestingly, within the past 30 days we have changed our stance on 15 out of the 17 stocks through either and Upgrade, Downgrade, or Initiation. As of this week, we have 1 Undervalued, 12 Fairly Valued and 4 rated Overvalued. Over the last month though, positive ratings changes have outnumbered downward ratings changes by 2 to 1. Clearly, we were tilted towards the bearish side on these stocks recently and now have shifted to a more neutral posture.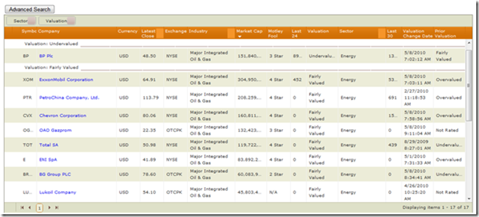 Click to enlarge
We understand that the picture of the screener is likely too small to read, so I have copied the stocks below. You will notice that we have the uncomfortable position of BP PLC (NYSE:BP) as the lone Undervalued stock. It is uncomfortable because of the unknown liability of the oil spill in the gulf, but trading at just 7.8x cash earnings and .57x sales per share and a yield of almost 7%, the valuation is appealing for the long term investor. Of course, our model revolves around the fundamentals and none of the risk of the oil spill has yet had an effect on them, so risk-averse investors may want to steer clear.
Below is our ratings breakdown of major integrated oil & gas stocks. Also the two stocks that have not recently seen ratings changes are PetroChina (NYSE:PTR) and Total SA (NYSE:TOT), both of which are Fairly Valued according to our methodology.
Undervalued:
Fairly Valued:
Overvalued: