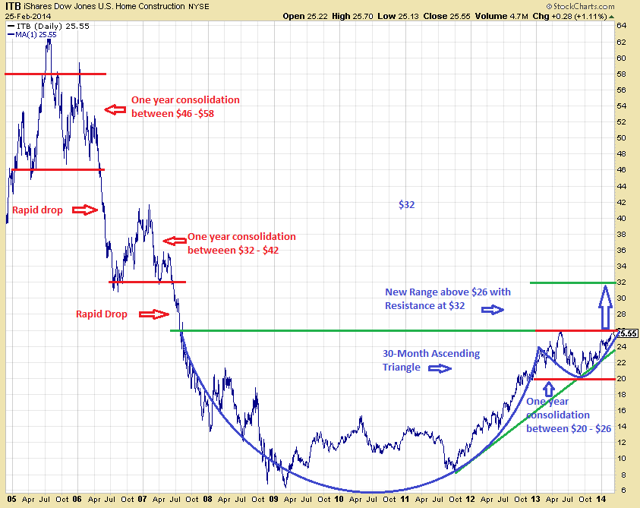 The Dow-Jones U.S. Home Construction Index (ITB, above) is breaking-out to a new 7-year high today. As you can see from the chart, there have been significant consolidation periods in this ETF - each one lasting about a year - followed by a dramatic surge. We may be entering one of those surges now.
The ITB's composition is a who's who of homebuilders, all of whom have been reporting substantial profits for 4Q2013.
| | | |
| --- | --- | --- |
| Company (Top 10 holdings) | Symbol | % of Index |
| Pulte Group | PHM | 10.28 |
| D.R. Horton | DHI | 9.98 |
| Lennar Corporation | LEN | 9.93 |
| Toll Brothers | TOL | 8.78 |
| NVR, Inc | NVR | 7.54 |
| Home Depot | HD | 3.89 |
| Ryland Group | RYL | 3.76 |
| Meritage Homes | MTH | 3.29 |
| Lowe's Companies | LOW | 3.13 |
| KB Home | KBH | 3.02 |
There has been a lot of bearish commentary since the turn of the new year about current real estate conditions: the recent month over month declines in existing home sales; dramatic declines in the number of mortgage applications and refinances; signs of tightening credit, the rising costs of a Qualified Mortgage (-3% debt to equity) and lowered loan limits in high-cost areas (from $729K to $625K). Then there is also the Federal Reserve's ongoing taper. Hale Stewart did an excellent technical analysis of this situation in his article, January Existing Home Sales And The Housing Slowdown, February 21, 2014.
But if all this current news is accurate, and things look so dire, then why has the housing index steadily climbed through all this bad news (and there has been a lot of it) towards today's 7-year high?
Because the stock market's perverse function as a discounting mechanism is at work here, the market is usually 6 months ahead of reality, and when the taper-talk began in May, 2013, the sector dropped dramatically for 4 months.
But beginning in mid-August, 2013, the home builders put in a bottom, and have been steadily rising since. I believe our current rough patch was already "in the stocks" at their low 6 months ago (not now), and at this point the market has moved on. According to the rising price of the ITB, investors seem to like what they see ahead.
A comment today in Updated S&P / Case-Shiller Housing Numbers, (by Bespoke Investment Group, February 25, 2014) reminded me of this fact.
"...after a nice year-long rally off of their lows, you can see how prices have stalled over the last two months. We're not expecting much from prices when the January and February readings come out, but it will be important for the economy to see prices begin to pick up again once the Spring season rolls around."
In a recent article by John Burns, Supply and Demand In the Balance, February 25, 2014, the author clearly outlines the primary drivers of new-home construction - job growth coupled with population growth, then measured by months of inventory.
"1. The need for more construction.

Since the US has been adding more than two new jobs for every home built for the last several years and there are less than 1.2 jobs per household, we will clearly need to start building more homes soon.

2. Pressure on home price appreciation.

Price appreciation is driven by the imbalance of demand (home buyers) and supply (home sellers). The best demand/supply measure for price appreciation is the months of supply of homes on the market. Over the last 31 years, home prices have appreciated 1% faster than inflation while there was an average of 7 months of supply of resale homes on the market. When supply was much lower, prices rose faster, and vice versa." (current supply is about 4.5 months)
If my fundamental thesis is correct, the price of the ITB is seeing better times ahead for the housing recovery - especially for new home construction - and will continue higher through the Spring selling season.
Inventory is exceptionally low in high-demand areas where job growth is occurring and housing remains scarce. These are the geographies where homebuilders are targeting new communities. Mortgage rates remain low, the bulk of new home sales are recorded in the Spring, and the January, 2014 results (9.5% above expectations) clearly show that the Spring selling season is off to a good start.
Investors who wish to try an alternate strategy with home builder stocks not in the Dow Jones Home Builder index, might consider Brookfield Residential (NYSE:BRP) and Tri-Pointe Homes (NYSE:TPH), two stocks that were big 4Q2013 stories, but which have severely underperformed the ITB by as much as 20% in 2014.
In the past, this underperformance has always been rectified. I can see no fundamental reason for it based on growth rates in their respective markets, and I expect the gap to be closed shortly.
All in all, after a year of consolidation, there's likely a push higher this Spring for the homebuilders; and even after the breakout today, it's not too late to pick up some names in the index (above), or the two laggards I mentioned.
Disclosure: I am long BRP, GFA. I wrote this article myself, and it expresses my own opinions. I am not receiving compensation for it (other than from Seeking Alpha). I have no business relationship with any company whose stock is mentioned in this article.