The 5 best year-over-year performers? They're all REIT ETFs.
On the one hand, one has to marvel at any diversified investment that gains 80%+ in a 12-month period. Those returns have come in spite of a glut of commercial property; they've come in the wake of unresolved, unpaid and unsustainable commercial property debts.
On the other hand, even if REIT ETF investors have been anticipating a V-shaped recovery, businesses haven't been rapidly expanding office and/or retail space; vacancy signs are still rather plentiful anywhere you go.
Approximate Year-Over-Year REIT ETF Gains
Approx 1-Year %
iShares Cohen & Steers Realty Majors (NYSEARCA:ICF)
87.9%
iShares FTSE NAREIT Retail (NYSEARCA:RTL)
87.0%
SPDR DJ REIT (NYSEARCA:RWR)
85.8%
First Trust S&P REIT (NYSEARCA:FRI)
85.3%
Vanguard REIT (NYSEARCA:VNQ)
84.1%
The question is are things really so good in commercial property to justify the amazing returns? Then again, that may not be the right question to ask.
Companies across every segment of the economy went down hard in the "Great Recession." And share prices of REITs were at remarkably low distressed levels by March of 2009… far worse than the depreciation faced by most corporations in the S&P 500.
With the entire world of market-based securities turning about face in March of 2009, REIT ETFs rebounded in a "the-harder-they-fall, the-higher-they-climb" fashion. 14 1/2 months later, REIT enthusiasm hasn't stopped.
Yet that may soon change.
Consider a 3-year chart of Vanguard REIT (VNQ) and the S&P 500 SPDR Trust (NYSEARCA:SPY). Three years ago, share prices reflected pre-recession valuations. VNQ fell earlier, harder and quicker… and has since appreciated in value much faster.
VNQ is still 37% off pre-recession levels, whereas SPY is about 26% off its highs. That may give VNQ some wiggle room to surge even further.
However, it seems unlikely that VNQ will "cross over" the S&P 500 SPDR Trust (SPY). Perhaps it'll get close… but overtake it?
Personally, I cannot grasp the notion that commercial real estate finance companies are more desirable investments than a basket of corporate America. Expect some rotation out of this sector in the not-so-distant future.
click to enlarge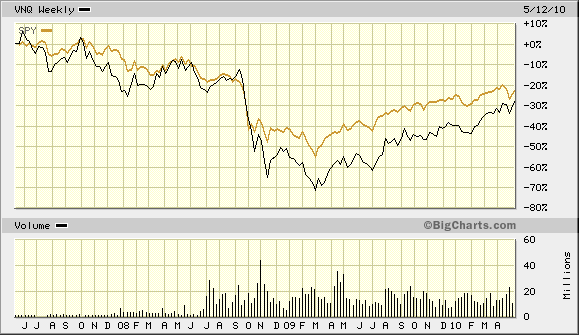 Disclosure Statement: ETF Expert is a web log ("blog") that makes the world of ETFs easier to understand. Gary Gordon, MS, CFP is the president of Pacific Park Financial, Inc., a Registered Investment Adviser with the SEC. The company and/or its clients may hold positions in the ETFs, mutual funds and/or index funds mentioned above. The company receives advertising compensation from Invesco PowerShares Capital Management, LLC and Geary Advisors, LLC. The commentary does not constitute individualized investment advice. The opinions offered herein are not personalized recommendations to buy, sell or hold securities. Investors who are interested in money management services may visit the Pacific Park Financial, Inc. web site.