Orion Energy Systems (NYSEMKT:OESX) swung to a quarterly profit vs the .05/share loss they reported in the year ago quarter, but missed the Street estimates on both EPS and revenues.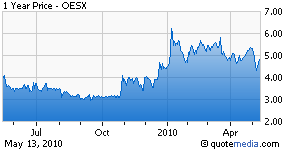 They reported a non GAAP EPS of .01, missing by a penny on revenues of $18.88 which was shy of estimates by about $1.5 million.

The guidance isn't impressive either. The company expects EPS for the full year at just .02 – .10 vs the .16 the Street was expectation.
As CEOs tend to do, Neal Verfuerth spun the quarter in a positive way:
"Strong momentum in our partner network and retail channel contributed to our fiscal 2010 results, as both yielded key customer wins. The success we saw with both new and existing customers underscores the compelling value proposition our products and solutions provide as companies look to meet their sustainability goals and reduce energy costs."
I'd imagine it's going to be a rough day for OESX shares Friday.
Disclosure: None