The 25-day quiet period on underwriter research related to Ladder Capital Corp (NYSE:LADR) following the firm's February 5 IPO will conclude on March 2, allowing the IPO underwriters to release positive research reports on the commercial real estate finance firm and likely leading to a temporary increase in the price of LADR shares.
Since pricing its IPO at $17 per share, the midpoint of the expected range of $16-$18 per share, LADR has fluctuated minimally between $16.50 and $17.85 per share, closing at $17.30 on February 25.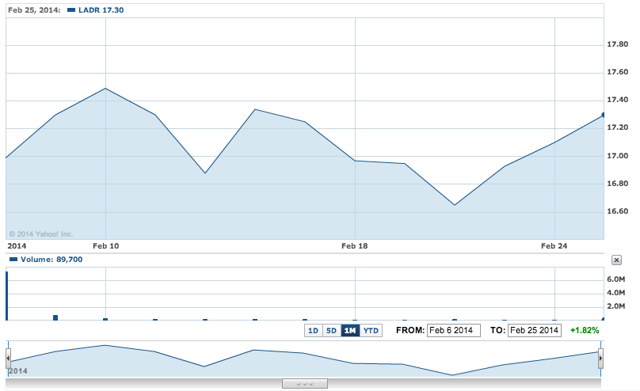 Source: Yahoo! Finance
The firm's underwriters, including BofA Merrill Lynch, Deutsche Bank Securities Inc, Citigroup Global Markets Inc, J.P. Morgan Securities LLC, Wells Fargo Securities LLC, JMP Securities LLC, FBR Capital Markets & Co, and Keefe Bruyette & Woods Inc, will attempt to boost the stock's thus far anemic performance with an infusion of positive research reports beginning on the second.
The past two years of our research have empirically evidenced a correlation between the number and quality of underwriters and a rise in share prices at the conclusion of the quiet period-as have the results of recent academic studies.
Share prices typically begin to rise a few days ahead of the expiration of the quiet period, as investors anticipate the underwriters' release of their research reports and begin to buy shares early-secure in the knowledge that underwriters will only publish positive information about recently-underwritten firms. These initial purchases generate a perception of rising demand and lead to increased prices well before the actual expiration of the quiet period.
Business
Ladder Capital is a commercial real estate finance company that originates loans through its proprietary platform. The firm's three major lines of business are investments in first mortgage loan-backed securities, commercial mortgage lending, and investments in commercial real estate assets. LADR various products allow it to offer solutions specific to its borrowers' needs.
LADR originates first mortgage "conduit loans" on income-producing, stabilized commercial real estate properties ripe for sale in securitizations. The securitization of conduit loans is the primary driver of LADR's profits. The firm originated $5.4 billion in conduit loans, along with $1.1 billion of balance sheet loans held for investment, between its October 2008 inception and September 30, 2013.
LADR's competitors include the likes of HSBC, Apollo Commercial Real Estate Finance, and GE Real Estate (NYSE:GE).
Management
Co-founder Brian Harris has served as LADR's CEO since October 2008, and boasts more than 29 years of experience in real estate and financial markets. Mr. Harris previously worked as a Senior Partner, Head of Global Commercial Real Estate and Managing Director at Dillon Read Capital Management, and as Head of Global Commercial Real Estate and Managing Director at UBS Securities LLC. He has a B.S. in Biology and an M.B.A. from The State University of New York at Albany.
Conclusion
LADR's thus-far quiet performance on the market may render its upcoming quiet period expiration a nice long trading opportunity for aggressive investors. The influx of positive information may lead to a brief surge in price especially given the firm's significant positive income results.
Disclosure: I am long LADR. I wrote this article myself, and it expresses my own opinions. I am not receiving compensation for it (other than from Seeking Alpha). I have no business relationship with any company whose stock is mentioned in this article.