Varonis Systems Inc (NASDAQ:VRNS), a provider of software for the management of unstructured data, plans to raise $86 million in its upcoming IPO on Friday.
The New York, New York-based firm will offer 4.8 million shares at an expected price range of $17-$19 per share. If the IPO can find the midpoint of that range at $18 per share, VRNS will command a market value of $476 million.
VRNS filed on October 22, 2013.
Lead Underwriters: Barclays Capital Inc, Jefferies LLC, Morgan Stanley & Co LLC, RBC Capital Markets LLC
Underwriters: Needham & Company LLC
Summary
VRNS provides a software platform called the Metadata Framework for the mapping, analysis, management and migration of human-generated unstructured data. This data includes everything from spreadsheets to emails to text messages, along with other employee-generated data.
The Metadata Framework compiles data extracted from customers' IT infrastructures to map relationships between employees, data objects, content and usage. The resulting metadata can be used for a variety of purposes, including data security, mobile data accessibility, archiving, and data governance. VRNS's software allows for highly efficient searches and analysis of massive quantities of enterprise data, much as search engines allow for the much more efficient use of the internet. End users for the software are highly diverse, and include financial services firms, government agencies, healthcare firms, retail firms, entertainment firms, and many more. See screen shot from Varonis's website below.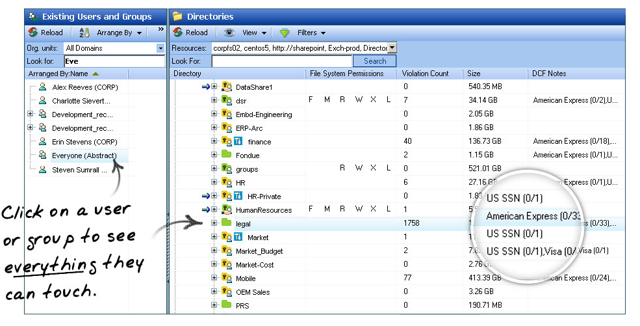 (http://varonis.com/products/datadvantage/audit-file-system-permissions.html)
Valuation
VRNS offers the following figures in its S-1 balance sheet for the year ended December 31, 2013:
Revenue: $74,616,000.00
Net Loss: ($7,475,000.00)
Total Assets: $47,254,000.00
Total Liabilities: $46,487,000.00
Stockholders' Equity: ($43,008,000.00)
VRNS has experienced significant revenue growth over the past three years, but has yet to translate that growth into profitability. For 2011, 2012 and 2013, the firm's revenues were $39.8 million, $53.4 million and $74.6 million, respectively, while net losses were $3.8 million, $4.8 million and $7.5 million, respectively.
Business
Companies have experienced massive increases in the quantities of digital data generated by employees in recent years, and will likely see even greater gains in the near future. The December 2012 Digital Universe Study estimated that information created and replicated will grow at a compound annual growth rate of 39% between 2012 and 2020, and that over 90% of the created data will be of the unstructured variety that VRNS's software manages. This should create increasing market opportunities for VRNS in coming years.
Some of VRNS's products compete with offerings from other software vendors, some of which have greater financial and technical resources available. These competitors include the likes of Dell (NASDAQ:DELL) and Symantec Corporation (NASDAQ:SYMC).
Management
Yakov Faitelson has served as the President, CEO and Chairman of VRNS since co-founding the firm in 2005. He previously worked in leadership positions for firms including NetVision and Network Appliance. He is joined by CFO Gili Iohan, who has also worked with the firm since 2006. Ms. Iohan previously was a partner with NextAge Co Ltd, a financial services firm, and served as a CFO and financial consultant for several firms (including VRNS) through NextAge.
Conclusion
We are positive on this tech IPO in the proposed range of $17 to $19 for tech oriented investors.
Though VRNS's software should see ever-improving markets as more and more firms develop the need for metadata analysis, it has yet to prove that these markets will lead to profits-increasing revenues in recent years have been accompanied by increasing losses. It's also unclear how a metadata firm will play in the current moment of public opinion, as metadata has become something of a buzzword associated with the ongoing NSA surveillance controversy.
Disclosure: I have no positions in any stocks mentioned, but may initiate a long position in VRNS over the next 72 hours. I wrote this article myself, and it expresses my own opinions. I am not receiving compensation for it (other than from Seeking Alpha). I have no business relationship with any company whose stock is mentioned in this article.