Generally speaking, this winter has been pretty rough for a number of companies in the broad consumer discretionary space. Wild weather and still sluggish job growth, not to mention a variety of other uninspiring economic indicators lately, have kept many names in this sector subdued.
And for theme park operator Six Flags Entertainment (NYSE:SIX), the fourth quarter is usually one to forget anyway. After all, many of the company's parks are located in areas where they are only open from late spring to early fall, leaving just a handful of warm-weather parks open during the quarter.
Thanks to this, the quarter usually gives SIX a loss, leaving investors to look for the next quarters in order to give SIX some profits. However, this quarter was a bit different, as revenue increased year-over-year and the firm delivered a strong 15 cent per share profit.
This is particularly incredible as our Zacks Consensus was looking for a loss of about 20 cents a share, implying a huge beat for SIX. This breaks a streak of two straight misses for the company, and it also suggests that the firm might be well-positioned for the 2014 fiscal year as well.
And given that rival Cedar Fair LP (NYSE:FUN) was unable to beat estimates for its fourth quarter (though it should be noted that FUN relies more heavily on seasonal parks), there is some reason to believe that SIX is now poised for a solid year ahead.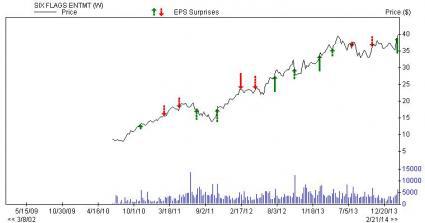 Rising Estimates for SIX
Thanks to this solid beat and unexpected profit, some analysts have begun to raise their estimates on SIX as of late. In fact, for the full year, 3 estimates have gone up in just the past seven days, while zero have gone lower.
The consensus estimate for Six Flags' full year profit now stands at $1.39/share, up from $1.28 just a week ago. And with a solid increase in estimates baked in to the quarter ending in June, there is hope that SIX will have a great season and slowly begin its march back to prominence.
Due to these factors, Six Flags Entertainment has earned itself a Zacks Rank #1 (Strong Buy). So we are looking for the solid run in this theme park operator to continue, and for the stock to march higher as we approach the all-important summer months.
Bottom Line
The broad consumer market still isn't doing that great, and many companies in the space have a sluggish outlook. The leisure and recreational services industry, where SIX is located, is actually in the bottom 40% of all industries.
However, there are some diamonds in the rough out there and SIX is certainly one of them. It finished fiscal 2013 on a very high note, and thanks to some new rides at key parks, it may be able to drive more visitors to its many locations around the country.
But even if it can't boost attendance, SIX still offers a great dividend of about 4.7%, suggesting that it is a great choice for income investors as well. Though with such a solid quarter, rising estimates, and a number one Rank, this could be a ride that investors want to take their portfolios on this year.