Corning (NYSE:GLW) started its smartphone display journey back in 2006 when Apple (NASDAQ:AAPL) hired GLW to design the display for its first iPhone. Since then Corning has been the primary supplier of displays for Apple iPhones. Corning's Gorilla Glass is a very popular product for smartphone, tablet and notebook display glass protection. Corning has five operating segments: Display Technology, Optical Communication, Environmental Technologies, Specialty Materials, and Life Sciences. All of these segments have unique market positions and have contributed towards Corning's robust growth.
Corning's net sales of $7,819 million slightly declined by 2% compared to $8,012 million. The change in the net sales was primarily driven by an increase in the Optical Communication segment's carrier products largely due to growth in North America, China, and Europe. However, optical fiber sales remained low offsetting the above mentioned increase. Another contributor to the sales increase is the impact of the acquisition of the Discovery Labware business. Display Technology contributed 32% towards sales also declined for the year. The sales were hit due to demand for Corning Gorilla Glass falling by 17%. The Environmental Technology segment's demand also fell due to lower demand for light duty and heavy duty diesel products.
The following graph shows revenue percentage by segment.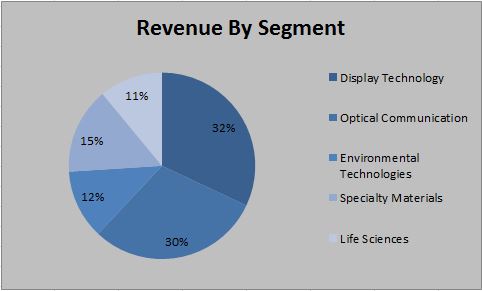 Source: Financial Statements
Despite the fall in revenue, the positive aspect of Corning's financial performance is that its net income improved to $2 billion or $1.34 per share compared to the net income of $1.6 billion or $1.09 per share for 2012. The improvement in earnings was caused by a decrease of $45 million in restructuring and impairment charges and overall effective cost control by the company. Corning's Optical Communications, Specialty Materials, Environmental Technologies and Life Sciences segments contributed towards increased net income.
During the year Corning repaid $500 million to a Chinese credit facility, purchased the remaining interest in Samsung Corning Precision Materials for $506 million, and $1.5 billion share repurchases. After these payments, I think Corning's financial health is pretty good as the company ended the year with $5.2 billion in cash, cash equivalent, and short-term investments well above its debt balance of $3.3 billion by the end of 2013 and operating cash flows of $2.8 billion.
For the fourth quarter Corning declared $0.10 dividend per share resulting in an annual dividend of $0.4 per share with a dividend yield of 2.11%, which is quite satisfactory and Corning is continuously increasing the dividend. I believe Corning's strong cash flow position is promising for growing dividends in the future.

Click to enlarge
Source: ycharts
Acquisition of Samsung Corning Precision Materials
Corning, relies on the sales of LCD-TV glass for the bulk of its profit, said that price declines for the quarter were again moderate. Total LCD glass volume improved 4% from last year's period. The total glass volume combines Corning's wholly owned business and Samsung (OTC:SSNLF) Corning Precision Materials. The Display Technologies segment represented 32% of Corning's sales in 2013. Corning previously held 57% ownership of Samsung Corning Precision Materials and recently Corning has acquired the remaining minority interest of 43% for $506 million and gained 100% ownership.
This acquisition will help Corning to meet an extended long-term LCD display glass supply agreement with Samsung through 2023. Corning has LCD glass manufacturing operations in the United States, Japan, Taiwan and China, while Samsung Corning Precision Materials has LCD glass manufacturing facilities in Korea. Following the completion of the transaction, Corning will be able to directly service all specialty glass customers in all regions utilizing its manufacturing facilities throughout Asia. Corning expects that the synergy benefits from the integration of worldwide fusion glass will reach $100 million and will continue to grow thereafter. This acquisition will add approximately $2 billion in annual sales, $350 million in profits, and about $500 million towards Corning's cash flows.
Key Growth Drivers for the Future
Corning's ONE Wireless Optical Distributed Antenna System (DAS) enables high-bandwidth, robust, and reliable connectivity and seems to be a solid move. Only 10% or approximately five million commercial buildings in the U.S. are using the DAS system so this could be a great opportunity for the company as there is plenty of room for growth for Corning's DAS system.
Touch display is becoming the primary way of users interacting with their smartphones and notebooks and with touch display scratch resistant glass becomes a necessity. Corning's unique solution for touch-enabled notebooks, Gorilla Glass NBT, will deliver eight to ten times more scratch resistance. Dell is integrating Gorilla Glass NBT into their new client device. The growing demand for touch-enabled notebooks is increasing and this will also increase the demand for Gorilla Glass NBT.
The technological innovation has created a new trend of curved display smartphones, smart TVs, and smart watches. The curved display market for mobile phones presents an opportunity for the 3D-shaped Gorilla Glass. Presently, there are just two mobile phones offering curved displays, Samsung's Galaxy Round and LG's Flex, but neither of them have a protective glass. The 3D-shaped Gorilla Glass will be able to cater to such curved display mobile phones. Corning is one of Apple's main suppliers of glass for the iPhone and iPad. It is expected that this 3D-shaped glass will be used in Apple's upcoming smart watch.
Recently Corning has introduced Antimicrobial Gorilla Glass that is formulated with an antibacterial agent, ionic silver that is incorporated into the glass surface. The glass can be installed on any number of electronic devices such as cell phones, tablets, computers, calculators, telephones, and other electronic display panels. If this glass gains consumers' attention it would drive significant growth for Corning.

Click to enlarge
Source: ycharts
The chart above shows the total return to investors in terms of both price appreciation and dividends assuming that the dividends are reinvested.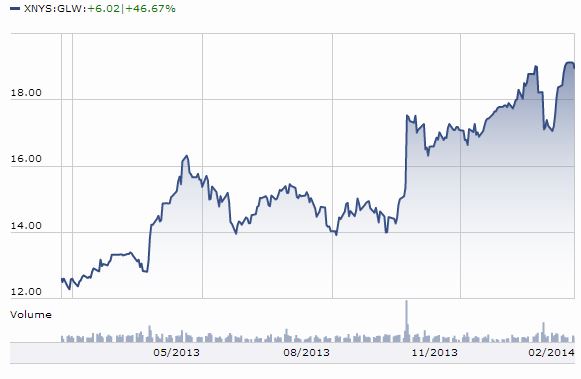 Source: Morningstar
Over the last twelve months Corning's stock price climbed to $18.92 from $12.63 reflecting an increase of 50% and the fact that investors are quite confident about Corning's future growth prospects. Corning has been increasing its dividend annually with promising returns. I believe Corning will maintain its track of growth and value addition for investors. Investor should add Corning to their portfolio.
Disclosure: I have no positions in any stocks mentioned, and no plans to initiate any positions within the next 72 hours.
Business relationship disclosure: The article has been written by a Blackstone Equity Research research analyst. Blackstone Equity Research is not receiving compensation for it (other than from Seeking Alpha). Blackstone Equity Research has no business relationship with any company whose stock is mentioned in this article