The key for Frontier Communications (NYSE:FTR) turning the corner is to show improvements in revenue trends which ripple through the financials affecting free cash flow and by default the safety of the dividend. Let's face it, investors in Frontier are not investing for growth but the high yield. Frontier recently released fourth quarter and full year results and announced the acquisition of AT&T's (NYSE:T) Connecticut assets in December. So what might the future hold based on these events?
This article examines:
Revenue trends based on results and guidance used to project financials, more importantly free cash flow on a standalone basis.
Overlaying projections and guidance for AT&T's Connecticut assets to the financials on a standalone basis to complete the picture.
Risks
Final thoughts
REVENUE TRENDS
Business Revenue: Business trends are based on comments by the CEO - Maggie Wilderotter on the Q3 conference call:
This quarter, we achieved stability in small business revenues for the first time since 2010. Carrier excluding wireless backhaul and small, medium and enterprise, improved over second quarter results. The one remaining headwind is our wireless backhaul revenue decline, but that was anticipated. Once we fully work through the transition in wireless backhaul during the first half of 2014, we expect the business segment to be well positioned to deliver sustainable sequential revenue growth. After three solid quarters of revenue improvement, we believe we have turned the corner in successfully mitigating revenue decline and in moving closer to our objective of growing revenue.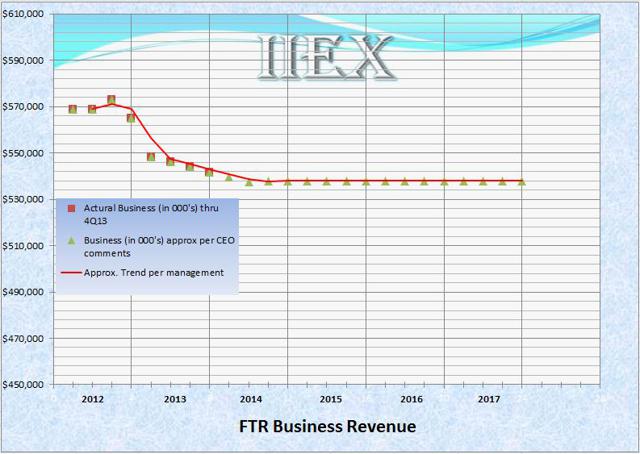 Frontier is on target with Q4 actual business revenue off from the projected amount by 0.01%. As noted in the Q3 conference call, declines are expected through the first half of 2014. This analysis takes a conservative approach showing growth stabilizing vs. "sustainable sequential revenue growth" as noted in the comment.
Residential Revenue: Trends from each quarter are plotted from Q2, Q3 and Q4 to track the trend changes for better or worse: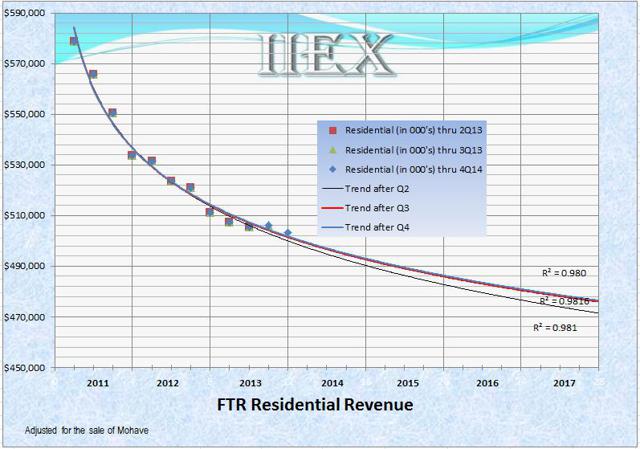 The quarter over quarter trends are improving, although it's hard to discern the difference from Q3 to Q4. The last two quarterly results are slightly above the trend, an encouraging sign for improving the future trend if they can stay the course.
Financials: Now that we've forecast the two main revenue components, we can forecast free cash flow and the sustainability of the dividend by developing an income statement and cash flow statement reflecting these projections. These projections serve as the basis to which the AT&T acquisition will be overlaid (later in the article). Major items given by management affecting both financial statements and free cash flow going forward are:
A large increase in cash taxes in a range of $140-$170 million.
Pension contributions in 2014 around $100 million.
We should pause here and expand on the $100 million pension contribution. Frontier has been paying lump sum settlement payments vs. a long term annuity to terminated or retired individuals who choose this option. This would eliminate estimated future liabilities for those that chose the lump sum option improving the funded status although the short term effect on cash is negative while long term positive. This was the case in 2013, and I suspect this is behind the 2014 estimate. A detailed analysis of Frontiers pension obligations can be found here.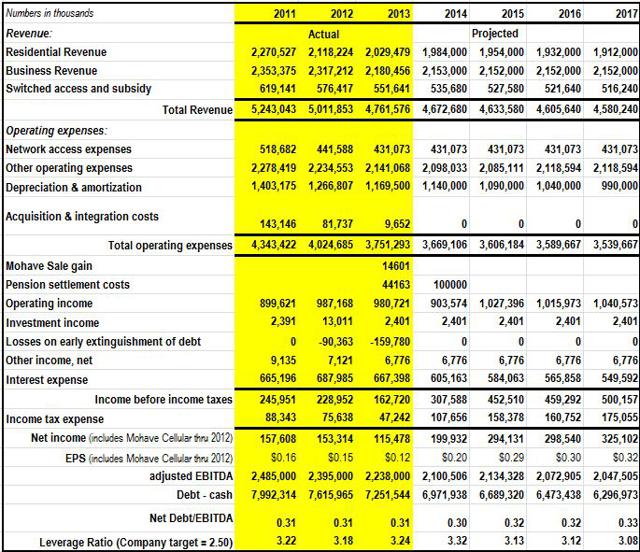 The next step is the free cash flow analysis incorporating data from the income statement: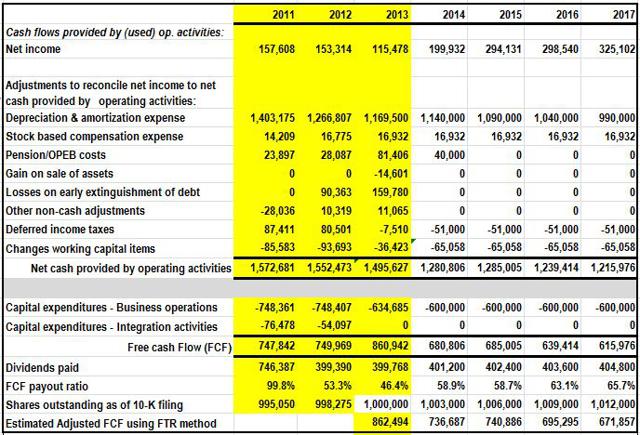 The 2014 free cash flow calculated using Frontier's definition falls within the low end of guidance of $725m to $775m. Actual free cash flow defined as cash from operations minus capital expenditures is lower. Based on these projections, the free cash flow payout ratio is approaching 70%. Acceptable, but anything higher would be a concern considering the leverage ratio remains above 3. These standalone projections serve as the foundation to overlay AT&T's Connecticut assets
AT&T CONNECTICUT ASSET ACQUISITION
Frontier announced in December that it entered into a definitive agreement with AT&T to acquire AT&T's wireline business and statewide fiber network that provides services to residential, commercial and wholesale customers in Connecticut in an all cash transaction. It is expected to close in the second half of 2014. The following assumptions apply:
Revenue mix roughly the same
Initial D&A increases in proportion to the revenue based on 2013 estimate
Revenue declines will continue after 2014 in line with Frontier standalone results.
FTR guidance (Pro Forma in $m) based on CT standalone guidance and FTR 2013 results for 2014:
Revenue - $6,012m
EBITDA - $2,682m
CapEx - $782m
Integration costs approx. $225m-$275m (Used $275m)
Net Debt/EBITDA approximately 0.4
Adding these projections to the stand alone financials produce the following Pro-forma financial statements: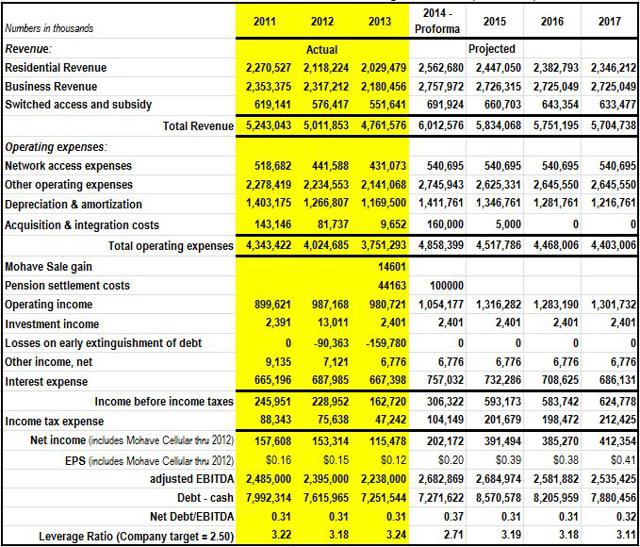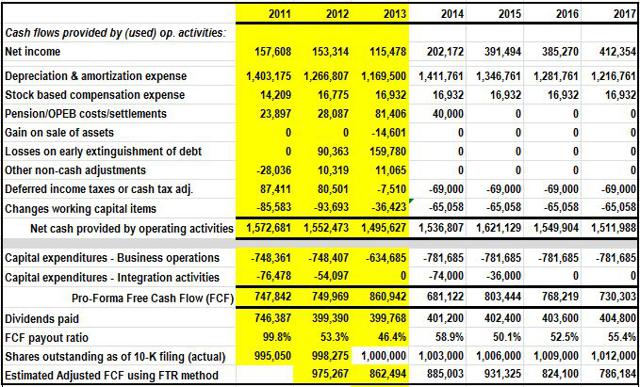 The longer term results for free cash flow presented in graphic form below show why the deal appears attractive for Frontier.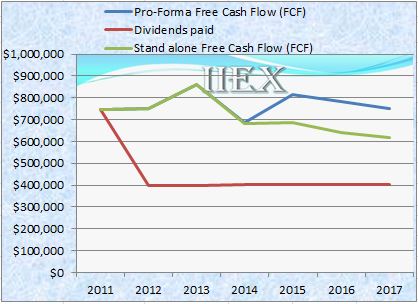 Detailed financial data used for this article can be found here.
RISKS
The deal adds 2,700 employees, bringing the total to 16,900. Cash pension contributions could be higher than anticipated.
CT revenue deterioration higher than anticipated.
Poor integration execution resulting in costs exceeding $275m
FINAL THOUGHTS
We said in a previous article, signs were encouraging, but questions could still be raised about the long-term sustainability of the dividend. Based on recent results and the anticipated effects of AT&T's Connecticut assets, those fears are starting to fade, and the market seems to be agreeing. Maybe Frontier hasn't turned the corner completely, but they are navigating in the right direction.
Disclosure: I am long FTR. I wrote this article myself, and it expresses my own opinions. I am not receiving compensation for it (other than from Seeking Alpha). I have no business relationship with any company whose stock is mentioned in this article.