In a previous article, I detailed a number of lessons learned from the best performing stocks of 2013. One industry dominated the list with six companies in the top 20, including 4 of the top 5 stocks -- the solar industry. The #1 stock for 2013 was Canadian Solar (NASDAQ:CSIQ), which turned in a nearly four-digit, one-year return.
A quick look at these top 20 stocks from 2013 show us that the solars were en fuego last year:
#19: SunEdison Inc. (SUNE), +345%
#18: Trina Solar Limited (NYSE:TSL), +346%
#5: JinkoSolar Holding Company (NYSE:JKS), +556%
#4: SunPower Corporation (NASDAQ:SPWR), +560%
#2: Daqo New Energy Corporation (NYSE:DQ), +880%
#1: Canadian Solar Inc., +969%
Solars stocks had been in a strong selloff mode throughout 2011 and 2012, caused largely by dramatic price drops in response to an oversupply of materials. What triggered the turnaround, among other things, was a bill proposed in the U.S. Congress on April 24th. On that date, four congressmen introduced The Master Limited Partnership Parity Act (S.795). Oil, gas and coal companies are currently able to form tax-advantaged MLP's. The new law would give alternative energy companies the same tax benefits. According to Govtrack.gov, S.795 has a less than 1% chance of becoming law. Still, the perception that the government is favorable toward the industry propelled the solars sharply higher following a multi-week period of consolidating earlier gains. The weekly chart for TAN, the solar industry Exchange Traded Fund, is representative of the group.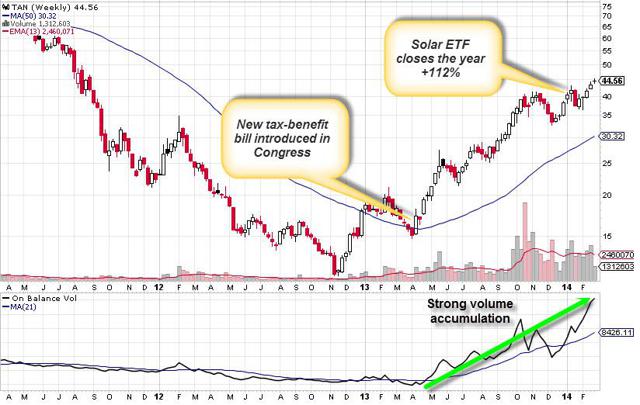 So what about 2014? Can the solars match or beat their 2013 performance? If recent price action is any indication, the answer is a definitive yes. As of this writing, Investors Business Daily still gives the solar energy industry a top rank of 1, out of the 197 industries ranked, based on a proprietary metric of relative price action.
So what about Canadian Solar? Will shares of CSIQ again dominate the list of top stocks for 2014? Here are a number of reasons why CSIQ should continue to lead the industry higher in 2014 and beyond.

1. Despite the price increase last year, shares of CSIQ are currently undervalued: On February 24th, J.P. Morgan analyst, Paul Coster, initiated coverage of Canadian Solar with an "overweight" rating. In a letter to clients, Coster wrote, "We look for [earnings per share] to grow fourfold in 2014, to $4.31 on 87% revenue growth, and by at least 10% in 2015 to $5. We believe the P/E multiple does not capture this likely outcome." CSIQ carries a low Price to Sales ratio of 1.3, it is actively going after its debt obligations, and it trades at a forward multiple under 12 (compare this to First Solar's [FSLR] forward multiple of 18). On the basis of both share value and EPS growth, Coster calls CSIQ "best in class" among the solars.
2. An increasing number of analysts are newly bullish on CSIQ: Analysts at FBR Capital Markets initiated coverage on shares of Canadian Solar in a research note on February 19th. "Canadian Solar offers a unique mix among the Chinese solar complex," they stated, "with a top-three position globally in module sales and a growing and profitable project development business." Analysts at Roth Capital raised their price target on shares of Canadian Solar in a research note on January 29th, naming the company their "top pick" in the sector based on valuation relative to peers. Finally, analysts at Zacks reiterated an "outperform" rating on shares of Canadian Solar in a research note on Friday, December 6th. Zacks currently ranks CSIQ a "1" (OTCQB:BEST) for analyst consensus and rising earnings guidance.
3. Recent Japan and U.S. market expansion: The company announced on February 24th that it has inked two deals to supply its products to solar projects in Japan and in North Carolina. For the former, the company is to provide 18 megawatts of its photovoltaic modules to Japanese conglomerate Hitachi. The plant will generate enough power for 5,000 homes. In the North Carolina deal, the company has been tapped by Strata Solar to supply five projects in the state that will collectively provide 30 MW of power. According to Canadian Solar, these projects will together supply energy for around 3,750 households. According to a recent interview with Angelo Zino, Renewable Energy Analyst at S&P Capital IQ Equity Research, Japan's demand for solar is just beginning to take off, making CSIQ's entre there strategic for future growth.
4. The company is bullish on itself going forward: In an announcement made on February 12th, Canadian Solar raised its forward guidance, including a bump up in earnings expectations of +151%. It now expects fourth quarter 2013 revenues to increase by 75% due to recent surge in demand for its panels. It also expects module shipments in the fourth quarter to increase in the range of approximately 605 - 620 megawatt ("MW") from the previous guidance of 480 - 500 MW provided on Nov 13, 2013. The current estimate is also higher than the prior-year figure of 404 MW. Fiscal 2013 figures were also ramped higher. In addition, Canadian Solar expects to report a net profit for the first time since 2010. Earnings will be reported on March 5th.
5. Cost-cutting leverage: Canadian Solar's China-based manufacturing assets offer a distinct cost advantage over its peers. This leveraged is partly what helped CSIQ beat the previous quarter's earnings by +155%. The company is also ramping up its internal solar cell capacity to cut back its reliance on third party cells for the manufacture of its modules. This has greatly reduced production cost of cell and modules from 2011 levels.
6. Vertical integration leads to earnings accretion: Canadian Solar's strategy to sell solar power plants rather than being solely a PV module manufacturer is expected to pay off well in 2014. In the third quarter of 2013, the company sold 2 utility-scale plants in Canada which brought in $89.3 million. According to a report by Zacks Research, Canadian Solar has "a backlog of 24 programs in the pipeline in Canada of which 16 projects will enter service in 2014 and 6 in 2015. Construction on the 130 MW DC solar plant in Ontario on behalf of Samsung is currently underway, while it has utility-scale projects...in the U.S., China and Japan, respectively, under its belt." Completion of these projects will certainly lead to a bump in earnings going forward.
7. Cash flow is improving: The third quarter of 2013 saw a 26.1% increase in Canadian Solar's cash balance, to $681.7M from $540.6M at the end of second quarter 2013. The company achieved a gross margin of 20.4% in the third quarter compared with 12.8% in the previous quarter. Operating cash flow came in at a robust $152M which, along with $48.0M raised during the quarter from a notes offering, enabled Canadian Solar to shrink its debt by more than $200M to $310M as of Sep 30, 2013.
8. Institutional money is getting on board: In the past 3 months, institutional traders -- mutual funds, hedge funds, investment banks -- have increased their stake in Canadian Solar by 42%. The effects of this new interest in shares is clearly seen in the rise in average trading volume of nearly 400% over the past 8 months. According to Morningstar, there are currently 61 new institutional investors who bought CSIQ in the last quarter, which brings the total number of funds in the stock to 150. 90% of all outstanding shares now lie in the hands of the big money players.
One last thing to assess is the current price chart of CSIQ: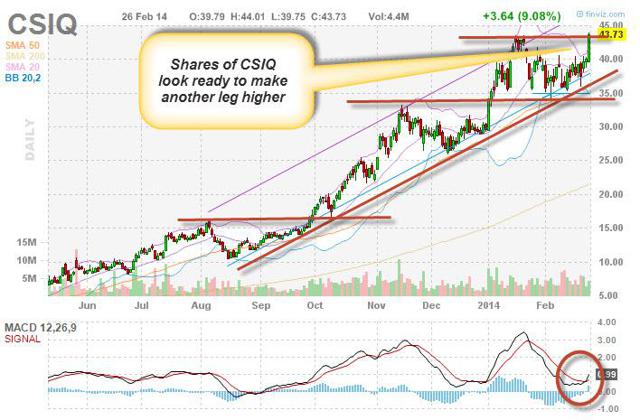 As the price chart of CSIQ shows, shares are in a sustainable uptrend with a fresh MACD buy signal in play, and are as of this writing on the verge of a key breakout over resistance. The immediate price target for the next leg higher is $54 - $55.
There is, as there should be, a "wall of worry" for shares to climb as they move higher. As First Solar's recent EPS announcement showed, the panel segment continues to experience margin pressures and lowered pricing on new bookings. But this works to Canadian Solar's favor since it has diversified into module production. Today's (2/26) +9% rally testifies to the fact that investors see a "bright" future for CSIQ shares.
Disclosure: I am long CSIQ. I wrote this article myself, and it expresses my own opinions. I am not receiving compensation for it (other than from Seeking Alpha). I have no business relationship with any company whose stock is mentioned in this article.