On Tuesday, leading renewable chemicals and fuel company, Amyris (NASDAQ:AMRS) saw its share price jump more than 20% intraday, as the company reported its 2013 year-end results. While missing on both the revenue and the earnings, the ensuing conference call provided a boon for investor optimism, as the company lowered operating costs and continued to see strong demand from customers. At one point during the trading day, the company's share price rose to more than $4.39.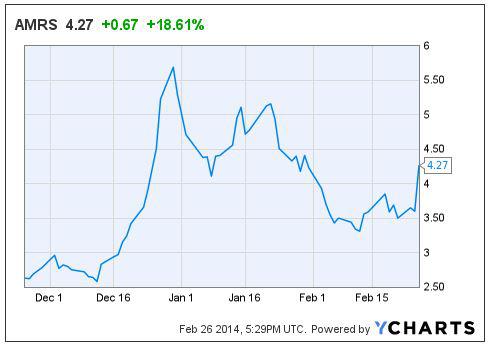 The following are some of the highlights taken from the company's earnings call transcript found here:
Farnesene production costs have fallen to $3.50 per liter.
Production is currently around a mere 1 million liters of farnesene per month, as the first year of production remains the most difficult to scale.
Q4 2013 GAAP loss of $139.4 million ($1.83/share) and non-GAAP loss of $19.6 million ($0.26/share).
A second commercial molecule, a fragrance oil, has completed its industrial scale campaign.
Brotas plant is expected to generate cash margins of $10-$15 million in 2014. In 2015, this is expected to become $40-$50 million.
Molecule portfolio has grown to more than 20 molecules, which may represent more than $1 billion in revenue by the end of the decade.
Excluding fuels and lubricants, this portfolio expects cash gross margins of 60%-70%.
Collaboration funding continues to grow. Amyris expects to generate about $20 million annually from its flavor and fragrance partners.
The production of squalene at Amyris now represents 18% of the market size peak around $180 million. Amyris expects that it can grow this market to $300 million.
Looking forward, Amyris continues to grow in its target markets. In the present, the company is highly dependent on farnesene production in order to address numerous markets in the space of fuels, fragrances, and chemicals. However, over time Amyris hopes that this can change, as noted by its growing portfolio of molecules.
Despite its technological progress to date, the last quarter was rather disappointing, as noted by the company's sales. Sales of renewables increased year-over-year from $3.02 million in Q4 2012 to $4.30 million in Q4 2013, but the cost of products sold increased from $5.42 million to $12.11 million. The same could be seen when compared to Q3 2013, in which the company sold $4.14 million at a cost of $8.33 million. Despite increasing production, the company's product mix suggests that the company has moved further into lower-margin products. Amyris expects for this to change as the year progresses.
A Look At Amyris Now
As of December 31, 2013, Amyris carried total assets of $198.9 million and total liabilities of $334.7 million. The company ended the year with cash on hand of $8.3 million, and continues to draw on financing from its leading investors and partners. As expected, this marks a rather steep decline from the 2012 year-end. One year ago, the company had $242.8 million in total assets along with total liabilities of $176.6 million. At that time, Amyris also carried cash on hand of $30.7 million.
Overall, Amyris now carries a total stockholder deficit of $135.8 million as of the end of 2013. This is in contrast to the $66.2 million in stockholder equity seen at the end of 2012. While Amyris continues to improve its production and product mix, the company's balance sheet has been deteriorating for investors. Amyris expects to be cash-flow positive by the end of 2014, a first step in slowing down the capital bleed.
However, Amyris also expects to increase production by another 400%, according to leading writer Maxx Chatsko. Based on the Form 8-K filed here, the company has made arrangements to commence operations at these two new facilities no later than 2017 and 2019 respectively. Unfortunately, there are few details to suggest how the company expects to fund the construction of these facilities. While the first Sao Martinho facility is half-completed, its construction is sure to add to the ongoing shareholder deficit. Combined with the time needed to ramp the production at both of these new plants, and Amyris will remain a heavy capital spender until the end of the decade.
Increasing Competition
While Amyris currently enjoys a practical monopoly in the advancement of renewable farnesene production, it remains yet to be seen if this will continue to be the case. One interesting company investors might want to keep an eye on is Chromatin, Inc., who is clearly taking a stab at Amyris' market space, according to the article found here. The company has developed a plant-based solution that uses sorghum to produce "elevated quantities of farnesene" directly from the plant itself. Pertaining to fermentation-based processes like the one Amyris uses, the article has the following to say:
Like sugarcane, sorghum has traditionally been used as a source of sugars that can be subsequently converted to biofuels by microbes. By creating farnesene within sorghum, it becomes possible to bypass expensive microbial fermentation and directly harvest biofuels from the crop itself. Because sorghum can grow on over 80% of the world's land, including marginal land with limited access to water, this innovation could lead to a global expansion of on-farm biofuel production. "With this demonstration, we can focus on making changes that increase the quantities of farnesene made within this crop, as well as in the related crop sugarcane," said Davenport. "Further, because farnesene is part of the terpenoid pathway, we can now consider using sorghum and sugarcane to create other high-value chemicals, including fragrances, flavors, and fuels."
Such news sounds a rather disheartening thought should Chromatin's pathway to farnesene serve to be as effective as advertised. The company is looking to undercut the costs of Amyris' primary molecule production, while offering increased flexibility in terms of geography. Yet, Amyris retains a platform that may prove effective at addressing multiple markets. Investors should take comfort in knowing that the company is attempting to address several molecule markets. Its first campaign at a secondary molecule has already been scaled. It remains to be seen if Chromatin's process can be used to address molecules other than farnesene.
Final Thoughts:
Amyris remains a promising company that has made significant strides in recovering from its initial woes. The company has now proven that it can produce farnesene reliably at the 200,000-liter scale. Nevertheless, the company's pathway to profitability remains tedious, at best. It won't be until 2015 until the company receives a meaningful cash payback from Brotas. Even then, Amyris is likely to add to its current deficit in order to bring on line two additional facilities in Brazil.
While such progress is admirable from a big-picture perspective, the lack of cash is leading to a significant deterioration of value for investors. Problems with cash flows are prompting management to make financing deals that hurt the long-term return on investment for shareholders. Even in the past quarter, the company endured a GAAP loss of $1.83 as a result of these outstanding convertible notes. It may be beneficial for the company if it can raise additional capital in order to take advantage of the elevated share price in the present.
While Amyris holds a key technology that will be much desired in the decades to come as the world adopts synthetic biology, it remains difficult to believe in the near-term value of the company now. Cash remains the life blood of any public company, and Amyris is in a position of needing much more than it has as it moves along with its long-term plans.
Nevertheless, the progress now underway at Amyris remains promising as it taps into several high-valued specialty markets in order to offset its fuel production. For the long-term investor willing to endure such difficulties, the technological improvements continue to remain promising all the same.
Disclosure: I have no positions in any stocks mentioned, and no plans to initiate any positions within the next 72 hours. I wrote this article myself, and it expresses my own opinions. I am not receiving compensation for it (other than from Seeking Alpha). I have no business relationship with any company whose stock is mentioned in this article.