Introduction
Coming into 2014, we had been concerned about the valuation of LinkedIn (NYSE:LNKD), but we wanted to reassess our sell-rating to reflect recent developments and forecast for 2014. Overall, LNKD, initially, causes us some general questions with its expensive P/E ratio around 850 and future P/E over 90. While valuations like that do not curb our interest, it is imperative that strong growth can back up the company's pricing multiple. In the case of LNKD, in the past, we have worried about the company's profitability and long-term scalability - thus, its ability to be able to support such lofty valuations.
As this year begins, though, we do see a number of positive catalysts for the company that were either non-existent or more opaque in 2013. One of the most attractive catalysts for LNKD is its recent acquisition of Bright.com. This move, single handedly, will strengthen LNKD's ability to scale job seekers, and as a result, attract more employers and job seekers to participate in the employment process through LNKD. Another very positive development is international expansion, especially in China. That situation, which was much cloudier the last time we looked at LNKD, is starting to become a very attractive portion of the company. In fact, during LNKD's recent earnings call, the company noted it expects its global market opportunities to be around $27 billion.
Yet, the complication with understanding how to value LNKD is when and how successful its profitability will be, especially operating income. The company has been plagued by high SG&A as a percent of revenue as well as strong acquisition costs. In order to best value the company, we have laid out three models that give three vastly different results, which continues our questions. In conclusion, a mid-case scenario, produces a $250 price tag. Thus, we have changed our tune (and admit we were wrong so far) and now see LNKD as an interesting spec play but with still a significant amount of risk. In the best-case scenario, this stock still has even more significant upside to over $400.
Business Overview
LinkedIn is a social networking website for people in professional occupations. Founded in December 2002 and launched on May 5, 2003, it is mainly used for professional networking. In 2006, LinkedIn had reached 20 million viewers. As of June 2013, LinkedIn reported more than 259 million acquired users in more than 200 countries and territories.
Below is LNKD's historical brief since 2003: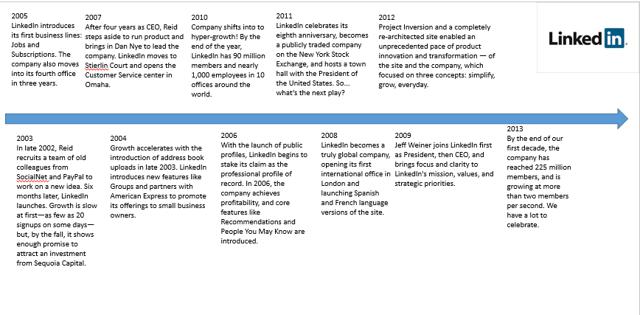 One of LinkedIn's unique competitive advantages is its ability to allow different people with different cultural backgrounds to get access into the same system for professional purpose. Users can access LinkedIn with over 20 languages including English, French, German, Italian, Portuguese, Spanish, Dutch, Swedish, Danish, Romanian, Russian, Turkish, Japanese, Czech, Polish, Korean, Indonesian, Malay, and Tagalog.
LinkedIn's features include Applications, Mobile, Groups, Job Listings, Skills and Influencers. LinkedIn has three business divisions: Talent Solutions, Marketing Solutions and Premium Subscriptions:
Talent Solutions - Recruiters and corporations pay for: 1) Branded corporate page on LinkedIn, complete with careers section. 2) Pay per click-through job ads that are targeted to LinkedIn users who match the job profile. 3) Access to the database of LinkedIn users and resumes.
Marketing Solutions - 1) LinkedIn advertisers pay for pay per click-through targeted ads.
Premium Subscriptions - LinkedIn users pay for: 1) LinkedIn Business for business users 2) LinkedIn Talent for recruiters 3) LinkedIn Jobseeker for unemployed LinkedIn users looking for a job 4) LinkedIn Sales for Sales Professionals.
This is the general picture of LinkedIn's business and features: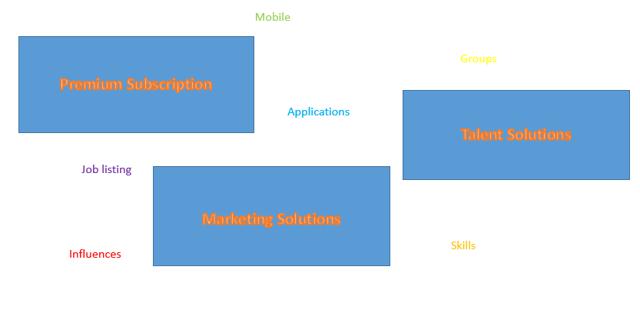 This is LNKD's number of members since 2003: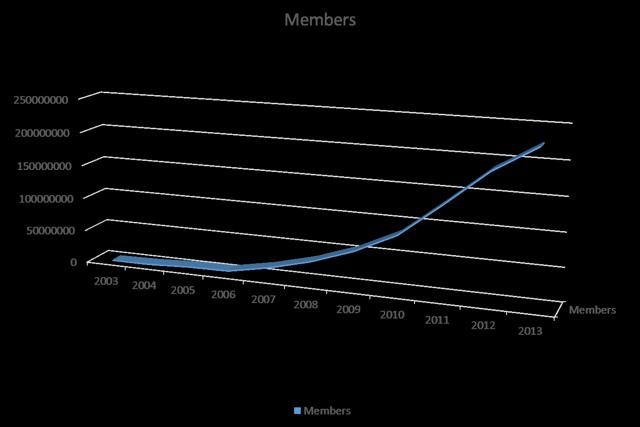 Industry Trend
There are several dominant players in the social networking website industry: LinkedIn, Facebook, YouTube and Twitter. Below are the industry's major players and market share in 2013: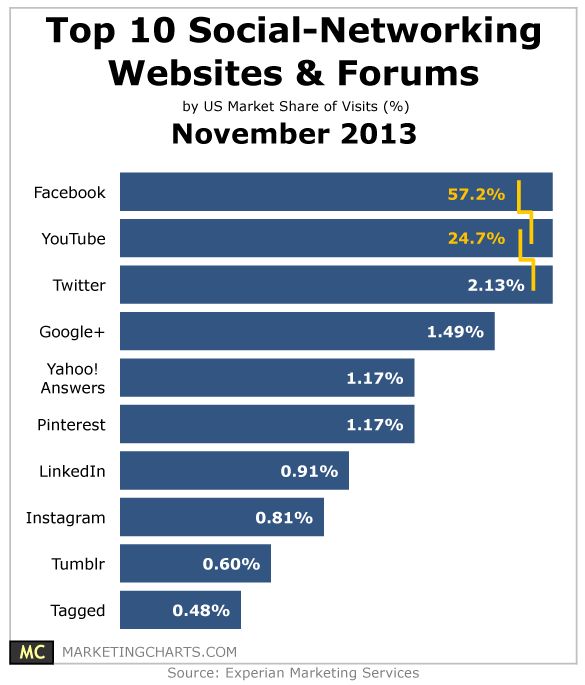 (Source)
Due to the competitive nature of the industry, companies in the industry operate in a rapidly innovating, emerging field that is subject to significant investments and technological change. Key elements of competition include the size of a network's user base, innovative product features and integration with other websites. Major players also face competition from newly funded startups and new products from existing internet leaders. The current market revenue in 2013 is $7 billion. From 2008 to 2013, the annual growth rate of this industry was at a whopping 36.3%.
The Social Networking Sites (SNS) industry is benefiting from an increasing consumer base:
According to Comscore, an online audience measurement company, such sites accounted for one in 12 minutes spent online in 2007, while they now account for one out of each six minutes in June 2011. According to IBIS World industry analyst Agata Kaczanowska, social networking sites attract a growing share of total advertising revenue because they can measure the effectiveness of advertising and can leverage significant consumer information to accurately target such advertising, thus boosting its effectiveness.
Even though LinkedIn only had 0.91% market share in the SNS industry, it is dominating in the recruitment part of the industry. According to ere.net, "recruitment advertising spending decisions are now being driven by the need for platforms which allow effective interaction and the ability to target an audience of choice." LinkedIn is a perfect vehicle with the database and resources that facilitate interactive communication between employers and job seekers.
Main Catalyst
We believe that the main catalyst for LNKD is its recent acquisition of Bright, an online job matching tool that uses a computer algorithm to determine a potential employee's compatibility with an advertised position. As TheNextWeb writes, "Bright is a service that utilizes machine-learning algorithms to recommend jobs to those looking for work. It also uses data-driven matching technology to make sure that users aren't finding irrelevant listings."
The deal was the biggest acquisition that LinkedIn has made to date, coming in at $120M:
The transaction is valued at approximately $120 million, subject to adjustment, and consists of approximately 73 percent stock and approximately 27 percent cash. The stock being issued in the transaction will be done so in a private placement. Subject to the completion of customary closing conditions, the acquisition is expected to close during the first quarter of 2014...following closing, several members of Bright's team, including those from Engineering and Product, will join LinkedIn. Bright's users and Hiring Solutions customers will be able to access existing data on its website through February 28.

(source)
The deal is a perfect fit. With the deal, LinkedIn can add a much needed feature for employers and prospective clients to have an even easier time of finding the perfect fit, and it adds to the offerings of LinkedIn's core revenue product in their job listings. LinkedIn can use Bright's ability to scale job candidates through "Bright Score," which will help LinkedIn to better serve its employer users.
As for revenue potential, Bright.com is quickly becoming one of the hot spots for job applications with over 7 million people visiting each month through ads, search engines and word of mouth. Bright's recent revenue came in at about $25 million, which is only about 1.64% of LinkedIn's revenue. The impact of Bright to LinkedIn, though, will be much larger than 1.64% by integrating them together successfully.
The benefits of acquisition are very exciting. Over the next several years, there will be a material increase in the volume of job opportunities available on LinkedIn. The acquisition of Bright will help to improve relevance of those opportunities so that ultimately its members don't need to find jobs, the right jobs will find them. In our last article, one of our knocks on the company was that they needed to move away from an ad-based model, as we believed that ads and professionalism were not as kosher as with Facebook (NASDAQ:FB) or other social media sites that can drive ads to interests. LNKD is a professional setting, so users are more focused on careers. The acquisition is the type of product that can enhance and grow that revenue successfully.
Secondary Catalyst
LNKD's secondary catalyst is its international expansion, especially in emerging markets like China or India. The international market has an estimated $27 billion opportunity. In the Chinese market, LNKD only has 4 million members, and the company wants to attack here. We believe that this is a major part of the company's ability to be successful or not - how they do in China and other emerging markets to a lesser degree. India is the fastest-growing network for LinkedIn as the company reported, hitting over 23M users this past year.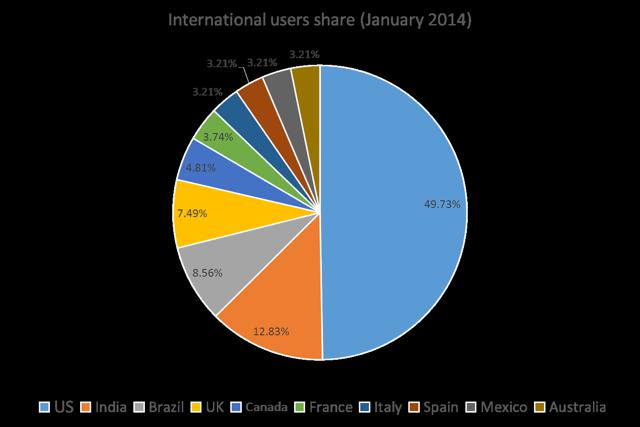 To develop in international markets, the company has initiated different strategic expansion plans in 2014. From the company's recent earnings call:
And this year there's a number of very large investments long term. Jeff talked about them on the member side. There's China. We continue to scale jobs, the publishing platform. And on the business side, the Sales Solutions product, the Sales Solutions sales force ramp. On Talent Solutions, we continue to invest, and on sponsored updates it's an investment area. And then I just mentioned the data center investments on infrastructure.
On Monday, February 24th, LinkedIn announced that it had finally launched its first version of the website in China. About the release, Jeff Weiner noted, "the new simplified Chinese website will broaden our reach to the country's more than 140 million professionals who currently represent roughly one in five of the world's knowledge workers." The first version is still in beta as the company still needs to work out kinks as well as make sure that it meets the demands of the Chinese government, which include operating storage facilities inside of China rather than in the US where they are currently at.
The risk of international expansion still exists. The most important risk is Internet censorship in China. The company has already been shut down when a user set up a group called the "Jasmine Voice" that supported the Jasmine Revolution. After a day of being blocked, LinkedIn access was restored in China. As the expansion continues in China, things like that will happen frequently, which can disrupt LNKD's business in China.
As CNet commented:
Though it's not completely clear how LinkedIn will enforce government-imposed restrictions, Weiner promised three things: to implement restrictions on content only when required, to be transparent in its dealings with China, and to protect the rights and data of members.
One of the biggest issues is going to be filtering content. The company will need to be able to restrict free speech in some ways if they want to remain operational. Yet, comments from the company show that they will likely do this but that they may not want to:
We're expecting requests to filter content. We are strongly in support of freedom of expression and we are opposed to censorship but recognize that in order to obtain a license (in China), there will be requests to filter content and that's going to be necessary for us to achieve the kind of scale that we'd like.
The nature of this catalyst, though, is still speculative, and we will have to see how it plays out. The mechanisms for China are still going to have to play out over the next 2-4 years, so we expect high costs of investing, transitions and ups and downs. As more knowledge of the situation develops, we will have a better sense of just how to model the company's China catalyst. For now, it's an interesting speculative idea.
Pricing/Valuation
I. Revenue:
The company expects a range of $2.02 to $2.05B for 2014 along with growth between 32% to 34% CAGR for the next several years. Thus, in our pricing model, we forecast that the company's revenue will achieve the minimum $2.02 billion. In terms of growth rate, we assume that the growth rate from 2013 to 2015 is 34%. As the company becomes more mature in the marketplace, the growth rate will slow down, so we assume its growth rate from 2016 to 2018 is 30-32%. We believe that growth is not at all the issue for this company as they have proven scalability in many markets and will grow significantly as an employer/employee engine.
Below is the table of our forecasted revenue from 2014 to 2018 ($millions):
| | | | | | | | | | | | |
| --- | --- | --- | --- | --- | --- | --- | --- | --- | --- | --- | --- |
| | | 2009 | 2010 | 2011 | 2012 | 2013 | 2014 | 2015 | 2016 | 2017 | 2018 |
| revenue | | 120 | 243 | 522 | 972 | 1529 | 2020 | 2706.8 | 3572.976 | 4716.32832 | 6225.553382 |
2. CapEx:
The company expects CapEx to maintain at a high percentage of revenue in 2014, but we would expect that as a percent this will start to level off from 2015 and forward. The company's level of acquisitions, based on other companies of its size and period of growth, should level off after another year of growth. The company will still have high growth expenditures to invest in more data centers (much like we have seen FB do), and will likely continue to acquire companies, in what could be even larger, pricier names. Below is the forecasted capex (millions):

3. Tax Rate:
The company expects a tax rate from 40% to 45%. So in this case, we would like to use the 40% tax rate, since most international markets have a lower tax rate compared to the U.S market.
4. Shares Outstanding:
We used the current 120.35 million shares. We can see scenarios for increasing equity, but we cannot be sure of this change, so we will use current levels.
5. Operating Margin:
Operating margin of LNKD is the most difficult part to forecast. As far as we know, the company is still in a heavy investment phase with high SG&A. The figures here are really the key to understanding where an investor stands on the company. We believe the growth is astounding and will remain quite strong, potentially at the top of the social media pool due to the fact that professionals exist everywhere and are much less fickle than teenagers, younger generations looking for fads.
With that said, it is likely that LinkedIn's operating margin will bounce back in 2015 and move higher. The question is how much its operating margin will bounce back? It is something that we can only speculate on. Given that the company has most of its operating losses coming from building teams and expanding in new markets, we believe this will remain. Yet, the company will start to see this curb as a percent of revenue as it starts to see investments in foreign markets pay off. A similar example is FB, which saw operating margins quickly surge once it started to see SG&A as revenue start to taper, and the company can easily see 20-30% operating margins in the next 5-10 years. For now, that is not going to happen. Here are three scenarios given our best case to worst-case for the next five years for each year 2014-2018.
Best case scenario: 3%, 5%, 7% 15%, 30%
Middle case scenario: 2.5%, 5%, 10%, 15%, 20%
Worst-case scenario: 2.5%, 3%, 5%, 7%, 10%
6. Target Price
As a result, we will provide three different target prices based on three different operating margin scenarios:
Risk/Variance
Even though we believe that LNKD is a great company with lots of growing opportunities in the future. We still think that the risks should not be overlooked. LinkedIn's risk is both domestically and internationally, and most of the upside is very speculative. Investors here should believe in the product and the scalability of the company over anything else.
Conclusion
In conclusion, LNKD is a great company with a lot of growth potential. After the acquisition of Bright, the company will be able to bring about closer relationships between its users, potential employees and employers. Along with its international expansion, we believe LinkedIn will keep growing at a rate higher than its peer groups. However, we think the stock price potential of LNKD depends on the company's future operating margin, and that is a question. Our mid-case scenario assumes success here but not at the rate as potentially possible. Thus, we feel solid about our $250 price tag for this year, and we rate the company as a buy for speculative investors as well as growth investors with risk appetites.
Disclosure: I have no positions in any stocks mentioned, and no plans to initiate any positions within the next 72 hours.
Business relationship disclosure: I have no business relationship with any company whose stock is mentioned in this article. The Oxen Group is a team of analysts. This article was written by David Ristau, one of our writers. We did not receive compensation for this article (other than from Seeking Alpha), and we have no business relationship with any company whose stock is mentioned in this article.