Google (NASDAQ:GOOG) is trading near all-time highs. If you had purchased the stock at the $85 IPO price (about 15 times FY'03 revenues) , you would have made 14 times your investment in about 10 years. But regret should never be a reason to invest in a stock at a higher price. There is no denying that Google is still the leader in Internet Search and Advertising. But can Google really find (or acquire) the next big thing that can propel its stock price higher, or is it a one-trick pony?
Addressing this very concern, in its 2004 annual report, Google reported that it uses a 70-20-10 rule to ensure that they have a growth strategy: 70% of all its efforts are spent on its core advertising business, 20% on its ancillary products and 10% is spent on everything else to innovate. In fact, Google employees could take one day off to come up with fresh ideas and innovate.
Google has tried its best to diversify its revenue streams and ensure that it has innovative products to drive growth, much like the ITC group in India, which invests a lot of the money generated from tobacco business into hotels and other industries. But unfortunately, Google has as yet remained a one-trick pony, albeit a very rewarding one. It is true that even if one product is a success, it can compensate for many failures, but going by Google's track record, it doesn't look like that is likely to happen. A summary of Google's R&D efforts/acquisitions (mostly non-core) and arguably their current status is at the end of the article for the benefit of the readers. The key point here is that despite an early start and significant investments, Google has remained a follower in several "growth" segments and is playing catch-up with other leaders that are relatively small and/or new.
| | | |
| --- | --- | --- |
| Market Segment | Leader | Google |
| Social Network | Facebook (NASDAQ:FB) | Distant second with no monetization (Google+) |
| Mobile Messenger | WhatsApp (now part of Facebook) | No position (Gtalk for mobile, Failed acquisition of Snapchat) |
| Cloud Services | Akamai (NASDAQ:AKAM)/Amazon (NASDAQ:AMZN) | ? |
Google is still the leader in online advertising, and although the pie is growing rapidly, several players are entering the market and taking a piece of the pie from Google.
A good measure (provided by YCharts) to judge the efficiency of the assets acquired by a company is to look at the "Asset Utilization" over the years. Google's asset utilization has fallen significantly from over 1.5 to about 0.58 in the past decade. At the same time, the intangibles and goodwill as a percentage of annual assets has gone up from 5% to 16%. This implies that Google is not acquiring / creating assets that are generating growth in revenues. Combine this with the declining revenue growth rates, and it is clear that Google is turning from a growth company to a mature company. Its investments and acquisitions are not quite working.
data by YCharts
Conclusion:
Google has evolved from a growth company to a mature company. It has not been able to use its cash and its stock value to effectively acquire assets and grow its revenues in the so called "Growth Markets." An indication of its ineffective management of assets is its recent sale of a part of Motorola to Lenovo. A mature company will not be able to command a P/E ratio of 33 for long. The stock is likely to be re-rated.
Appendix: List of Google products/acquisitions
Legends:
IRG - Indirect Revenue Generator
RG - Revenue Generator
D - Not an important part of the product portfolio in the current form/Probably Discontinued or
U - Unable to Determine whether it generates revenues
2004 R&D expenses: $225 million
Google maps - IRG
Keyhole - U
Google SMS - U
Google Print - D
Google Scholar - D
Google Video - IRG
Google Desktop Search - D
Gmail - RG
Picassa - D (Personally I think Google ruined it)
Blogger - IRG / RG
Google news - RG
Google suggest - D
Orkut - D
2005 R&D Expenses: $484 million
Gtalk - D
Extension of blogger and other services to Mobile platform - U
Google Earth - U
Google local - IRG
20 significant projects on websearch -RG
Acquired dMarc automated radio ad placement for $102 million - D
15 other companies for $85 million - U
Acquired SketchUp - D
Google Book Search - U
2006 R&D Expenses: $1.23 billion
Google Page Creator - U
Calendar - U
Docs -U
Start Page -U
Finance - U
Image search - IRG Maybe
Groups - D
Google Checkout - D
Search Appliance - D
Acquired YouTube for $1.2 billion - RG
Investment / partnership with AOL $1 billion - ?
Other acquisitions - $180 million - ?
2007 R&D expenses: $2.2 billion
Acquired Postini for $337 million - RG
DoubleClick for $3.1 billion - RG
2008 R&D Expenses: $2.8 billion
Android - IRG
Search by Voice - D
2009 R&D Expenses: $2.8 billion
Chrome - IRG
Chrome OS - U
iGoogle - D
Google Product Search - Maybe IRG
Music Search - D
Trends - U
2010 R&D Expenses: $3.7 billion
Acquisitions worth $1.8 billion On2m, AdMob, Slide, Widewine, Others - U
2011 R&D Expenses: $5.162 billion
Google Plus - D (Great idea bad execution)
Acquired ITA for $394 million - IRG
78 acquisitions for $1.3 billion - D
Motorola holdings for $12.5 billion
2012 R&D Expenses: $6.8 billion
2013 R&D Expenses: $7.952 billion
Acquired Waze limited for $969 million
Although not quite "scientific," I used Google trends to get an idea of the level of interest in some of these products, and I find that many of the products have high interest when launched, but the interest levels wane over the next few years. (Google+ chart below)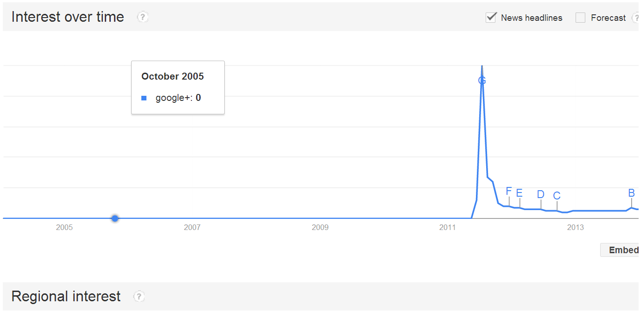 Disclosure: I have no positions in any stocks mentioned, and no plans to initiate any positions within the next 72 hours. I wrote this article myself, and it expresses my own opinions. I am not receiving compensation for it (other than from Seeking Alpha). I have no business relationship with any company whose stock is mentioned in this article.