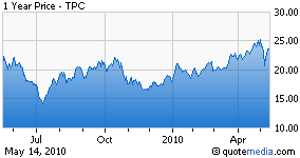 Click to enlargeCompany Overview

Tutor Perini Corporation (NYSE:TPC), as it is known today, was formed as a result of a merger in 2008 between Perini Corporation, mainly a private building contractor, and Tutor-Saliba, which is a civil building contractor. The purpose of this merger was to eliminate the risk for Perini Corporation being so largely exposed to one segment of the market, as well as to capitalize on the multi-billion dollar government stimulus for infrastructure spending.
TPC is currently the 2nd largest general contractor in the United States, and they regularly receive honors for being one of the best contractors in almost every contracting category (hospitality, gaming, bridges, health care, etc) as ranked by Engineering News Record, a subsidiary of McGraw-Hill (MHP). They were also ranked #3 on the Barron's 500 list of largest companies by sales in 2009, and are #432 on the Fortune 500 list.
The business is comprised of three different operating groups, the building, civil, and management services segments. They offer general contracting, pre-construction planning and comprehensive project management services, which include the planning and scheduling of the labor, equipment, materials, and subcontractors required for a project. They also offer self-performed construction services including excavation, concrete forming and placement, steel erection, electrical and mechanical services, plumbing and HVAC (otherwise known as heating, ventilation, and air conditioning).
They are known for their major complex building project commitments as well as their capacity to perform large and complex transportation and heavy civil construction for government agencies and private clients throughout the world. They currently employ about 5,449 employees, which, given their latest sales numbers, means that there is almost a million dollars in sales per employee.
The building segment, which makes up the majority of their revenue currently, works primarily with privately funded groups in the health care, transportation, and hospitality/gaming industries, whose contracts are more variable price based and make up over 60% of the building group's revenues. The subsidiaries of this segment are Rudolph & Sletten, Cummings General Contractors, Keating Construction, Power Co. Electric, Desert Plumbing and Heating, and Perini Building Corporation.
Some of their more notable recent projects, whether completed or underway, are the MGM Mirage City Center project, McCarran Int'l Airport, and the Wynn Encore hotel. As you can tell, a lot of their exposure is to the volatile hospitality and gaming market, with the majority in Las Vegas specifically. This is where the strategy to expand their civil segment comes into play.
Their civil segment, which as of 2008 represented 8% of their backlog, now represents 23% of their backlog, with considerable room to grow. This segment is specifically publically funded infrastructure projects, which are more fixed price, and is mainly comprised of bridge, highway, and mass transit contracts.
Some of the notable projects completed recently in this segment include I-80 in San Francisco and the Tappan Zee Bridge in New York. The majority of backlogged contracts received in the last year or two have been from this segment of the company, which shows that their strategy to increase their civil contracts is starting to kick in. The subsidiaries in this segment are Cherry Hill Construction, Tutor-Saliba, and Tutor Perini Civil.
Their Management Services segment is the smallest by far of the three segments, but it is not to be ignored by any means. They focus mainly on diversified construction and design-build services to the US military and other federal government agencies, which are mainly multi-year contracts that are a mix of fixed and variable price. This segment has a lot of international exposure and is the easiest area in which they could grow their international expertise. The subsidiaries of this segment are Perini Management Services and Black Construction Corporation, with some of the more notable recent projects being the British Embassy in Manila and Parts of the US Marines Air Station in Beaufort, South Carolina.
As a company, Tutor Perini has some notable weaknesses, but management is currently addressing those weaknesses so that they will soon be able to be added to their growing list of strengths. The main weakness for Tutor Perini, as of 2009, is that the majority of their revenue is still coming from the private building segment of their operations. This can be perceived as a negative because the private building industry is more volatile than the civil building industry and an adverse trend in this industry could severely affect their bottom line earnings.
Companies so focused and exposed in one area in a high competitive industry is normally not a good sign. This is something that management has obviously realized they need to address, which they did in merging Perini Corporation with Tutor-Saliba. Since the merger, Ron Tutor, the CEO and Chairman, has stated that the revenue growth in the civil segment of their business has grown explosively.
On the other hand, their notable strengths are numerous. They are one of the top contractors in almost every area of contracting, as mentioned before, which helps them be the go to company in their industry. They also have the ability to do some of their work in house, which provides them with better profit margins than some of their competitors.
Their recent push towards expanding their civil building industry exposure is also helping their profit margins and will continue to help their profit margins into the future, with their civil segment contributing more to their overall bottom line. All of these aspects combine to give them an advantage that not many companies are seeing during the current recession, rising profit margins.
If one were to apply the business aspects that Warren Buffett believes makes a good company, then in some ways it becomes even more obvious that this is a good company. Since Tutor-Perini is a general contractor, it would be very hard for anyone to say that it would take a genius to run this business. The majority of this business is finding good subcontractors and planning out the construction process so that it can get done in a timely manner. These tasks do not require someone to have gone to an Ivy League school or to be some kind of prodigy; it just takes a good understanding of how to manage time and resources. They are currently run by a management team whose average tenure is, so it's safe to say that the management team is competent enough to run this company for a long time. Although just because they are competent enough to run the company well, does not mean that they will.
Tutor Perini has had a history of mergers and acquisitions (M&A), which has occasionally made their earnings look slightly more volatile, when in reality is just the company having to take on the charges of buying or merging a company. I know that revenue and overall company growth by M&A is not always a good thing, especially if the company takes on lots of debt and/or overpays for the acquisition, but this is not the case with Tutor Perini. Also, the company is 44% owned by insiders, specifically Ron Tutor, and has recently extended a $100 million dollar share buyback plan through 2011.
One can only assume that the people running the company, having a 44% ownership stake, would only take part in M&A if it was good for the company and only buy back shares when they are cheap. There are certainly always exceptions to this, but since this company has been around for over 100 years (mainly Perini Corporation) and the other part of the company (Tutor-Saliba) is still run by the same family that started it back in the 1950's, it is safe to say that this is probably in the best interests of the company. When you look at their recent progress in a cyclical construction market, that is more than ready to get back to prosperity, combined with their 19-year average return on capital of 20%, then it really does begin to look like they know what their doing.
The only suspect aspect of this business that might not fit into Warren Buffett's aspects of a good company is the moat. Tutor Perini has a weak moat in an industry where it is very hard, if not impossible, to build a rock solid moat because of the nature of what they do. This is not to say that they don't have a moat at all though. The fact that they are one of the biggest and most respected companies in the industry does give them a bit of franchise value, especially when it comes to large projects. Not many companies can complete projects the size of the MGM City Center project with the ability that Tutor-Perini can, and being such a well-respected company is what allows them to get these kinds of contracts over their competition.
Management & Corporate Governance

The structure of corporate governance at Tutor Perini is one that gives each CEO control of each segment of the company, which will be theirs to run. Ronald Tutor, who evaluates the performance of each of them individually, overlooks the company as a whole. Through each merger or acquisition, management has allowed the standing managers to retain the majority of their role in almost all cases, believing that since they have been running the company well so far, that they will continue to do so even under another roof.
The description of the top 4 managers of the company is provided below. The compensation structure consists of a base salary, with long-term incentives in the form of bonuses based on performance, stock awards, and option awards. Long-term incentives have not normally played a role at the company in the past, but it was felt that the best way to keep the two combined companies focused on the good of the company was to allow long-term incentives with at least a 5-year vesting period.
Ronald Tutor (CEO and Chairman)
Ron Tutor has served as Perini Corporations' CEO since March 2000, as Chairman since July 1999, and as a director since January 1997. Mr. Tutor also served as Chairman, President and CEO of Tutor-Saliba Corporation until the merger with Perini in 2008. He has been with the company over 13 years and has over 47 years of experience in the industry.
Ron Tutor's total salary and compensation for 2009 was $11,897,890, which is by far the largest total of any of the officers. He is the only officer that makes a salary over $1 million, and the majority of his compensations come from stock awards and performance based goal attainment. His "other" compensation ranges from the use of a company jet ($40,270), drivers ($100,000), and his personal guarantee of a $600 million in surety bond obligations ($3,000,000).

Robert Band (CEO, Management Services Group)
Robert Band has served as a director of Perini Corporation since May 1999. He has also served as President since May 1999 and as COO from March 2000 to March 2009. He has served as Chief Executive Officer of the Management Services Group since March 2009 and as president of Perini Management Services, Inc. since 1996. He has served in various operating and financial positions with the Company since 1973, including executive vice president and Chief Financial Officer from 1997-1999. Overall his experience with Tutor-Perini extends over 35 years.
Robert Band's total salary and compensation for 2009 was $1,405,590, which is around the average for all major officers. He made a salary of $600,000 and the majority of the rest of his compensation came from performance based goal attainment.
James Frost (CEO, Civil Group)
James Frost joined Tutor-Saliba Corporation in 1988, and was most recently the Executive Vice President and Chief Operating Officer of Tutor-Saliba before the merger. In his new position as CEO of the civil segment of the company, all civil operations of Tutor Perini will report to him. His overall experience with the company extends over 20 years.
James Frost's total salary and compensation for 2009 was $2,252,450, the second largest of any of the officers in 2009. His base salary is 612,500 with another $1 million in stock awards, and the rest being performance based goal attainment. He most likely got the second highest compensation because of the aforementioned growth in the civil segment of the business.
Mark Caspers (CEO, Building Group)
Mark Caspers began working at Perini Building Company in 1982 and was most recently President and Chief Operating Officer of Perini Building Company, until the merger in 2008. He now assumes the role of CEO of the entire building segment of Tutor Perini. He has over 25 years of experience with the company in a variety of different positions, even beyond a top management position, including General Foreman, Superintendent, General Superintendent, Vice President and Senior Vice President of Field Operations.
Mark Caspers total salary and compensation for 2009 was $1,471,850. With a salary of $600,000, the majority of his compensation also came from performance based goal attainment, but some notable other compensation was received for housing expenses ($174,000).
Disclosure: Author long TPC