By Todd Shriber & Tom Lydon
The combination of Europe and dividends in the wrapper of one exchange traded fund has proven alluring this year.
Even as investors have pulled cash from other developed markets and an array of emerging markets ETFs, Europe funds have been on the receiving end of plentiful inflows. BlackRock stated:

"The bright spots for flows in January were in non-US Developed Markets Equity, which gathered $11.2bn as a number of key themes from 2013 continued into the new year. Pan-European Equity brought in $4.0bn aided by the most encouraging January Euro Zone PMI reading since 2011."
In fact, one of this year's most prolific asset-gathering ETFs combines Europe exposure with the rewards of dividends. With that in mind, well-timed may be the January debut of the Market Vectors MSCI International Quality Dividend ETF (NYSEARCA:QDXU).
QDXU was launched as part of four-fund suite of so-called quality or factor-based ETFs, two of which are emerging markets plays and two of which are developed market funds. To be sure, QDXU is not a pure-play Europe ETF.
The new fund offers exposure to 20 countries, including seven emerging markets. China and Russia are the two largest emerging markets allocations in QDXU, combining for 10.6% of the ETF's weight. While stocks in both countries have struggled this year, it is worth noting China and Russia are among the largest emerging markets dividend payers.
Still, QDXU offers plenty of exposure to Europe. Each of the ETF's top 10 holdings, a group that represents nearly 30% of the fund's weight, are European firms. Overall, the ETF allocates to nine developed Europe nations with the U.K., Germany, France and Switzerland combining for over 49% of the fund's weight.
QDXU's nearly 310 holdings are screened for quality, stable dividend growth, and dividend sustainability. The fund tracks the MSCI ACWI ex-USA High Dividend Yield Index, which excludes company with poor fundamentals that are candidates for dividend cuts and suspensions. The index had a dividend yield of almost 4.4% at the end of last year and was inexpensive relative to U.S. stocks with a P/E ratio of 11, according to Market Vectors data.
QDXU, which charges 0.45% per year, is already benefiting from resurgent European equities with a gain of 4.4% since its debut. Nearly half of the fund's foreign currency exposure comes by way of the British pound and euro, something for investors to consider as the fund is not currency hedged and those currencies are seen as overvalued.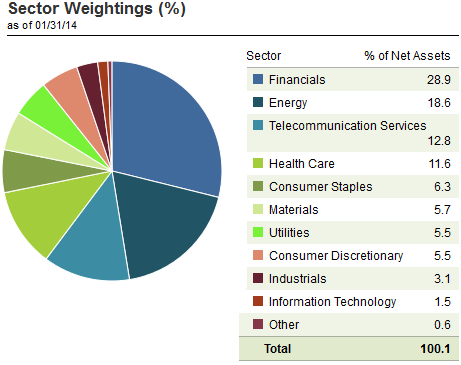 Chart Courtesy: Market Vectors
Disclosure: I have no positions in any stocks mentioned, and no plans to initiate any positions within the next 72 hours. I wrote this article myself, and it expresses my own opinions. I am not receiving compensation for it. I have no business relationship with any company whose stock is mentioned in this article.