Among my favorite kinds of investments are those that are world famous, but little known. By this, I mean that the company sells famous products that are household names, yet the parent company isn't widely recognizable. This allows for the ability to earn outsized returns from relatively boring, dependable dividend growers such as the company I'm going to analyze.
Church & Dwight (NYSE:CHD) has long been a favorite dividend growth stock of mine and one I was happy to add to my real world experimental dividend growth portfolio (you can see the portfolio here). My goal with this article is to illustrate that you can generate long term and market smashing returns with something as boring as a seller of baking soda, condoms and household cleaners.
Company Overview:
Church & Dwight was founded in 1846 and is an international seller of consumer and industrial goods. They operate in 3 segments.
Consumer Domestic:
This segment sells household names such as Arm & Hammer baking soda and cat litter, OxiClean, First Response pregnancy tests, Trojan condoms, Xtra laundry detergent, Spinbrush toothbrushes, Nair, Orajel, AIM toothpaste, Vitafusion and L'il Critters gummy vitamins. The company calls these 9 segments their "power brands". Each of them has #1 market share in their respective markets. Trojan condoms, for example, have 70% market share and L'il Critters vitamins have 60% of children's vitamin market.
60% of sales result from what the company calls its 4 "mega Brands": Vitafusion/L'IL CRITTERS, Trojan, Arm & Hammer and OxiClean. The main difference between power brands and mega brands is a better return on investment when it comes to R&D, advertising, licensing and organizational costs.
Consumer International: Sells the above products in countries such as Canada, France, Australia, the United Kingdom, Mexico, and Brazil.
Offers specialty chemicals, such as performance grade sodium bicarbonate, potassium carbonate, and potassium bicarbonate; animal nutrition products, including feed grade sodium bicarbonate, rumen fermentation enhancers, feed grade potassium carbonate, rumen bypass fat and lysine, omega 3 and omega 6 essential fatty acids, and natural sodium sesquicarbonate; and specialty cleaners for commercial, professional, and industrial applications.
Competitive Advantages and Plans for Growth:
As presented in the last investor presentation management's focus has the following priorities:
1. Growth of mega and power brands through EPS accretive mergers and acquisitions.
An example is the acquisition of Avid health maker of Vitafusion and L'il Critters gummy vitamins, for $650 million. The purchase became accretive to EPS in 2013.
At the end of 2013, the company had $2.6 billion in potential liquidity to make acquisitions.
2. New Product Development
Since 2007 fully 32% of company sales have come from new products. An example of this has been the growth of the Arm & Hammer brand (in 86% of American homes) to include things such as diaper pails, vacuum bags, air filters, cat litter, toothpaste and deodorants.
Current R&D is focused on Clump and Seal cat litter, which the company claims holds in odor for 7 days, teeth whitening toothpastes under the truly radiant name brand, and Highly fragranced laundry detergents.
3. Cap-ex for organic growth
An example of this is the $67 million the company spent on a new laundry detergent plant in 2013. The more modern and automated plant resulted in improved margins.
4. Return of cash to shareholders
Church & Dwight has paid 452 consecutive dividends which is 113 years of uninterrupted income to shareholders. The company has increased dividends 16 consecutive years at 14.47% CAGR. In the last 5 years, the rate of dividend growth has exploded with 47.11% CAGR. However, due to the rate of growth exceeding earnings, the payout ratio has reached 40%, a level management sees as ideal. This means that the dividend growth in the future will have to track the growth in earnings. With analysts anticipating 10.8% annual EPS growth over the next 5 years and the company's 13 consecutive years of double digit EPS growth, it is likely that the dividend will continue to grow at 10-11% over the half decade.
5. Paying down debt
Balance Sheet
Total Cash (mrq):
496.90M
Total Cash Per Share (mrq):
3.58
Total Debt (mrq):
803.30M
Total Debt/Equity (mrq):
34.93
Current Ratio (mrq):
1.71
Book Value Per Share (mrq):
16.55
Cash Flow Statement
Operating Cash Flow [TTM]:
499.60M
Levered Free Cash Flow :
426.77M
As seen from this table, Church & Dwight's debt is very manageable. The current ratio, a proxy for short term liquidity, is near the ideal level of 1.6. In addition, the company generates massive free cash flow, with 13.4% of sales being converted to FCF. This represented a 14% increase over 2012 and indicates that the company has no problems servicing its debt.
The current ratio is the assets/liabilities of a company and a number too low, less than 1, means the company may have a hard time paying interest on its debts should credit markets freeze up as they did during the financial panic. Too high, however, means that management is stockpiling cash. This might be to prepare for a large well thought out acquisition or because management doesn't know how to invest the company's resources.
Stock
Ind Avg
Price/Earnings TTM
24.1
21.0
Price/Book
4.0
5.2
Price/Sales TTM
3.0
2.2
Rev Growth (3 Yr Avg)
7.3
-12.9
Net Income Growth (3 Yr Avg)
13.4
-13.8
Operating Margin % TTM
19.5
15.6
Net Margin % TTM
12.4
10.4
ROA TTM
9.4
8.4
ROE TTM
18.1
21.4
Debt/Equity
0.3
0.5
As seen from this table from Morningstar.com, Church & Dwight is growing faster than competitors such as Procter & Gamble (NYSE:PG), Colgate-Palmolive (NYSE:CL) and Kimberly-Clark (NYSE:KMB). In addition, it is more profitable, has less of a debt burden and has very high return on assets and shareholder equity. These last two metrics are important signs of quality management. High ROA and ROE combined with a current ratio of 1.7 means that management is hard at work putting shareholder cash and resources to work in efficient and profitable ways.
Past Performance:
It's this track record of long term managerial excellence and disciplined acquisitions that has led Church & Dwight to remarkable growth in revenues, earnings and share price.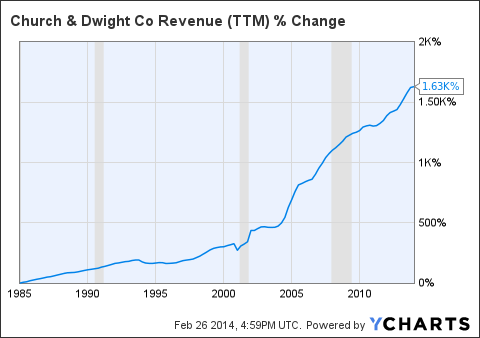 Revenues over the last 28 years have grown 16.3 fold, representing a 10.7% compound annual growth rate [CAGR] for over a quarter century.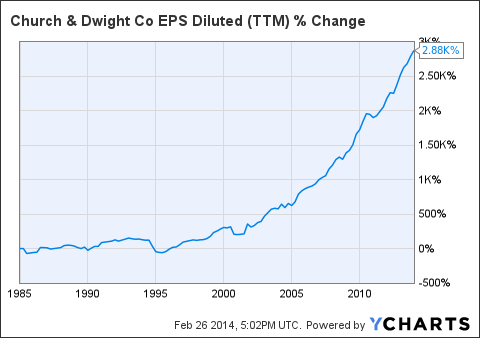 Over the last 28 years, earnings have grown 28.8 fold. This represents a stunning 12.9% CAGR.
With the growth in earnings and a management that is strongly committed to returning cash to shareholders, the dividend has been a strong grower.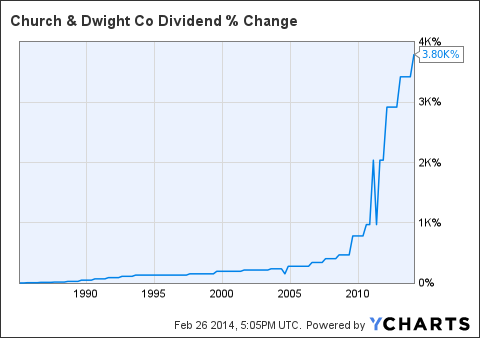 A 38 fold increase in the dividend since 1985 represents a 14% CAGR. This is similar to the 14.5% CAGR that Church & Dwight has shown since it began its 16 year streak of dividend increases.
Due to strong growth in earnings and dividends, Church and Dwight has been an incredibly profitable long term investment for shareholders.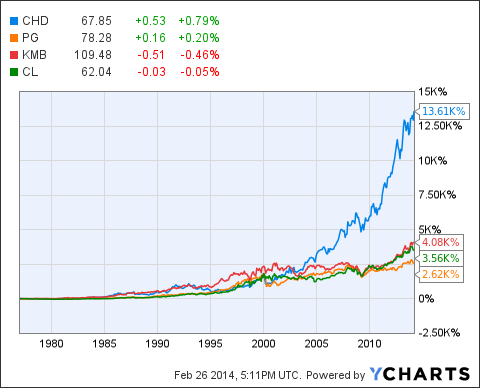 Here is Church & Dwight's CAGR performance over several periods of time:
since 2004 (current CEO): 19.4%, 21.1% with dividend reinvestment
since 1988: 17.7%, 19.1% with dividend reinvestment
since 1977: 14.6%, 16.25% with dividend reinvestment
A $10,000 investment in Church & Dwight in 1977 would today be worth $1.371 million. Had dividends been reinvested, that figure would be $2.26 million, which is a difference of $890,000 from just a 1.6% difference in CAGR. This shows not only the power of Church & Dwight to grow investors' wealth long term, but how important growing dividends and their reinvestment is to long term total returns.
Valuation:
Given its massive success recently, has Church & Dwight grown too fast? Is it still a good buy today? If so, what returns can new investors expect?
DCF Analysis: Using historical performance and analyst projected growth rates to model the present day value of future earnings.
Assumptions: current EPS: $2.79
5 year EPS growth: 10.8%
Growth over next 28 years: 12.9% (historical performance)
Discount rate: 9%, the CAGR of the stock market since 1871
Under those assumptions, the current fair value of Church & Dwight is $163.77 which indicates the current stock price has a 59% baked in margin of safety. This means, should the company falter in the future, investors are protected from market underperformance by a large amount.
Projected Future Returns: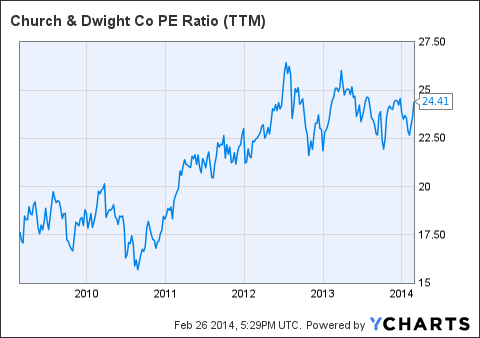 Over the last 5 years, Church & Dwight has averaged a PE of 23.64. Today's PE of 24.34 represents a slight premium in this regards.
Assuming 10.8% EPS growth for 5 years, we model 2018 EPS of $4.66/share. Applying the historical PE multiple, we get a projected 5 year price target of $110.14. Adding in 5 years of projected dividends, we get a total share value of $117.83, which results in a 12.23% CAGR. This rises to 14.4% CAGR with dividend reinvestment.
This approach models probable 5 year performance based purely on earnings growth.
However, Church & Dwight is also a dividend growth stock, so we can also model the future performance using dividend yield, which has averaged 1.4% over the past 5 years.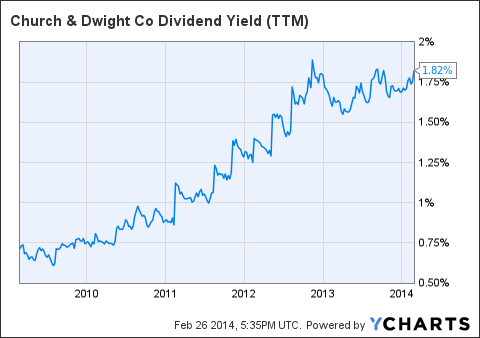 In the latest investor presentation, management indicated that they wish to keep the payout ratio stable. This means that dividends will have to grow at the rate of earnings over the next 5 years.
Using a 10.8% annual rate of growth, I project a 2018 annual dividend of $1.87, resulting in a share price of $132.86, (assuming the yield reverts to the mean). Add in the $7.69 in expected dividends, and we get a total share value of $140.55. This represents 16.2% CAGR which rises to 17.8% CAGR with dividends reinvested.
Finally, we can take the DCF fair value and assume that the current stock price will achieve this level in 5 years. This results in a total return of 20.3% CAGR rising to 22% CAGR with dividend reinvestment.
Taking an average of the estimates we get a projected 5 year total return of 16.23% CAGR that rises to 18.1% CAGR with dividend reinvestment.
Note that the returns projected are all within the historical returns that Church & Dwight has returned over the course of its history. This indicates that the current price is a good one for new investors to open positions and current shareholders to add to.
However, it is always a good idea to use basic technical analysis to see what current pricing trends say about the timing of a purchase.
Technical Analysis:
Currently, the short term trend is neutral with a mildly bullish medium term trend. There is massive support at $65.32, indicating the stock is unlikely to dip below this level without a catalyst such as a general market correction or bad news from the company. The last candlestick pattern is a bearish Doji star which is a very bearish indicator. This might indicate that Church & Dwight may trade range bound for the short term.
Summary:
Given the fundamental strengths of the Church & Dwight which include the expected growth of the company's mega brands around the globe, I recommend interested investors buy the stock at these prices. Management has exhibited a long track record of excellence when it comes to disciplined, accretive acquisitions and organic growth. A firm commitment to maximizing profitability, production efficiencies and returning cash to shareholders means a continuation in the strong dividend growth, though not at the breakneck pace of the last 5 years. Given the anticipated 16-18% CAGR total returns over the next 5 years, it seems likely Church & Dwight will double the historical returns. This makes Church & Dwight a solid "BUY NOW" at this price.
Disclosure: I have no positions in any stocks mentioned, and no plans to initiate any positions within the next 72 hours. I wrote this article myself, and it expresses my own opinions. I am not receiving compensation for it (other than from Seeking Alpha). I have no business relationship with any company whose stock is mentioned in this article.