Alcatel-Lucent (ALU) provides mobile and broadband networking services. Its products and services include access management services, access multiplexer, Carrier Ethernet, IP/MPLS & ATM networks & consulting services. ALU's Bell Labs is responsible for countless breakthroughs that have shaped the networking and communications industry.
ALU reported operating income of almost $280M ($1.37 euro/usd) during 2013. But operating income, including the restructuring charges and asset impairment charges, was a loss of $1.02B. In 2014, the asset impairment charge and restructuring charges may not recur, but ALU should still have substantial interest expenses. Consequently, income available to equity investors will likely be insubstantial during 2014.
Also, the deals that the firm is announcing have a similar gross margin to the current gross margin. Thus, they aren't profit enhancing and don't provide a visible path to returns on equity. The value of a business is the sum of its discounted cash flows, and from the equity perspective, those cash flows appear to be negative for the foreseeable future.
Recent Developments
ALU and Telefonica announced the signing of a co-innovation agreement, which will use ALU's CloudBand platform to drive innovation and adoption of Network Functions Virtualization ("NFV") by the telecommunications industry. NFV is expected to greatly reduce the operating costs of service providers, such as Telefonica.
ALU and Intel (NASDAQ:INTC) announced that they are expanding their collaboration in three areas: Virtualized Radio Access Network, Cloud Platform, and High-performance Packet Processing.
ALU announced the deployment of small cell solutions, which help ensure subscribers receive decent phone service at popular outdoor venues and dense metropolitan areas in the Verizon (NYSE:VZ) Wireless Network.
Business Summary
Alcatel-Lucent provides products in IP and cloud networking, as well as ultra-broadband fixed and wireless access. The company has two segments: Core Networking and Access, which have a history of inconsistent profitability.
Given ALU was recently locked out of the public capital markets and was forced to pledge its patents portfolio to secure liquidity boosting financing, there are incentives for management to be opportunistic when reporting results, which would allow the company to be able to maintain access to financing. Using strategic communication with the investment community, management is able to engage in expectations management, which includes earnings expectations management. For example, in the full-year 2013 press release of results from operations, there is substantial use of adjusted and pro forma results. Further, for 2013, ALU reported operating income of $279.5M, but a loss from operating activities of $1.02B. The loss of $1.02B is what would typically be considered the operating loss.
However, profitability improved during the year. The core operating margin expanded from 13% in the first quarter to 22% in the fourth quarter and was 18% for the full year. The increase in profitability is partly attributable to higher revenue and partly attributable lower expenditure on SG&A and R&D. Management could be sacrificing long-term returns for short-term margin expansion.
In terms of quality of earnings during 2013, earnings quality was one of the worst that I have ever seen. This could be a sign of future restatements of results from operations.
Leverage is too high. The financial leverage ratio was 6.82 at the end of 2013. However, the net cash position improved from $170M at the end of 2012 to $264M at the end of 2013. There appears to be ample liquidity with a current ratio of 1.42.
ALU has been involved in a substantial amount of deals, including transactions with AT&T (NYSE:T) and Verizon . Also, the ALU scored wins in China. But these deals come with flat or slightly down gross margins, which is at the core of ALU's profitability challenges. While the firm should be applauded for cutting operating expenditure and divesting assets in the "Shift Plan," there is no fundamental change in terms of the profitability of the company, thus, there is no fundamental change in the return generating ability of ALU.
Risks
The share price is likely to remain volatile, and investors could lose a portion or all of their investment.
Investors should judge the suitability of an investment in ALU in light of their own unique circumstances.
A decline in the global economic growth rate and/or a decline in the pace of economic growth in the United States could adversely impact the results of operations and the share price.
Competition in product development and pricing could adversely impact performance.
Incorrect forecasts of customer demand could adversely impact the results of operations.
Higher interest rates may reduce demand for ALU's offerings and negatively impact the results of operations and the share price.
This section does not discuss all risks related to an investment in ALU.
Portfolio & Valuation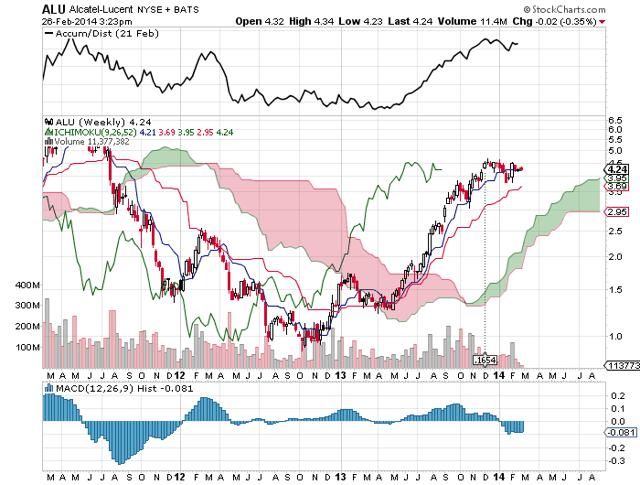 Click to enlarge
ALU is in a bull market of primary degree and a bear market of intermediate degree. There could be an extended period of consolidation, which may result in a bear market of primary degree. The MACD is flashing a sell signal as the accumulation/distribution line flattens.
Based on the fundamentals of the company, the equity is worthless. For bondholders, the company could have value. But as an equity investor, I don't see a way to derive a positive value for this company.
Disclosure: I have no positions in any stocks mentioned, and no plans to initiate any positions within the next 72 hours. I wrote this article myself, and it expresses my own opinions. I am not receiving compensation for it (other than from Seeking Alpha). I have no business relationship with any company whose stock is mentioned in this article.